2770+ Free Crochet Patterns
Most of our free crochet pattern collections, on one convenient page!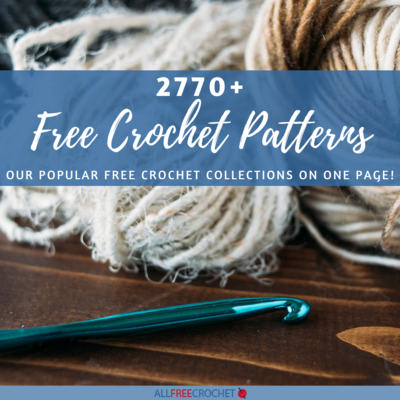 We have literally thousands of free patterns and crochet project ideas for you to check out. From cute baby crochet patterns to quick amigurumi patterns or airy, lacy designs made from lightweight yarn, our selection is insanely extensive.

The number of times our editors come across a brand-new (to us) pattern in a day is astounding... but with all those choices, it can be supremely tough to narrow down your choices for your next crochet pattern.

Don't worry! We have patterns for all difficulty levels, beginners up through advanced. We have patterns that are worked up with super fine yarn and some crochet patterns that use super bulky yarn - as well as everything in between!

And then, don't even get us started on the types of crochet patterns we have: crochet scarves and shawls, crochet hats and blankets, sweaters, crochet tops, skirts, crochet baskets and more!

Whether you're after spring crochet designs or warm, cozy patterns for the winter, we've compiled some of our favorite and most popular collections of free crochet patterns in 2770+ Free Crochet Patterns.

This giant list of amazing collections is organized by type, season and even crochet stitch. If you have an idea of the type of crochet pattern you're looking for, it'll be easy to find and browse through it! 

Choose from holiday patterns, pet patterns, crochet hat patterns or even broomstick lace crochet patterns, among many, many others for your next free crochet pattern. 

Subscribe to our newsletter for amazing crochet patterns delivered to your inbox daily!


Jump To:
Crochet Stitches and Techniques
Crochet Hats and Headbands
Crochet Flower Patterns and Butterflies
Baby Crochet Patterns
Crochet Sweaters, Crochet Ponchos, and Crochet Shrugs
Crochet Shawl Patterns and Crochet Scarves
Crochet Granny Squares and Crochet Afghans
Crochet Home Decor
Crochet Socks and Slippers
Crochet Amigurumi Patterns and Toys
Holiday Crochet Patterns
Crochet Accessory Patterns

PLUS! Be sure to take a look at one of our absolute favorite go-to patterns - the Beginner's Crochet Scarf. This video tutorial from our friend Kristi Simpson will help you along!
Your Recently Viewed Projects