60+ Easy Crochet Cardigan Patterns
Crochet a cardigan for every type of weather and style. These free crochet cardigan patterns for ladies are all easy and fashionable!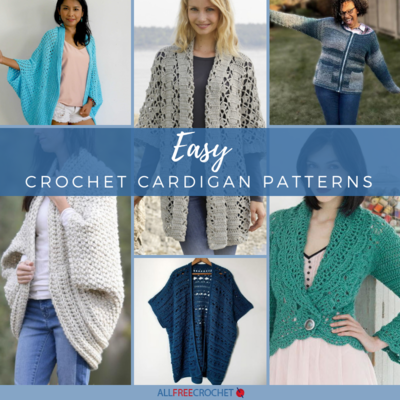 Forget diamonds, purses, and shoes -- cardigans and sweaters are really a woman's best friends!

It doesn't matter which season is upon us, there's always the question in the back of your mind of whether or not you should bring a sweater with you, especially if you know that place will be cranking up the air conditioning or lacking in heat.

You don't want to have to lug around a crochet sweater everywhere when you may not even need it, but with these easy crochet cardigan patterns, you'll always have a lightweight crochet cardigan pattern on hand.

These sweater crochet patterns will keep you warm in the A/C or on windy and chilly nights and they're ever so fashionable. Choose from lacy crochet cardigan patterns, everyday simple cardigans, bold designs - or make them all!

We've also included some of our favorite colder-weather cardigan patterns. These heavier cardigans are definitely thicker and heavier than the feature patterns in this collection, but they're perfect for ice-cold movie theaters, shopping malls, and the always-too-cold air-conditioned office rooms.

They may be daily wear during the winter months, but you'll also want to have them on hand during the spring and summer months for temperatures drop unexpectedly. 
 
PLUS!
 Want to start off with a cozy, oversized shawl before diving into cardigans and sweaters? Check out this video tutorial for the
cozy shawl of your dreams
!
Table of Contents
Lacy Crochet Cardigan Patterns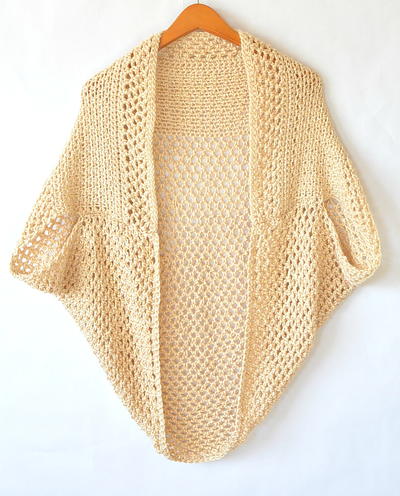 Crochet lace patterns can seem difficult to make, but they're really not, especially once you've gotten the hang of the specific crochet stitches being used. Lacy patterns make amazing easy breezy cardigans because the yarn is lighter and there is more space between stitches. You can dress up any outfit for a date night or a night out with friends with a cardigan like this Light Mod Mesh Crochet Cardigan.

These types of lacy crochet cardigan patterns are also the easiest to carry around in a bag or purse since they are so lightweight. Add instant style with one of these cardigan patterns. Whether you're preparing for crisp fall weather or making some some summer crochet patterns, these lightweight cardigans are perfect for adding some warmth without too much bulk. 
Crochet lace patterns are truly a work of art. Need more of them in your life? You'll find so many beautiful options among these34 Crochet Lace Patterns
Oversized and Chunky Crochet Cardigans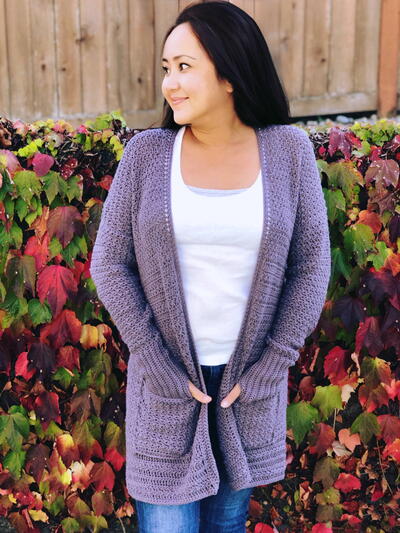 Is there anything as cozy as an oversized crochet cardigan? We don't think so! This collection of new and trendy free patterns showcases cardigans you'll love to cuddle up in on a cool day. Some patterns are oversized, some are crocheted with bulky or chunky yarn. Either way, you can be sure that these cardigans will feel like a warm hug.

Get started by crocheting this Suzette Oversized Cardigan!
Granny Square Crochet Cardigans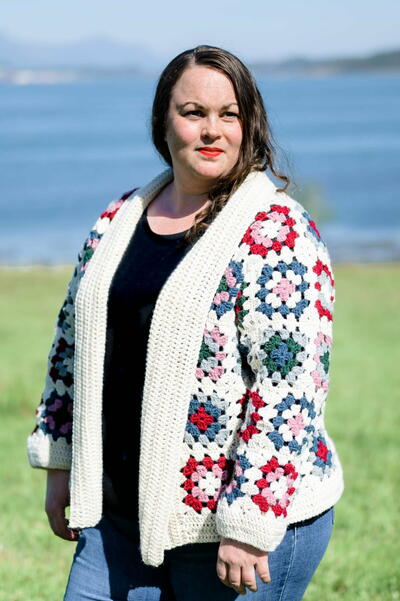 Granny square cardigans have been trending lately, and we are thrilled about it! Granny square projects are so fun to work up, and they look so colorful and bold when complete. These patterns will be the perfect addition to your wardrobe.

Get started with the gorgeous Granny Square Cardigan pictured here!
We love the colors in this granny square cardigan, but you can adapt it to suit your own style and wardrobe!

CLICK HERE FOR THE PATTERN
Crochet Cardigan Q&A
Best Crochet Stitch for Cardigans: We often get asked, "What is the best crochet stitch for a cardigan?" The answer is simple: it depends on your style preference and desired texture. If you enjoy creating lightweight and airy pieces, lacy crochet cardigan patterns with ample space between stitches are a perfect choice. On the other hand, for a more cozy and substantial feel, you might opt for textured cable stitches that add depth and character to your cardigan. Whatever your preference, we've got a pattern that suits your vision. Check out our Everyday Cable Cardigan below!

Exploring New Crochet Stitches: Sometimes the best stitch is one that's new to you! There's something exciting about trying out a new crochet technique, whether you've spotted it for the first time or have admired it for a while. Our women's cardigan free crochet patterns offer a delightful array of stitches to keep your creativity flowing. Consider trying out classic granny squares, elegant cable designs, or even a touch of Tunisian crochet. These patterns provide an excellent opportunity to explore new techniques.

Timing Your Creations: We understand that time is valuable, and you might be wondering, "How long does it take to crochet a cardigan?" The answer varies depending on the complexity of the pattern and your crochet speed. Our collection features a mix of quick and achievable projects that can be completed in a few days, as well as more intricate designs that may take a few weeks. Rest assured, though, that the journey of creating a cardigan is as rewarding as the finished product. Check out our Paloma Cardigan below, which can be crocheted in under a week!

For Beginners and Beyond: You might be wondering, "Can a beginner crochet a cardigan?" While some of the patterns in our collection are ideal for seasoned crocheters, we also have options suitable for enthusiastic beginners. Our easy crochet cardigan patterns come with step-by-step instructions, guiding you through the process and providing a fulfilling experience as you create your very first cardigan. As you gain confidence and skill, you can progress to more intermediate projects, making this collection perfect for crafters of all levels to enjoy. Happy crocheting!
Crochet Cardigans for Everyday Wear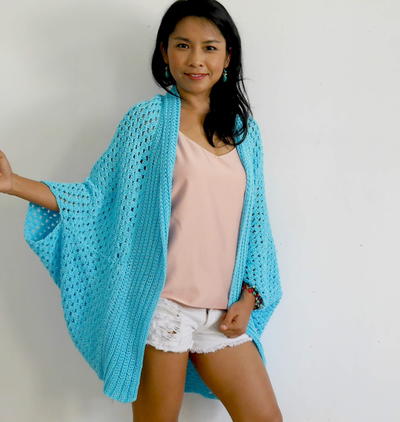 You shouldn't need a million sweaters for the summertime, so look around and find your perfect summer cardigan pattern from these easy breezy cardigans that are perfect for everyday wear. Pick a crochet cardigan pattern that is stylish yet versatile enough to go with any outfit at a moment's notice and you'll have your new summer wardrobe staple. 

A bright and bold cardigan like this Blue Lagoon Easy Cardigan adds a fun pop of color to your warm-weather wardrobe. Even though the temperatures may be rising, you'll still need cardigans to protect yourself against the cold air conditioning that's sometimes set a little too high. These cardigans would be such a stylish way to do so. 
Crochet shrugs are another great option to wear when there's a chill to the air. They'll keep you warm without covering up too much of your outfit. Check out out these42 Free Crochet Shrug Patterns
Bold Crochet Cardigans
Who said cardigans can't be bold? Add a bright color, buttons, ruffles, or turn them into vests for easy breezy crochet sweater patterns. Don't be afraid to show off with a piece of clothing as seemingly humble as a cardigan. You'll spark some interest in your outfit, show off your killer personality, and keep out the wind with any of these cardis.

Easy crochet sweater patterns like this Ruffle Sleeve Cardigan are a great and simple way to spice up an otherwise plain outfit. Whether it's a ruffle detail, bright color, or unique shape or texture, there's something about all of these cardigans that will make you stand out in the best way possible. 

For example, the Rockin' Lacy Duster Crochet Pattern below is a floor-length piece that will make you feel like royalty every time you enter a room. It's also a gorgeous texture and bright color that is perfect for the spring and summer months. It's just one of the many sweaters below that are beauties for a whole combination of factors. 
Colder-Weather Crochet Cardigans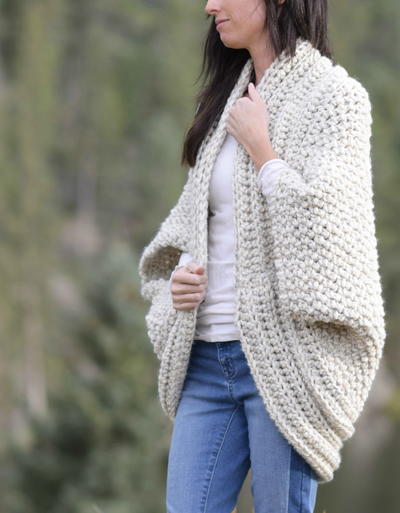 If you need a little more bulk to your cardigans, no matter the weather, we've gathered a selection of chunkier crochet cardigans for you to wear. You can wear cardigan crochet patterns like the Cozy Blanket Cardi during the cold winter months, but they are also great to have on hand during the warmer months because you never know when the night might get chilly or the air conditioning will be set just a little too high. 

Even though you might wear these cardigans on dreary days, they are anything but boring. They will add some cheer and comfort to any day and are likely to be on constant rotation in your closet because of their versatility. There are so many different styles below that you're going to have multiple favorites. 
Have you ever experienced something that was so ugly it circled back around and actually looked kind of cute? That is how the concept of the so-called ugly sweater was born. You'll find plenty of inspiration from these21 DIY Ugly Sweater Ideas
Your Recently Viewed Projects
Join our community of 5 million crocheters! Right now!
Get free crochet patterns, exclusive partner offers, and more.
Thank You for Signing Up!
There was an issue signing you up. Please check your email address, and try again.