50+ Crochet Fingerless Gloves (Free Patterns)
Work up these crochet fingerless gloves patterns for a versatile and stylish look for anyone in your family!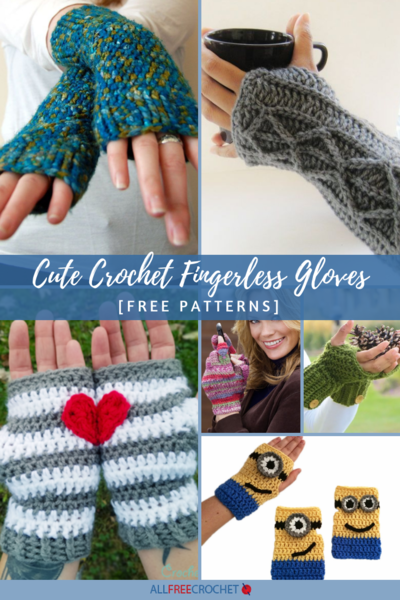 Have you ever been wearing gloves or mittens and needed to use your phone or grasp something and couldn't? It's so frustrating when you have to remove them to fiddle with something. That's one of the many benefits of fingerless gloves!

Fingerless gloves are the hot trend this fall and winter (even though they won't keep your fingers warm). They're still warm enough for a chilly day, cold room, or office but sometimes are viewed as more of a fashion statement than a true winter accessory.

People love them and, with this page, 50+ Crochet Fingerless Gloves (Free Patterns), we've got the biggest variety you could ask for. Work these up and join the excitement. With these free fingerless glove patterns, you'll be stylish and comfortable as the seasons change.

Regular crochet gloves are so last year, so go fingerless and you won't regret it. You can even wear these chic gloves indoors without making your palms sweat.

Whether you're crocheting a pair of crochet gloves for kids or for an adult, the patterns in this collection might actually have you looking forward to cold weather so you have more of a reason to break them out. 

There are two types of fingerless gloves to crochet for length: elbow length or wrist length. There are also a few types to work up in relation to the fingers and thumbs: crochet fingerless gloves with thumb holes, finger holes, or those with only one opening for fingers.

With the options below, you'll be able to choose whichever kind you like best or think would fit best with your own style preferences. Once you master a few of these patterns, you can also mix and match preferred styles for a customized pair you'll really love.


Want more patterns? Subscribe to our Hooked on Crochet newsletter and get free crochet patterns sent to your inbox daily!

PLUS! Watch our video below to learn how to separate thumb stitches for your fingerless mittens. It will certainly come in handy when you work up many of these awesome glove patterns.
Table of Contents
Elbow Length Fingerless Gloves Crochet Patterns
These sleek designs will keep your forearms warm as well as make them very in vogue. You'll see everyone wearing fingerless gloves pretty soon, but you can make yourself a super unique pair with the crochet patterns we're giving you.

On those days when it's so cold outside that you feel like you need five different layers to have some semblance of warmth, crochet arm warmers might be your answer. No one will have the same pair that you make because you can choose your colors and the length of yours. Make a pair in every color and pattern you can think of to match what's in your closet.
Wrist Length Crochet Fingerless Gloves Patterns
These are also known as crochet wrist warmers but some are a combination of wrist warmers and gloves. You'll be the talk of the town with these adorable crochet fingerless gloves that are easy to slip on and off. Wear them with a stylish coat and you'll be set for cool weather. You will be especially fashionable and warm without compromising the use of your fingers like when you wear mittens.

Crochet wrist warmers are your answer when you are out and about running errands or walking around and need to keep warm while still being able to text, reach into your purse, and more. Whether you're making a pair for yourself or as a gift for your friend or daughter, there's something for every style. From colorful, statement-making patterns to more subdued or elegant patterns, you have plenty of options to choose from below.
Crochet Fingerless Gloves for Kids
Crochet a pair of fingerless gloves for your little ones too -- don't keep all the fun and warmth to yourself! Fingerless gloves are a great option for children because they won't be as tempted to rip them off their hands. A pair of gloves fashioned after their favorite superhero or cartoon character will soon become the favorite part of their cold-weather wardrobe.

These crochet fingerless gloves are perfect for little hands and arms for so many reasons, so keep your young children just as cozy as you are this fall and winter (even spring). You might find yourself in trouble when they go to school wearing these because all of the other kids will be asking their moms for a pair, too! They would make a great gift for all of your child's friends or any other special little ones in your life. 
Your Recently Viewed Projects