20+ Free Crochet Mitten Patterns
This collection features the cutest free crochet mitten patterns for beginners! Gloves, too!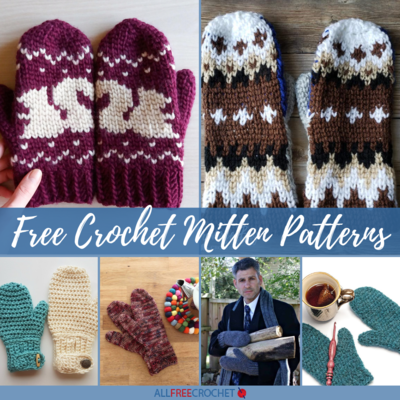 The winter months seem to last the longest because they're the coldest and everything is drab. There are no colorful trees or green grass, but all you see is white from the snow that falls.

Try to cheer yourself up by crocheting a new pair of mittens you found in this collection of 20+ Free Crochet Mitten Patterns. Adorable mittens are the perfect thing to add to your winter wardrobe.

Even when the weather starts to get warmer in spring (or when it starts to cool down in fall), you'll still have a chilly day here and there where mittens are ideal.

Mittens are also trending right now because Bernie Sanders rocked some mittens in a very Bernie way at the Joe Biden and Kamala Harris presidential inauguration and now everyone wants some (there are patterns below!).

It turns out they were actually made from upcycled sweaters. If you're interested in that technique, learn how to sew your own with this Recycled Sweater Mitten Tutorial from our friends at AllFreeSewing. For the knit version, check out this pair at AllFreeKnitting.

If you're intimidated by crocheting two matching pieces, don't fret. Many of these free mitten patterns are for beginner crocheters or at an easy skill level. For the pros, there are a few more intermediate crochet designs, too.

Another reason I love homemade gloves so much is that any of these free crochet mitten patterns make nice gifts or for charity. So, go ahead and make them all!

PLUS! Scroll down past the mittens and we have a bonus section with free crochet gloves patterns. It doesn't matter if you prefer mittens, fingerless gloves, or fingered gloves, we've got you covered! Literally.
Table of Contents
Adorable Crochet Mitten Patterns
If you're like me then the first thing to freeze is your nose, toes, and fingers. Luckily, I have all these cute crochet mittens to choose from. While I crochet them, the yarn will keep me nice and warm while it's sitting in my lap, too.

Not only does crocheting mittens help me fight the winter blues, but once I finish my next pair of gorgeous mittens, I can wear them. I always get so many compliments and questions about where I got them. Warning: it will happen to you, too! Be prepared to keep your crochet hook out and ready to make more. You won't be able to stop at one pair for yourself either. Just take a look at the sweet patterns below.
BONUS! Free Crochet Gloves Patterns
If mittens aren't your thing, no worries. For better dexterity, gloves might be more up your alley. Gloves can be slightly more difficult to crochet because you have to work up four fingers and a thumb but these patterns and tutorials were written by the best crochet designers around and the instructions are very well written. Images and tips, too!

These being a little more tricky is one of the reasons crochet fingerless gloves are so popular. No fingers to make! It's a fun challenge, though, and many of these are still considered a beginner or easy level, so you really don't need to be intimidated.
Your Recently Viewed Projects