85+ Learn to Crochet Videos
Learn crochet with our helpful crochet videos that walk you through each step.
By:
Julia Wiatr, Editor, AllFreeCrochet.com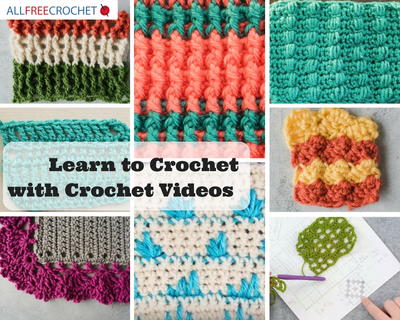 Video Tutorials for the Visual Learner
So you want to learn to crochet but have no idea where to start? Fear not, you've come to the right place! We at AllFreeCrochet spend a lot of time in our craft studio filming tutorials and videos to help you learn how to crochet.

From beginner stitch videos to project tutorials, there's a crochet video tutorial here that's sure to help you out. We have over 85 video tutorials here and even some general tips and information here, like what yarn to use for dishcloth patterns or how to choose colors and weaving in ends.

To get started, check out the video below on how to crochet the single crochet stitch... and then keep clicking around to build your skill repertoire! 
 
Table of Contents
FAQs: Crochet Help for Beginners
What's the easiest way to learn to crochet?
This varies depending on who you're talking to. Some people need to be shown by someone in person and then be able to ask questions as they go while others can sit in front of a Youtube video (like the AllFreeCrochet channel) and learn at their own speed, pausing and repeating certain bits when necessary.

If you're a video tutorial kind of person, this comprehensive collection page is perfect for you. You'll find these tutorials broken down into easy and basic crochet stitches, ones you can find being used for most patterns, and some slightly more complicated stitches that aren't as common but still look really gorgeous.

You'll find a section on specific techniques, like weaving in ends or how to change colors as you crochet, and there's a section for crochet borders and edgings that you can add to your finished projects to give them a little something special. Finally, there's a section of full-project tutorials, where we walk you through each of the steps needed to make a certain baby bootie or hat project.


What is the best yarn to learn to crochet with?
Medium-weight (or worsted weight yarn) is probably the best yarn to learn to crochet with. Any smaller and you'll be dealing with smaller crochet hooks and much more intricate stitches and any larger and you might be overwhelmed by the sheer size.

Worsted weight yarn is the most common and most popular weight yarn, and you can find any type of project for the yarn weight. Check out Types of Yarn and Yarn Weights for everything you need to know.


What do I need to buy to crochet?
To learn to crochet, you need to buy a skein of yarn (as mentioned above, stick with worsted weight for starters, so you can practice), and a crochet hook. On every yarn label, you'll see a suggested hook size, so make sure you get something that matches.

If you need help with hook sizes, see our page on choosing the right hook size for more information. 
 
Learn to Crochet for Beginners
First, learn how to crochet a chain stitch, then move onto the rest of these tutorials in order to learn crochet.



The foundation for any crochet project, from scarves and hats to blankets and sweaters, is a good grasp on your crochet stitches. There are so many different types of stitches out there, and they range from quick and simple to more involved and decorative, but the basics are all the same.

Ultimately, you're still just inserting your hook through the top of a stitch, yarning over and grabbing some yarn, and pulling your hook through other loops - the difference is in the number of times you do each thing.
So, you want to learn how to crochet but aren't quite sure how or where to start? Have no fear - and welcome to the world of crochet! It's very easy to get started as there is a wealth of information out there for you to peruse, but we've gathered some of our best and favorite tips and tricks here in this article to help you out. How to Start Crocheting
Crochet Stitches Tutorials
These crochet stitches are a little more involved than the ones above and are also not as common. Nonetheless, they aren't necessarily any more difficult than the basic ones above.

Many of these are made using the basic stitches you've learned before, so none of these should be too tricky. Add some pizzazz to your projects with these more advanced crochet stitches!
Before you can start crocheting, you need to make sure you know the basics. You might know how to complete basic stitches (or not), but you need to learn what the crochet abbreviations are before you make any progress on a crochet pattern... and crochet has a lot of abbreviations. Crochet Abbreviations Explained
Learn to Crochet Techniques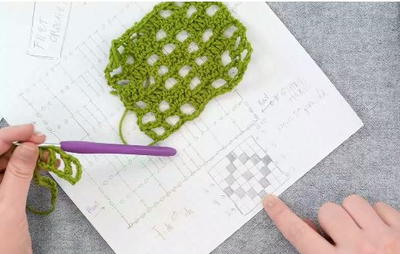 Besides knowing your crochet stitches, you'll need to know some other fundamentals. Unless you're fine with making projects in all one color, you'll want to know how to change colors as you crochet and how to join yarn.

For hats, you might want to make sure you know how to work in the round or how to start with a magic circle. We even have some basic video tutorials on choosing the best crochet hook for your work and using stitch markers to track your progress.
If you've been bitten by the craft bug and want to learn how to crochet, there are a few crochet basics you need to learn. Some simple techniques and tricks, such as a slip knot and single crochet stitches, will really set you on your way. Once you've gotten the hang of these most basic of easy crochet stitches, you can start moving on to some other fun stitches. These simple steps are what you need to follow to learn how to crochet, but once you've mastered them, everything else is just a variation on these: 20+ Basic Crochet Stitches
Crochet Edging Tutorials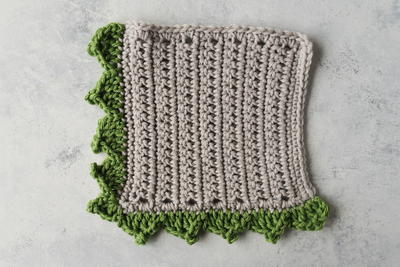 Once you're done with a project, it's nice to add an edging to your work to set it off. Sometimes you can get away with something basic, but what if you want to add some more advanced edging or border?

These crochet edging videos will show you how to work some fancy borders that would look great around a baby blanket or even along the bottom ends of a scarf or a sweater!
Full Project Crochet Videos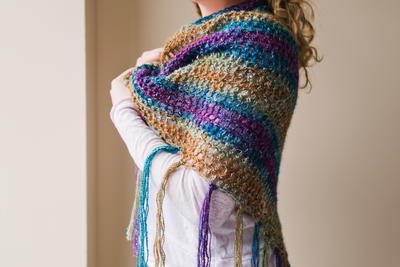 Now that you've learned about some crochet stitches, fun techniques and tips and how to crochet stylish borders and edgings, you're ready to go off and crochet your own projects!

With all of your knowledge gleaned from these videos, you should be able to follow along with any crochet pattern out there. If you still prefer following along with videos, we have a few super popular projects available as video tutorials, just for you!

Make a crochet baby cocoon or a chunky baby blanket, work up a messy bun hat or a sweet beanie with a flower, or various crochet accessories, scarves, blankets and appliques!
Have we missed any videos? What would YOU like a tutorial on? Let us know in the comments below!
Free projects, giveaways, exclusive partner offers, and more straight to your inbox!
Tags / Related Topics
Your Recently Viewed Projects
Images from other crochet readers


Something worth saving?
SAVE all your favorite patterns
ADD personal notes
QUICKLY reference your patterns