How to Crochet Edges & Make Crochet Borders on Patterns
Bonus: Get our newsletter & special offers for free. We will not share or sell your email address. View our Privacy Policy

Types of Yarn and Yarn Weight
Before starting your next crochet project, learn about yarn types and yarn weights.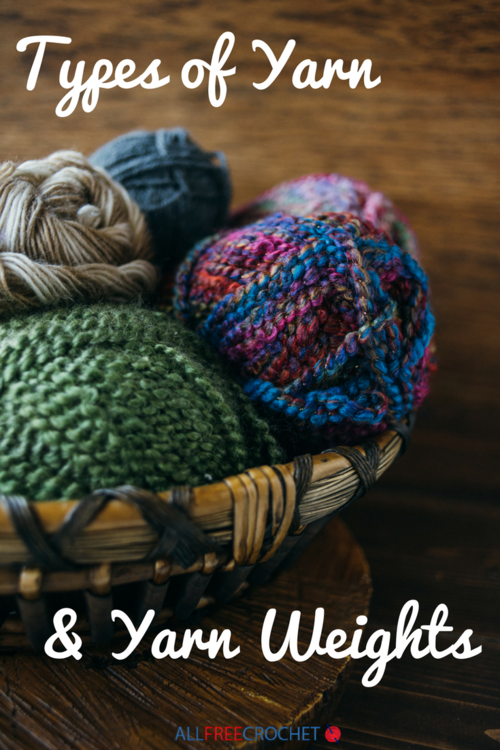 Learn the types of yarn that are available for your free crochet patterns. You can also find the yarn weight to help you understand what each yarn can be used for. There are plenty of different yarns for you to use for each of your crochet projects.

With that said, different fibers of yarn will result in a different look depending on what yarn you use for what project. Once you find the perfect yarn you're looking for you can go ahead with your crochet design. Below you can find a variety of yarn fibers.

Learn all about natural fibers, synthetic fibers, eco-friendly yarns, and yarn weights. We are even sharing some of our favorite free crochet patterns with each yarn weight type. It's amazing the difference knowing what best yarn to use for each project will make.


 
Yarn Types Chart
Before we start detailing the best yarn types for crochet, we have created a handy PDF download for you. This chart has the most popular natural and synthetic types of yarn, where and how they are formed, and more. It's a useful chart to keep on your hard drive or print out and keep by your side.

Click here to download the Types of Yarn Chart shown below.
Natural Fiber Crochet Yarn Types
When it comes to different types of yarn, many people prefer natural fibers. Natural yarns do not involve much of a chemical process in turning fiber into yarn and are not combined with unnatural fibers to create the yarn either.

Natural yarns come from animals or plants and are harvested safely. However, this means that natural yarns tend to be more expensive than synthetic.
Alpaca/Llama: South American llamas or alpacas produce very soft, warm yarn. Llama wool yarn is less soft and bulkier. Alpaca and llama wool is non-allergenic since it does not have the lanolin found in lamb's wool. This yarn does not accept color as well as wool though.

Angora: Angora is an especially soft rabbit fur yarn which has a fuzzy appearance.

Cashmere: Cashmere, from the soft undercoats of cashmere goats, is a more expensive yarn which is especially smooth while still retaining warmth.

Cotton: Made from cotton plants, many types of cotton yarn are treated with chemicals to make them more durable, mildew resistant, and able to accept dyes better. Some environmental concerns have been raised with traditional cotton production though.

Hemp: Hemp is incredibly eco-friendly as it is a renewable resource which can be grown without pesticides or herbicides and is the strongest natural fiber. Hemp yarn garments are softer with each machine washing and can be treated for softness as yarn. Check out LanaKnits to read about and purchse Hemp yarn.

Linen: Linen yarn is made from the flax plant and is a lightweight yarn perfect for summer garments.

Mohair: Mohair is a thick yarn from the Angora goat with an especially fuzzy look.

Silk: Silk comes from silkworm larvae and is very smooth and light. Since silk does not have much stretch, silk is generally combined with other fibers for yarn, often cashmere for a truly-luxurious yarn.

Wool: Many different kinds of wool exist and are spun into yarns with different weights and textures. Wool accepts color very well and is very warm. Merino wool yarn is a popular choice for making garments.
Yarn Blends
Many yarns blend different natural fibers, synthetic fibers or natural fibers with synthetic fibers, such as for a softer feel.

If you want to felt your knitted or crochet project, you must ensure the yarn is at least 80% wool, but the other 20% can be synthetic.
Types of Synthetic Yarn
Nylon, rayon, acrylic, viscose, and polyester are all synthetic fibers that appear in yarn. 100 % acrylic yarn is a common choice as it is the most inexpensive yarn. This makes acrylic yarn a good choice for those just learning how to knit or crochet.
Acrylic: This is a popular fiber in crochet because it is inexpensive and comes in a variety of colors. It can be soft or stiff depending on the brand and style. It is warm but lightweight.

Bamboo: Bamboo yarn has the feel of silk and is very strong. Bamboo is highly eco-friendly because it is a renewable resource because it can be harvested without killing the plant, which then regenerates the removed bamboo in a couple of months.

Nylon: Often used as a replacement for silk, this fully synthetic fiber is desirable because it is resilient to stains and shrinkage and can be made dull or shiny.

Polyester: Polyester is a type of plastic that is usually blended with other fibers to add strength and reduce the possibility of shrinking in the wash.

Rayon: Also referred to as viscose rayon, this semi-synthetic fiber is made from plant cellulose or wood. It is formed into yarn by going through a chemical process. Rayon yarn can lose strength when wet but is very strong when dry.
Yarn Weights Infographic
In the next section, you will learn about the six yarn weights categorized for crochet projects but before we get to it, we wanted to share this helpful chart. Pin this, save it on your computer, or print it out to keep it available when needed while crocheting.

This chart is chock-full of information about yarn weights, including what hooks to use and what projects to make.

Click here to download the Yarn Weights Chart shown below.
Crochet Yarn Weights
Yarn is divided by weight, or how many crochet stitches in a gauge of four (4) inches. The thinner the yarn, the more stitches in the gauge. The thicker the yarn, the less stitches in the gauge. Each yarn weight is also given a specific number for you to refer to.

Take a look below for the six yarn weights for crochet and get a few projects for those types as well.

PLUS!  Before you start working on your crochet designs you have to know all about your crochet stitches. In order to learn those you need to understand what crochet abbreviations mean. Click here for our Guide to Crochet Abbreviations.
Free projects, giveaways, exclusive partner offers, and more straight to your inbox!
Tags / Related Topics
Your Recently Viewed Projects
Images from other crochet readers


Something worth saving?
SAVE all your favorite patterns
ADD personal notes
QUICKLY reference your patterns