Yarn Substitutions (Tips for Swapping)
Free yourself from the tired yarn restrictions of your favorite patterns with this handy yarn weight subbing guide!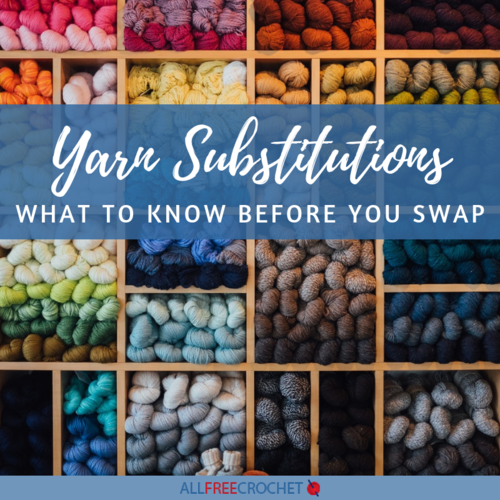 We all do it—make yarn substitutions, I mean. We find a crochet pattern we absolutely adore, promise ourselves that we are going to do our utmost to be faithful to that pattern, see the type of yarn the pattern calls for, and...nope!

The specified yarn is oftentimes the first thing to go when following a crochet pattern.

There are a million reasons why we substitute yarn: Maybe the yarn has been discontinued since the pattern was designed. Maybe the type of yarn listed is too expensive. Maybe you want to use yarns you already have in your stores.

Maybe you prefer the feel of one yarn type over another. Whatever your reason, it's a fact of life that, sometimes, it can come in handy to know how to substitute yarn the right way.

But what is the right way?

At first, it may seem simple to substitute yarns. However, it's not as easy as swapping yarns that are the same listed weight. Although we all wish substitutions were such a breeze, the ins and outs of substituting yarn are a little bit more nuanced.

Never fear, though! Below we've compiled a comprehensive and beginner-friendly yarn substitution guide that will make substituting fiber as hassle-free as possible.

Once you learn what to look for when making yarn replacements, you'll be able to swap out materials like a pro.

Say goodbye to garments that don't hang right or that come out the wrong size after a change in yarn gone wrong. With this easy-as-pie tutorial, you'll be able to keep faithful to your pattern even when you make a material change.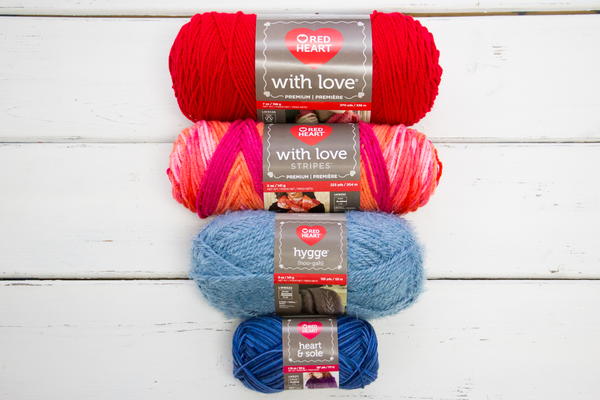 Yarn Substitution Basics
One of the most helpful sources while attempting to make a replacement is—thank goodness—one of the easiest to find: the yarn's label! You'll find a host of measurements on these yarn labels that will allow you to make the most accurate substitution when properly matched. Below are the main yarn measurements found on a yarn's label that affect the fit, drape, and size of the crocheted garment. Try to substitute yarn that has similar, if not the same, measurements.

Another important tip is to always, always, always crochet a swatch, or a small practice patch, before you decide to continue with the full pattern. This way, you'll have a fuller idea of whether your replacement yarn will work for your pattern or not before you put in all of the work.
Yarn Weight
Though yarn weight isn't the only dimension to check while making a yarn substitution, it is the most important. Yarn weight—which actually describes a yarn's thickness—will affect nearly every aspect of your final project, from size to fit to drape, so it's necessary to choose yarns with the same weight and thickness. Below we have a yarn weight substitution chart, which delineates the different yarn weights, categories, and crochet hooks, as well as the ideal projects for each weight. When making a swap, try to choose the same weight as noted in the pattern.

Want even more? Click here to learn everything there is about yarn weight and projects to make for each listed weight!

Note: Pay extra close attention to both foreign and vintage patterns, as some of the yarn descriptions and measurements in these patterns may not accurately align with today's yarn measurements.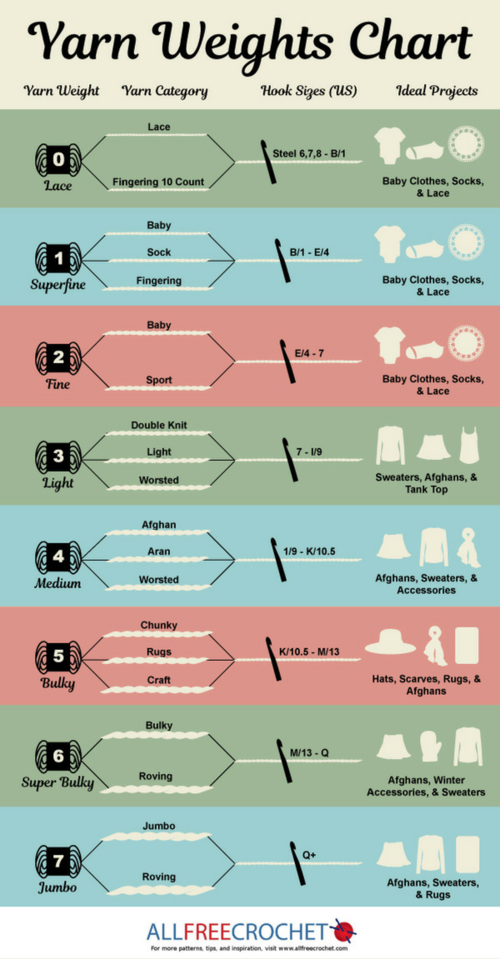 Learn more about the types of yarn that are available for your free crochet patterns with this page. You can also find the yarn weight to help you understand what each yarn can be used for. There are plenty of different yarns for you to use for each of your crochet projects. Check it out here:Types of Yarn + Yarn Weights Explained
Wraps Per Inch
This number signifies how many strands of yarn fit side-by-side in a single inch. Oftentimes simply matching the same yarn weight isn't enough to ensure a perfect yarn substitution since there is variation within each yarn weight category. Therefore, using this numerical measurement will get you a closer match when comparing yarn thicknesses.
Gauge
The gauge of yarn signifies how many stitches make up an inch and row when crocheted with the recommended needle size. The actual gauge may vary from stitcher to stitcher due to varied tension, but this measurement should provide a rough idea of the expected gauge.
Yardage
Yardage refers to the amount of yarn in the ball/skein. By getting the same amount of yarn as specified in your pattern, you won't have to worry about running out of yarn or having way too much left over once your garment is completed.
Weight-to-Yardage Ratio
Another way to match the weight of your substituted yarn that is more accurate than just matching its weight category is to calculate its weight-to-yardage ratio. This number tells you how much weight there is for every yard of yarn there is in your ball or skein. It will also affect the gauge of your yarn as well as how the yarn is distributed within your pattern. Therefore, by choosing a ratio that is similar to the yarn specified by your pattern, your result will be more accurate.
Fiber Content
This information tells you the relative amount of different fibers in a type of yarn. These fibers include wool, cotton, acrylic, hemp, silk, and animal fiber. The type of fiber in a yarn affects nearly every aspect of the final product, including its density, washability, finish, sturdiness, and overall hang. Though you don't always have to choose the exact same fiber for your project as specified in the pattern, you should be aware of how different fibers may affect these dimensions.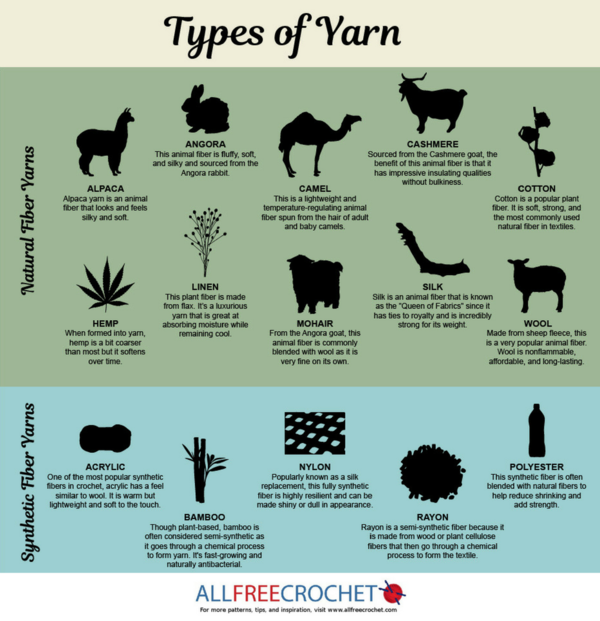 Washability of Yarn
Of course, it's important to know whether or not you can wash your garment once it's finished. However, knowing whether your yarn is superwash or non-superwash can affect a lot more than just its time in the laundry room. This yarn dimension can have an unexpected effect on the fit, drape, and size of the final product, so it's important to substitute yarns that have the same washability.
How do you soften yarn? Find a few options with this helpful resource, How to Soften Acrylic Yarn, which focuses on ways to make acrylic yarn softer either before or after crocheting. Read our tips here:Solved: How to Soften Acrylic Yarn
Your Recently Viewed Projects
Join our community of 5 million crocheters! Right now!
Get free crochet patterns, exclusive partner offers, and more.
Thank You for Signing Up!
There was an issue signing you up. Please check your email address, and try again.