How Tight Should Crochet Stitches Be?
If you have tight crochet stitches, then your project won't match up with the pattern sizes. Crocheting too loose has the same problem. Learn how to prevent it here!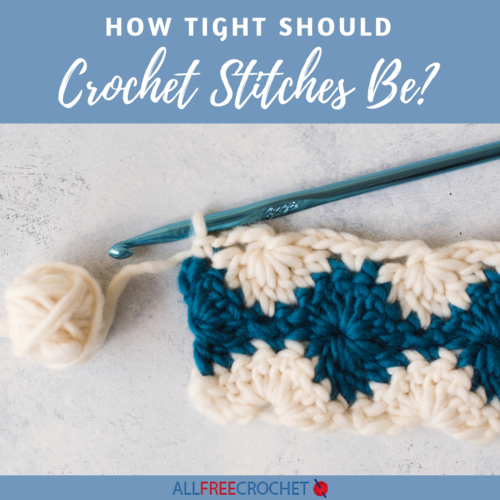 It doesn't matter if you are a beginner or you've been crocheting for years; not having even stitches is a common problem. How Tight Should Crochet Stitches Be? Well, it comes down to one word: tension. Crochet stitches can't be too tight or too loose otherwise you will have problems with your project.

The yarn should move smoothly from your yarn-holding hand to your crochet hook. There are several ways to check if your tension is too tight or too loose when crocheting, which will help you determine how tight crochet stitches should be. On this page, we will go over everything you need to know about learning the proper stitch proximity.

It would be super convenient to tell you that all crochet stitches were a certain size, thickness, width, but that is not the case. If you're wondering how to keep the right tension when crocheting, then this guide will help. You can easily test your tension by doing a few different trials and experiments. We promise, knowing your tension is going to save you a lot of frustration and heartache once you see the difference it makes in crochet.

Tension goes hand-in-hand with gauge, which is the number of stitches per inch and row. Depending on your tension, your gauge might not be correct for what you're working on. Don't fret, though, because when it comes to figuring out how tight your crochet stitches should be, we have all the tools and advice to help solve your woes.

For the tutorial on this gorgeous Catherine Wheel stitch pictured, visit our friends at I Like Crochet.

Before Your Start: Learn to Count Stitches
We'll discuss this more below but one of the most important checks while crocheting is making sure you have the correct number of stitches (and rows). Watch the video right below to learn how to count your stitches properly!
 
How Should Stitches Look?
When it comes to figuring out how tight crochet stitches should be, it helps to be observant. Before you start crocheting something new, make sure you know what it's supposed to look like. The overall look, the specific stitches, and so on. Then you can tell sooner rather than later if what you're doing is looking as it should. 

Each type of stitch has its own look and definition that can be made more or less distinct with tension and gauge changes. Know what you're creating and make sure the first pass looks right.

You will most likely encounter problems whether you crochet too tightly or too loosely. There are some crochet patterns that don't rely too heavily on tension and gauge, so it may be best to start with those types. These would be the types of projects that don't need exact measurements. Scarves and some baby blankets for example. Projects like clothing need the crochet work to be exact otherwise it won't fit.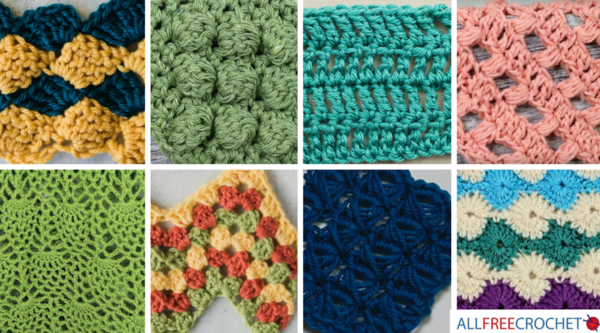 When crocheting, it's important how you hold the yarn in your non-hook hand (left hand for right-handers and right hand for left-handers). If you hold it taut, then there's a good chance you'll be crocheting too tightly. If there's too much slack, your stitches may be too loose.
Experienced crocheters who know their tension level can determine what tightness they desire on their crochet projects (sometimes tighter or looser stitches are better) but it takes skill to get to that point. In the beginning, it's best to stick to what the pattern calls for and adjust your hook as needed.
If I crochet too tightly, what will happen?
If you crochet tight, you'll start having trouble pretty quickly. It will be difficult for you to make movements with your hook. Pushing the crochet hook through the tight stitch space is going to require a lot of effort and will take you longer and make it more difficult for you to finish.
Other Problems You May See with Tight Stitches:
- 
The finished piece may be much smaller than it should be because the stitches are closer together than intended.
- 
Your project may curl because of the tight stitches.
- 
Your hands may hurt faster than with looser tension. It's a lot of pressure when you are holding and moving with a firm grip.
If I crochet too loosely, what will happen?
If you crochet too loose, it will be easy to find the space to move your crochet hook but your project will be lacking definition. You will have trouble seeing where exactly your next movement should take place because there aren't clear stitches and spaces as there should be.
Other Problems You May See with Loose Stitches:
- 
The finished piece may be much larger than it should be because the stitches are farther apart than intended.
- 
Your project won't look sharp or well-defined because the stitches and rows won't have the right spacing.
- 
The project will be more likely to have a pulled stitch or to fall apart faster because it's lacking the tightness and stability intended.
It can be really frustrating to spend hours of your time on a project, only to realize that it isn't turning out the way you envisioned. If this a problem you find that you keep running into over and over, keep reading for this guide,How to Stop Crochet From Getting Smaller (or Too Large)
How to Determine Your Stitch Tension
Method 1: Make a Swatch

One of the simplest ways to figure out your tension is by making a crochet swatch. How do you do that? Look at a yarn label. We have a typical yarn label below. When you are reading a yarn label, you will see a lot of important information, including the gauge.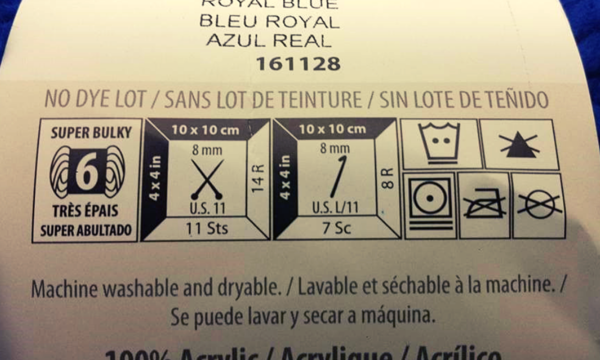 In the image above, find the box with the crochet hook inside. It tells you that with this yarn (weight 6 super bulky acrylic), in order to make a 4" x 4" square, you should use a L/11 (8mm) crochet hook to make 8 rows, each with 7 single crochets.

Let's say you make a 4" x 4" square swatch. It's recommended that you do this specifically for each type of yarn or hook but if you're consistent, you can use an existing project to measure a 4" x 4" swatch. What next? Now you count rows and stitches. Do you have 8 rows of 7 scs?

Yes: Then you have the correct tension for this yarn and hook. You are good to complete your project!

No, I have more stitches than the swatch required: This means that you crochet too tightly. Try making another swatch with a larger crochet hook and see if that measures correctly. 

No, I have fewer stitches than the swatch required: This means that you crochet too loosely. Try making another swatch with a smaller crochet hook and see if that measures correctly.

Our page, What is Gauge in Crochet? (+ All You Need to Know About Crochet Gauge) will help you learn everything you need to know about creating a swatch to measure your tension.
 
Method 2: Use Your Pattern Specifications

It's always a good idea to pay close attention to your pattern. The pattern should tell you whether gauge is important or not. If it is, then it will have something similar to what you'd find on your yarn label. For example, the Red Heart pattern for the All Frills Crochet Shawl states: 11 hdc = 4 (10 cm); 8 rows = 4 (10 cm) with A. CHECK YOUR GAUGE. Use any size hook to obtain gauge.

You can make a swatch or start the pattern and check before you've gone too far. Obviously, you don't want to complete the crochet pattern only to find that you have crocheted too tightly or too loosely. It's best to find out before beginning or after 4 or 5 rows. Keep in mind that gauge is not important for some patterns.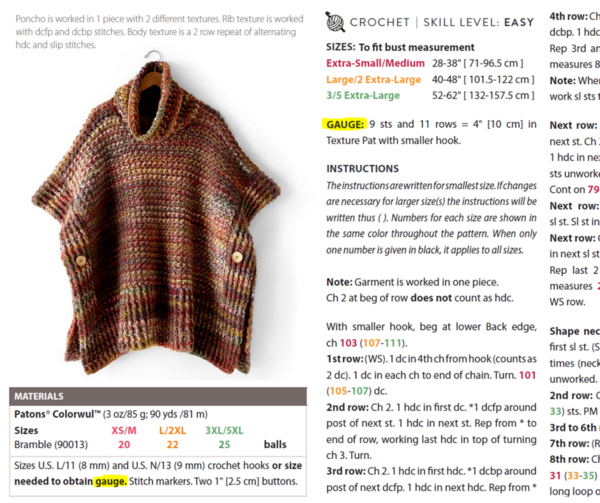 Method 3: Count Your Stitches and Rows

This is always good advice when crocheting. By keeping track of the number of stitches and rows as you go allows you to make sure you are on track. It's also convenient if you take breaks from your project. Learn how to count crochet stitches here. Learn how to count rows here.

An easy way to keep track is by using stitch markers and counters. Stitch markers are attached to each stitch (or a certain number of stitches, whichever you prefer) and counters allow you to record the number of rows (or stitches) as you go.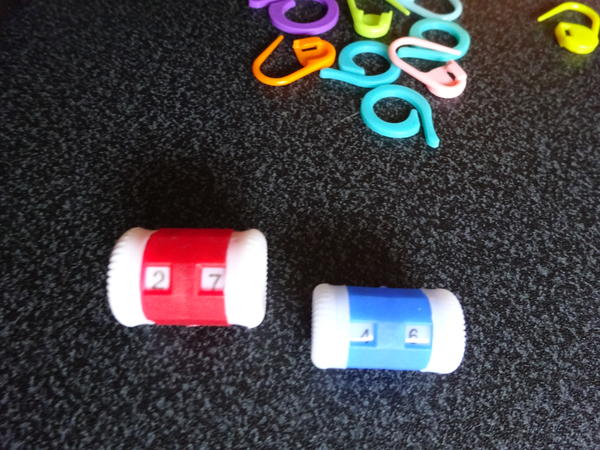 Crochet Tension Tips
Besides all the tips we've shared above, there are a few more things you can do to actually monitor your tension...
Watch this video from our friend Mikey at The Crochet Crowd for How to Tell if You're a Tight or Loose Crocheter to learn more about your movements.
 
Know your yarn and hook size before starting. This may mean making a swatch or trying an easier project using the same yarn and hook before jumping onto something more important.
 
Consider the importance of the project and adjust as needed. If this is a fun project that doesn't matter or you don't want to test before starting, it may be best to go with a smaller project or less expensive yarn. Nothing is worse than having to rip out your work because the tension was too tight or loose.
 
Pay attention while you crochet. If you know you aren't consistent or if you are a beginner, it's important that you keep an eye on how tightly you are holding the yarn, the piece you are working on, and your hook. If it's an important project, don't start watching TV and stop noticing issues. Learn more by watching this video, How to Determine Your Tension in Crochet.
 
Use tools. There are tension tools available to help keep your yarn flow consistent. Finger guides and tension regulators can be purchased and worn while crocheting. Leslie from Crochet Bug has even created a crochet pattern for a DIY tension regulator! 
 
Practice, practice, practice. As with any craft, you get better the more you work at it. Plus, the more you crochet, you may notice that your tension changes. It's all about experience and understanding your own hands.
Krista Childers is the Senior Content Editor for AllFreeCrochet. She has a passion for creative writing and trying every craft at least once. Find more of her work here:Krista Childers
Your Recently Viewed Projects
Join our community of 5 million crocheters! Right now!
Get free crochet patterns, exclusive partner offers, and more.
Thank You for Signing Up!
There was an issue signing you up. Please check your email address, and try again.