How to Count Crochet Rows
Counting crochet rows is easy. Find out how with this tutorial!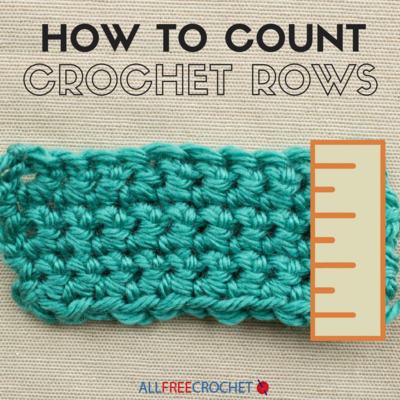 Learn How to Count Crochet Rows by following a few tips and rules. There are several different ways to count rows in crochet, so find the one that works best for you. Count them at the end by using the consistent markings, count them as you go with a counter, or mark each row once it's complete.

On this page, there are visual examples and explanations to show you exactly how to count crochet rows, making it easy for even beginner crocheters to understand. be a novice no more, once you learn this basic and necessary crochet skill.

Another helpful addition to this page, particularly for those aspiring crocheters who are just getting started, is how to count chains. We will go over the foundation of chains, how they look, and how to count them. We even have a section on counters and markers to help you keep track that way. This page is a must-read for beginners.


Table of Contents
How to Count Chains in Crochet
How to Count Crochet Rows
Counting Crochet Rows with Counters and Markers
 
One of the easiest crochet patterns to try if you're just getting started is a flower. In this page, we step out in video and written instructions how to crochet a few different styles. Take a look here: 3+ Easy Crochet Flower Tutorials for Beginners
Counting Crochet Chains and Rows
Learn how to count both chains and rows in crochet. We have a lot of visuals to help those who like to see as well as read how-tos. Knowing how to count your crochet pieces as you work them up or after you are finished is incredibly helpful. Most of us get into a routine when we crochet and forget about keeping track.

That's why having a way to count them later helps get you back on track or tells you how far you have been and have to go until you're through! We will start with counting chains and then go over how to count rows in crochet.
 
How to Count Chains in Crochet:
Before we get to counting rows, let's go over chains.

Chaining is the first step in a crochet project. With chains, it is vitally important to make sure you have the right number of stitches. Of course, it is always important in crochet, however, since this is the foundation, it is the most important.

To learn this basic technique, watch our video for How to Crochet the Chain Stitch.

Follow the steps below to learn how to count chain stitches.
First, make sure you are counting the right side. 

The back of the chain has bumps (shown on the left of the image below).
The front of the chain has v shapes (shown on the right of the image below).

You will count the Vs to determine how many chains you have crocheted.

Count the V shapes you see. Each V is one chain. The example shown below has 9 chains.
How to Count Crochet Rows:
There are a few different ways to count rows in crochet. The easiest way is to count the horizontal dashes (or blocks, or knots) as you go. However, because these dashes only appear every other row, you have to double the number of blocks to get the total number of rows.

In the examples below, you will see how to count single crochet stitches as well as how to count double and triple crochet rows. Each stitch is different, especially when it comes to height.

It is also more difficult to count if the crocheting is messy. The examples below aren't perfect and, as you can see, are not the easiest to count. But, they are realistic for most of us!
Counting Crochet Rows with Counters and Markers
Another way to keep track of your rows is by using a crochet counter and crochet row markers.

As you work, use the counter to keep track of the rows you create. Attach the markers to the end of each row, and count when you're done. It's super easy and saves time later.

Using one of these counting tools should be sufficient, but when you're working, it may be easy to forget to click the counter or add the marker. Using both allows for less chance of error.

It's best to get into the habit of marking your crochet as you go if it's important to you to know the number of rows. This is especially important if you are working on something large or taking a lot of breaks in between.
Counters

Crochet row counters can look different depending on the brand and the price. A simple counter, like the two shown in the picture below, are inexpensive alone or can be found as part of beginner crochet sets.

Some other counters are bigger, can be worn on a finger or wrist, or around the neck.

How to use crochet row counter: Look at the image below. On either side of the counter, there are white turn wheels. Simply rotate the dial on the appropriate side each time you finish a row. Some counters have a click button, similar to a stopwatch.

Lock Ring Crochet Markers

One of the most common crochet markers is the lock ring marker, as shown below. These markers are essentially large plastic safety pins that can easily be added and removed from a row.

Split Ring Markers

The other common marker for counting crochet rows is the split ring marker. This is a large plastic one-dimensional coil that is twisted around a stitch in order to count the row.

As you can see in the image below, there are different sizes and colors available, more than the two shown.
How do you count your crochet rows?
Your Recently Viewed Projects
Images from other crochet readers

Pattern of the Day
Crochet a cowl that's perfect to warm you up in winter months but that's lacy enough to wear as a coverup in the summer. The Curious… See more

Something worth saving?
SAVE all your favorite patterns
ADD personal notes
QUICKLY reference your patterns