How to Use Yarn Needles
What is a yarn needle used for? How do you use it? We'll explain everything you need to know about them here!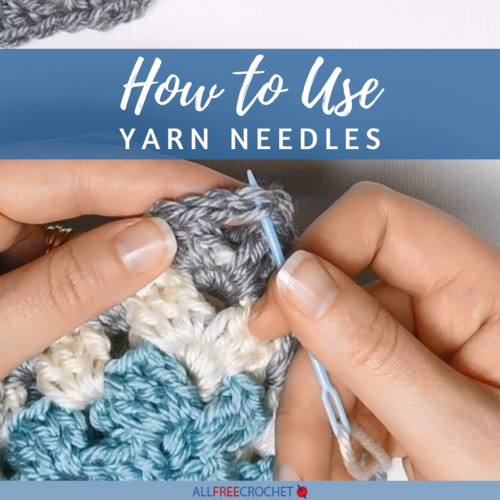 Yarn needles are essential for certain yarn work. If you crochet (or knit), then most likely it has come up. Yarn needles are required when weaving in ends, assembling granny squares, or sometimes when adding surface stitches or embellishments.

Yarn needles are where crochet and sewing meet. So, if you know how to sew, you are already a step ahead in the process of learning How to Use a Yarn Needle. Even if you don't, it's a super easy technique to learn.

On this page, you will learn all the basics of using yarn needles in crochet. This is especially helpful for beginners!

First, we will go over what a yarn needle is so that you understand what they look like, how they relate to other needles, and other essential information. Then, you will need what a yarn needle is used for. After that, we will focus on the how-tos.

 Learn how to use a yarn needle threader. Again, if you sew, you may be familiar with needle threaders but this is a threader specially made for yarn, which means it's slightly different.

Once you find out how to prepare your needle with yarn, we will teach you how to use a yarn needle by showing several video tutorials. This is going to make it so much easier to learn, especially if you are a visual learner!
 
Table of Contents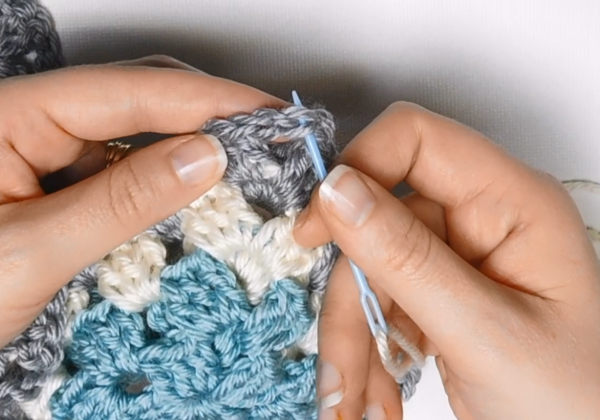 What is a Yarn Needle?
A yarn needle is basically a larger version of a traditional sewing needle but with a few important differences. Yarn needles can be made of metal or wood, but most commonly are made of plastic. They are available in different sizes to fit the various weights of yarn.

The tip of a yarn needle is far less sharp than a sewing needle. Because crochet sewing needles are used with yarn crafts, a dull point is all that's needed. That's because, unlike fabric, anything made with yarn will have spaces that you can utilize when using the needle.

Yarn needles are very similar to tapestry needles. There are tapestry needles for crochet and you can use either, whichever your preference. Tapestry needles are also made in metal, wood, or plastic, but they also have a bit of a curved end.

Because of the dull end and larger size, yarn needles are also safe for children to use in all sorts of projects involving yarn and thread.

In the image below, there are two examples of yarn needles. The blue needles on the left have a narrower but longer eye. They are ideal for thick thread or lightweight yarns. The red needles on the right have a wider but shorter eye. They are ideal for medium to heavy weight yarn.

You will find other sizes of yarn needles as well. Usually, yarn needles come in packs of two but there are also larger packs and variety packs available at most craft stores.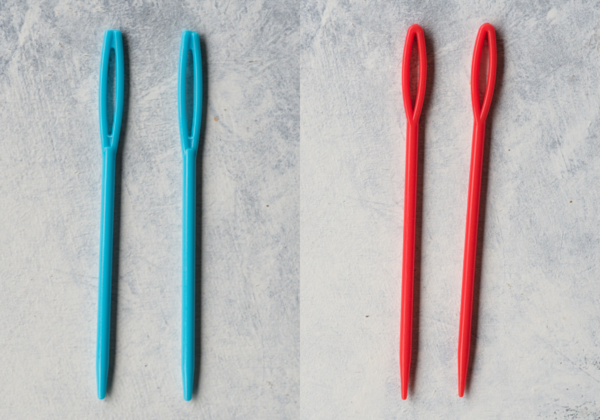 What is a Yarn Needle Used For?
A yarn needle is used for a few things in both crochet and knitting. It can be used any time a crochet hook or knitting needle won't accomplish what you need.

You will use a needle for yarn most commonly when you end projects. If you work with yarn, whether it be for crochet or knitting, you probably know that the end pieces of yarn remain once your piece is "finished." In order to complete it, you will need to weave in your ends. For that, you will need a small, more precise tool. Enter the yarn needle (or tapestry needle for thinner yarn, if preferred).

You will also need a yarn needle to whip stitch or mattress stitch to assemble granny squares or other crochet pieces. If you are not using the crochet as you go method while building while crocheting multiple pieces, then you will have to attach them together using the needle.

Yarn needles are also used to assembled multiple piece crochet toys and dolls. Also, applique or other yarn embellishments. If you ever want to add surface stitches or decorations, you may want to use a yarn needle.

This image right below shows an example of using a yarn needle to weave in ends on a granny square. As you can see, you need to weave the yarn through the stitches, which can only be done with a needle, not a crochet hook.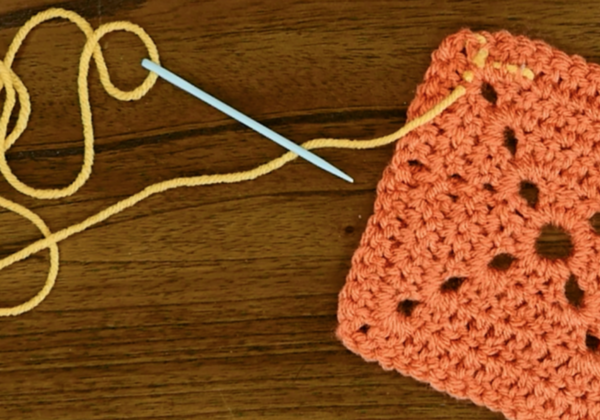 The image here shows an example of assembling granny squares using a yarn needle. Again, it's a precise process that involves pushing the needle through the outer stitches and around so that the granny squares are securely fastened together.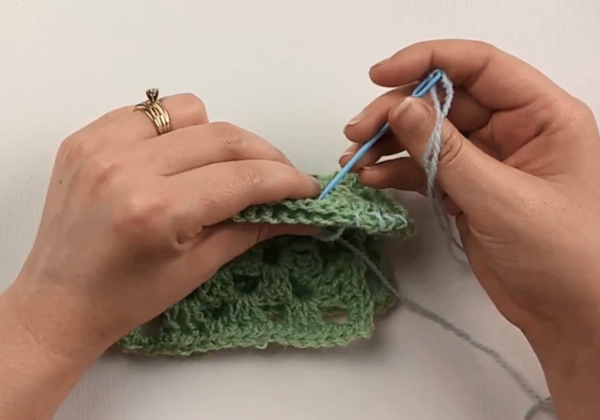 How to Use a Yarn Needle Threader
Sometimes the yarn and needle can be a little finicky, as sewists know is the case with threading needles. Just as a needle threader for thread exists, as does a needle threader for yarn. Even though these needles have larger eyes, the yarn is puffy and limp, which makes it difficult to thread.

The image below shows an example of a yarn threader. Each brand has a unique style, but it will most likely have a hook or two of different sizes. The smaller hook (on the left) is for thick thread or lightweight yarn. The larger hook (on the right) is for medium to heavyweight yarn. There are larger versions for bulky and super bulky yarn as well.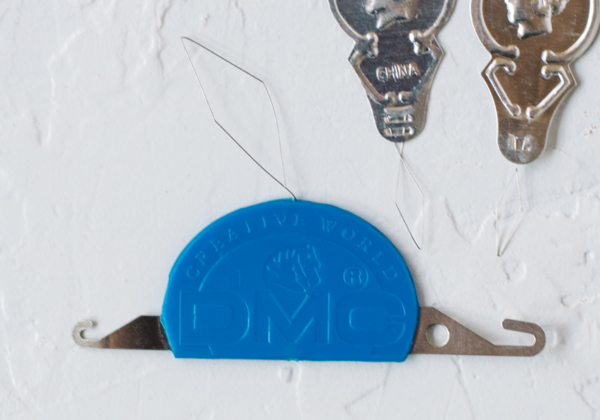 This video right below is a quick tutorial to show you just how to use a needle threader for yarn. As you will learn from watching the short presentation, it's a super easy and quick process and it makes it much easier when preparing your needle and yarn.

Tips:
Make sure you are using the correct size needle (smaller or larger eye for the yarn weight you have) as well as using the correct threader size (smaller or larger hook).
 
You can either push the needle eye over the hook first and then the yarn or the yarn first and then the needle. It's a personal preference, but most find it easier to start with the needle on the threader.
How to Use a Yarn Needle: Examples
We think that it's sometimes best to learn by doing or watching rather than reading, especially when it comes to crochet techniques. That's why, in order to show you how to use a yarn needle, we are offering three videos that show the different methods in crochet. Watch these videos and see for yourself how you will be using these tools when you're creating yarn crafts of all kinds.

How to Weave in Ends with a Yarn Needle

After you finish most crochet projects, as well as certain knitting projects, you will have to weave in ends. If you're a knitter, check out How to Weave in Ends in Knitting from our friends at AllFreeKnitting. The videos below are aimed a bit more towards crocheters.

Find the written instructions here: ​How to Weave in Ends (Crochet)
How to Whip Stitch with a Yarn Needle

One of the most common ways to attach crochet pieces of any type together is by using the whip stitch. It is a simple stitch that uses a weaving motion. It's an easy method that anyone can master.

Find the written instructions here: How to Whip Stitch Crochet
How to Assemble Granny Squares with a Yarn Needle

This video actually shows you three different ways to assemble granny squares. First up is the whip stitch, which you learned in the video above. But this video also goes over how to create an invisible stitch using a yarn needle. This stitch is also referred to as a mattress stitch. The third way does not involve a yarn needle but it's a great method to learn for any crocheter anyway!

Find the written instructions here: ​Three Ways to Assemble Your Granny Squares
Your Recently Viewed Projects
Join our community of 5 million crocheters! Right now!
Get free crochet patterns, exclusive partner offers, and more.
Thank You for Signing Up!
There was an issue signing you up. Please check your email address, and try again.