The Best Uses for Crochet Thread +10 Crochet Thread Patterns
Learn all about crochet thread and check out our crochet thread patterns free, too!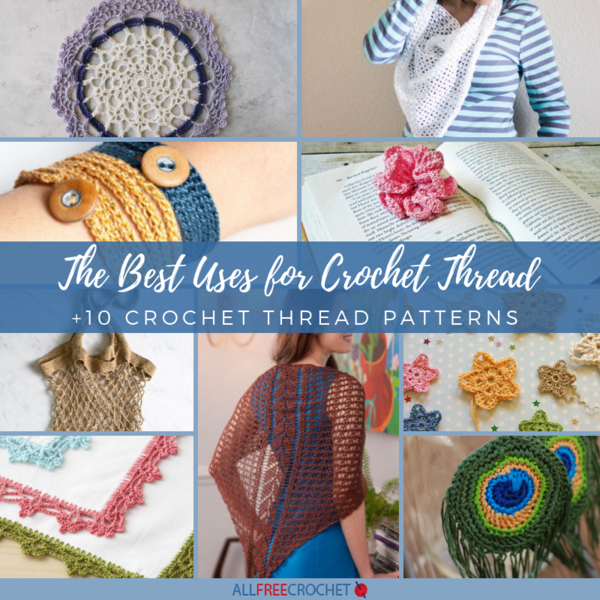 As you crochet more and more, it can be tiring to work with pattern after pattern that uses worsted weight yarn. It's great when you're a beginner and that's the only kind of yarn you know how to work with, but there comes a point when the challenge becomes imminent and you just need to move onwards and upwards with your patterns and crochet skills.

As this point comes, though, it may also be difficult to know where to start. If you want to look for patterns involving crochet thread, there are a few things you should know first. That's why we created this page, The Best Uses for Crochet Thread +10 Crochet Thread Patterns.

Not only will we detail everything you need to know about crochet thread but we will then share our favorite 10 crochet thread patterns to try. It's an impressive type of crochet that we think you'll love. We love crochet thread projects because they are delicate, elegant, and unique.
 
The Best Uses for Crochet Thread +10 Crochet Thread Patterns
What is Crochet Thread?
When I first think of thread, my mind goes to sewing thread. The good news, though, is that crochet thread is thicker than sewing thread, making it easier to work with. But that's not to say it is difficult and tricky in its own ways.

Something that may throw you off when starting a crochet pattern with this type of thread is that yarn has some give; yarn is made to be solid and not stretchy.

Because of this, it may be hard to find the right balance between tension and space between stitches. This is something that will come with both practice and finding the right brand crochet thread for your own personal taste. 

Popular brands of crochet thread include:
Aunt Lydia's
Royale Fashion
Red Heart
DMC
Bernat Handicrafter
You will see a lot of Aunt Lydia's crochet thread patterns because Aunt Lydia is one of the most popular and well-known brands of crochet thread. It's a Red Heart subsidiary, which probably explains why it's so prevalent.
Crochet thread comes in a huge range of sizes. According to Wikipedia:
"Crochet thread comes in sizes from 3 to 100, although historically it came in much finer sizes, down to 200. Diameter is inversely proportional to number, so size 3 is nearly as thick as yarn and size 100 is as fine as sewing thread. Thread may also be categorized by number of plies and size 10 thread is known as bedspread weight. Smaller sizes (40 and up) are often used for tatting jewelry and fine lace."
Crochet Thread Hook Size Chart
Using crochet thread for a crochet project also means using a different type of hook. A steel hook is used when thread is the main fiber of your project, which is different than normal hooks you may be used to. One difference with these hooks is that a larger number actually means a smaller sized hook.

Sometimes it's best to just go by the measurement in millimeters, because different manufacturers may make their hooks differently. The same goes for steel hooks, though, that if your work is too loose then you should try a smaller hook, and a larger hook will help with work that is too tight.

To help you understand, see the image below (click to enlarge) that shows crochet thread hooks. See how small they are?

We also created a Crochet Thread Hook Size Chart that you can take a look at and download. You can even print it if you want, just click the link below to get the free PDF.
 
The Best Uses for Crochet Thread
If you're wondering what crochet thread is used for, this is the section to read. Size 10 is most common for crochet thread, but this is even thinner than sizes 5 and 3. It gives a nice lacy look to finish off projects or is easily used for things like crochet snowflakes, baby blankets, ornaments, etc.

Generally, crochet thread is used for "delicate" designs. It's a lacy look, which is why it's commonly used for doilies. But that's far from the only project you can use crochet thread for. Here's a list of only some of the patterns crochet thread is used for:
doilies and coasters
necklaces
earrings
bracelets
rings
bookmarks
appliques
ornaments
brooches and pins
sandals
baby shoes
baby bibs
masks
headbands
banners and buntings
bags
crochet edging
scarves
wraps
dresses
table runners
To learn more about crochet thread and whether it's right for you, read through Red Heart's 
Ultimate Beginner's Guide to Thread Crochet
. They explain it so well and remove any fears, answer FAQs, and more. So helpful!
This guide states:
"There are a lot of myths around thread crochet that make even experienced crafters afraid to give it a try. It's such a shame, because there are so many beautiful things that you can make using thread crochet and it's really not difficult at all. This guide to thread crochet will help debunk some myths and provide you with some tips to getting started."
Crochet Thread Patterns
If you think you're a little bit more ready to start a crochet pattern that uses crochet thread, then you should check out some of our favorite crochet thread patterns below. You can also find many more by checking out our crochet thread tag pages.
 
Your Recently Viewed Projects
Join our community of 5 million crocheters! Right now!
Get free crochet patterns, exclusive partner offers, and more.
Thank You for Signing Up!
There was an issue signing you up. Please check your email address, and try again.