8 Different Crochet Stitches to Learn Free eBook (Volume I)
Learn some new stitches with step-by-step tutorials to guide you!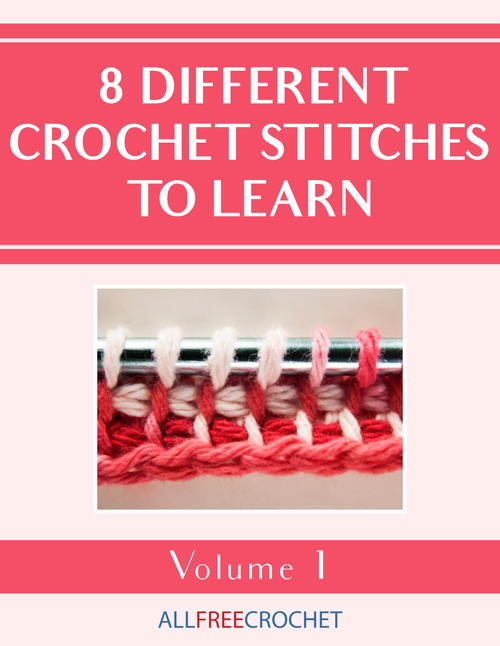 8 Different Crochet Stitches Vol 1
You're an old pro at all your favorite stitches. You tend to stick to the ones you know, and that's totally OK because your scarves are beautiful, and everyone loves your sweaters. But it does get a little, well, boring sometimes doing the same stitch over and over again. For as much or as little as you have been crocheting, have you ever been bold enough to learn how to crochet something new? It's time to learn.

With this new free book, 8 Different Crochet Stitches: Learn to Crochet Something New with Free Crochet Patterns, you can learn to crochet in new and exciting ways, simply by switching up your stitch. No matter how long you've been crocheting, there's always something new that you can learn. By mastering these different crochet stitches, you will expand your crocheting horizons. You'll be able to make new, fabulous scarves and hats as well as update those sweaters that are wonderful but now a little old. These crochet instructions are super simple to follow; they will make learning how to crochet easy and painless.

Whether you're a crochet novice or a more seasoned crafter, you'll be able to tackle these stitches by following the simple step-by-step photo guides. From an adorable and simple picot edging to the gorgeously textured crocodile stitch, these lovely crochet stitches will be just what you need to spice up your crochet projects. 

Don't forget to sign up for the AllFreeCrochet newsletter, Hooked on Crochet.
Plus, Don't Miss Our Other eBooks!
What's Inside this eBook?
Crochet Stitches
With this awesome collection of new stitches, you can teach yourself a new technique and crochet your way to new scarves, afghans, and so much more. These crochet stitches will help you learn to crochet all those patterns that you've seen but didn't know how to create. Take a few hours each week to practice each one of these stitches, and you'll be on your way to being a master crocheter in no time.

Each of these tutorials will teach you a new skill for crocheting. You'll be able to follow along with many of the patterns' step-by-step instructions, making it super easy for you to learn how to make each stitch perfect. There is nothing super difficult in this free eBook; whether you are a beginner or expert, you will be to handle these stitches with relative ease. It's perfect for anyone looking to expand their skills. Crafting and crochet is always an on-going process; there's always some way to improve your skills. 

Learn Tunisian Crochet (pg. 5) will show you how to create the Tunisian stitch, which is perfect for wallets, headbands, and other small items. This technically easy stitch is a great way to hone your skills, and it produces a dense and "squishy" fabric. This crochet stitch tutorial will show you how to start off with a Tunisian foundation row and then work both the forward and return passes of the Tunisian Simple Stitch (tss). 

The Vertical Crocodile Stitch (pg. 9) is another easy stitch that won't take you long to understand. This stitch, resembling scales on a crocodile, will add a bit of flare and some fun texture to any pattern you add it to. Its twisting, circular design is a fun stitch to learn. This stitch can also look like petals on a flower, which makes it one of the most versatile skills to learn and will set you on a path to working up everything from edgy scale designs to delicate floral pieces.

The next stitch you'll learn to master is the Picot Stitch (pg. 12). This is usually used as an edge for a finished product; it's perfect for adding a little something extra to your sweater or scarf or even a hat. The included instructions for this crochet stitch include ways to make a small picot, a medium picot stitch, and even a bauble-ended picot stitch. The possibilities for this simple technique are endless! 


How to Crochet Tutorials
Learn how to crochet with tutorials to take the stress off yourself. These crochet tutorials are tailored to make sure anyone can easily learn the techniques, and you won't be pulling out your hair—or knots in your crochet. These stitches will introduce a fresh element to your crochet patterns, and they are all organized here in one handy eBook.

One of the best tutorials we have on AllFreeCrochet is the How to Crochet a Crazy Shell Stitch tutorial, which we include in this free eBook on page 17. This step-by-step instruction on how to crochet this basic stitch will help you master this technique in only a few tries. The shell stitch is a simple technique that looks more complicated than it is, so definitely keep on practicing for a fun design element that will really spice up any pattern you work on. 

Another great tutorial in this free eBook is How to Crochet with Hairpin Lace (pg. 24). This pattern is definitely for those who are a little more experienced and confident crafters. This crochet pattern requires a hairpin lace loom, which you can find at your local craft store. It looks like two metal sticks with cross braces, and while it looks complicated, you're sure to get the hang of it quickly! Once you have mastered it, you will be able to work up gorgeous and intricate designs.
Your Recently Viewed Projects
Join our community of 5 million crocheters! Right now!
Get free crochet patterns, exclusive partner offers, and more.
Thank You for Signing Up!
There was an issue signing you up. Please check your email address, and try again.