Free Crochet eBooks
Our selection of free crochet eBooks is the ultimate resource for crocheting. Whether you need a free crochet afghan pattern, a crochet hat or a crochet bag, AllFreeCrochet.com has you covered. Click, download and print any eBook for easy reference while crocheting. For help downloading our eBooks, see our help document here.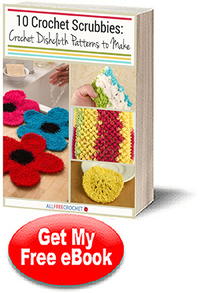 Scrap Yarn Crochet Patterns: 11 Free Stash Busters - Are you ready to bust that stash? Use leftover yarn to create beautiful crochet patterns. Crocheting with scrap yarn is eco-friendly, budget-friendly, and allows you to use your creativity and imagination!

9 Radiant Crochet Headband Patterns - These 9 radiant crochet headbands are fun and fast to make, and they're perfect for any season! Choose from cozy, warm crochet earwarmers to light and summery crochet headbands.

10 Crochet Scrubbies: Crochet Dishcloth Patterns to Make - Crochet scrubbies for your kitchen and always have a dishcloth handy with this collection of 10 fun crochet dishcloth patterns.
8 Different Crochet Stitches: Learn to Crochet Something New, Volume I - With this new free book, you can learn to crochet in new and exciting ways, simply by switching up your stitch.

8 Different Crochet Stitches: Learn to Crochet Something New, Volume II - Just by changing up your crochet stitches, you can experience crochet in a whole new way.

Homemade Mother's Day Gifts: 9 Crochet Flowers and DIY Gifts - Crochet the perfect Mother's Day gift for you mom with this collection of Mother's Day accessories and crochet flowers.
7 Free Crochet Prayer Shawls - Work up one of these prayer shawl patterns for someone that's going through a difficult time. Prayer shawls are a great way to show someone you care.

14 Easy Crochet Bag Patterns - Find some super cute crochet bag patterns in this free downloadable book. This is perfect for every woman out there because who doesn't love bags and purses? Work up the best purse for every outfit.

Red Heart's Best - 12 Free Baby Crochet Patterns - Discover the latest and greatest crochet baby patterns from our friends at Red Heart! This super cute collection of printable patterns includes never-before-featured patterns for both babies and toddlers.

Winter Fashion for Toddlers + Baby Crochet Patterns - With having cute crochet designs from this new collection your little one will love getting ready for playtime.

22 Popular Free Crochet Patterns - This 60-page eBook boasts free easy crochet patterns, free afghan crochet patterns, free crochet patterns for beginners, and much more.

Make a Crochet Cowl: 10 Crochet Cowl Patterns - Unlike scarves, crochet cowls will stay in place. No need to re-wrap or adjust; they'll stay perfectly snug around your neck. Make a statement after you make a crochet cowl for autumn.
Free Crochet Patterns for Every Season: 17 DIY Accessories + Crochet Clothing Patterns - Whether it's spring or summer, winter or fall, it's the perfect season for crocheting.

DIY Accessories to Crochet: DIY Jewelry and Crochet Belts - Upgrade your accessory collection without breaking the bank with this new collection of crochet patterns.
Secret Santa Gifts: 13 Gifts to Crochet - We're already planning for the holiday season, so you should be, too. We have crochet sock patterns, crochet slipper patterns, diy clothing, crochet ornament patterns and more. Your gift giving experience will be super cheerful this year.

Lion Brand's New Fall Collection: 15 Free Crochet Scarf Patterns, Afghan Patterns, and More - Get ready for fall with the latest and greatest patterns from Lion Brand Yarn's new collection!

How to Make Crochet Bags: 11 Fantastic DIY Bags - Save your money from expensive designer bags and crochet your own! Get that stylish accessory you've always wanted.
16 Crochet Shawl Patterns: DIY Clothing You'll Love eBook- Here you can find 16 of our amazing crochet shawl patterns. They come in all shapes, colors and patterns. Find the shawl that you've been looking for.

DIY Home Decor: 19 Free Crochet Kitchen and Dining Patterns - Each one of these free crochet kitchen and dining patterns is super easy to crochet, which makes them great hostess gift ideas for a variety of occasions including holiday parties, birthdays, and summer BBQs.

How to Crochet Edges & Make Crochet Borders on Patterns - Crochet edges and crochet borders are the greatest finishing touches to many crochet patterns out there. Whether the crochet borders are worked in lace or worsted weight yarn, there's just something about them that'll put your mind at ease knowing your project is complete.
How to Crochet a Blanket for Infants & Toddlers: 11 Crochet Afghan Patterns - Whether you are expecting a baby, or know someone who is, this is a fabulous resource for you to find your next crocheted afghan. If you've never crocheted an afghan before, don't worry; it's really quite easy to learn how to crochet a blanket for babies.

Summer Crochet Patterns: 16 Easy Summer Crochet Patterns - Be a trend setter and show off your fashionista side with summer crochet patterns. We have trendy beachwear including barefoot sandal patterns, diy beach bags, diy beach cover ups and other awesome summer crochet ideas.

Man Crafts: 10 Free Patterns to Crochet for Men - Find the perfect homemade gift idea for the man in your life with our latest collection of man crafts. You'll find the best free patterns to crochet for your son, brother, husband, father, or any other special guy in your life. This free eBook includes patterns for crocheters of all skill levels.

The Most Popular Patterns for Afghans: 16 Knit and Crochet Afghan Patterns from Lion Brand - Knit and crochet afghan patterns are a quick and easy way to decorate your home while also adding a touch of comfort to your decor. Don't miss our latest collection of the most popular patterns for afghans from Lion Brand.

Crochet in Color: 11 Colorful Crochet Patterns - Crochet the rainbow! If you've never dared to go bold with your decorations or wardrobe then now is the time to do so. Get out of your comfort zone and make some vivid rainbow crochet patterns.

11 Granny Square Crochet Patterns for Square Crochet Projects - If you crochet, then you are probably familiar with the classic granny square. We've combined our love for granny squares and crochet projects into the ultimate guide for crocheting granny squares.
14 Free Crochet Hat Patterns: Crochet Beanie Hats, Crochet Cap Patterns, and More - This collection of free crochet hat patterns includes a variety of styles that are perfect for any season. Find a new crochet pattern to make for everyone in your family.

Pretty Flowers to Crochet: Brightly Colored Crochet Flower Patterns - Crochet these pollen free flowers to look at during the entire spring season. These crochet flower patterns are the greatest for those with allergies!

Never Ending Granny Afghans: 8 Crochet Patterns with Diagrams & Video Tutorials - Granny squares and granny afghans don't have to be worked up by grannies anymore. Find some amazing never ending granny afghans in this eBook. Some are easier than others, but you're sure to find just the right fit for you.

Crochet Scarf Designs: Cute Crochet Scarf Patterns for all Seasons - Find cute crochet designs in the comfort of your own home instead of shopping at the stores. Become that fashionista you've always wanted to be. Scarves are no longer just for the winter but can now be worn year round as an accessory to your outfit.

Free Crochet Tips and Tricks: Organization Ideas, How to Crochet On the Go, How to Change Color, and More - Discover some of the best kept secrets in crochet! No matter what your skill level is, you're sure to learn a new skill or benefit from any one of the helpful hints in this collection of free crochet tips and tricks.

Winter Wonderland: 17 Winter Patterns to Crochet - Because winter can be a drab time of year we need to embrace it and celebrate it with some amazing winter crochet patterns. We can bring pretty designs into our homes including snowflakes and we can crochet all the winter wear we need.
Have a Red Heart Holiday: 20 Knit & Crochet Gifts and Decorating Ideas eBook from Red Heart Yarns - With a set of needles or a hook, you can create amazing crochet Christmas decorations, knit Christmas ornaments and so much more. This free eBook includes plenty of easy crochet patterns for ornaments, knitting patterns and even ideas for holiday wearables.

Free Crochet Designs: 10 Home Decor Christmas Crochet Patterns - Get your home ready for the holidays! You'll find plenty of festive crochet patterns to choose from including stockings, tree skirts, ornaments, and more.

Fall Crochet: 16 Free Crochet Patterns - Get ready for the season with these autumnal free crochet patterns. Find free patterns for fall accessories, afghans, home decor, and more.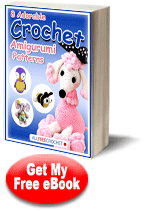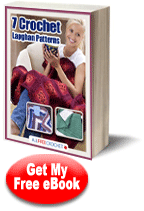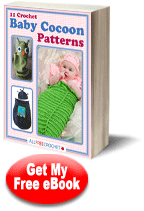 8 Adorable Crochet Amigurumi Patterns - Crochet outside of your comfort zone and make some cute little characters. Amigurumi animals can be made for kids or adults!

7 Crochet Lapghan Patterns - Make some fabulous lapghans for yourself or your friends. It's always nice to have a smaller blanket around for those not-so-hot summer days.

11 Crochet Baby Cocoons - Work up some fabulous free crochet baby patterns for that little peanut on his way. Whether you're expecting yourself or know of someone who is, crochet baby cocoon patterns are an amazing item to have or give.
Spring is Here! 10 Free Crochet Flower Patterns and Butterfly Fun - Grab a hook and some brightly colored yarn and make some crochet flower patterns. Let's have some butterfly crochet fun, too with this DIY eBook.

11 Free Christmas Crochet Patterns for Your Home - This eBook provides festive crochet patterns for your holiday home. Crochet decor for your home or give something as a gift.

One Skein Patterns: Crochet Made Simple - Find some great patterns you can make using only one skein of yarn. This will make your life easier because you won't have to switch colors or add on yarn. Make scarfs, wraps and more!
9 Free 4th of July Crochet Patterns - Crochet some amazing 4th of July crochet patterns for this Independence day. Show your patriotism with red, white and blue ribbons, pins, home decor, and more.

Hop into 7 Free Easter Crochet Patterns - Get some really cute free Easter crochet patterns when you download this eBook. If you're wanting to save money then crochet your own patterns like pillows, Easter baskets, bunnies, and more.

8 Last Minute Valentine Gifts: Crochet Patterns for that Special Someone- Download this eBook for free and get 8 super cute crochet patterns to give for Valentine's Day. You'll even want to make some of these to keep for yourself.
24 Handmade Craft Ideas from 2010: A Year of Free Crafts- You'll find 24 great projects to wear, decorate your home with or give as a gift. These are your favorite projects from 2010 including free crochet patterns, free knitting patterns, and free sewing patterns, all from our sister sites including AllFreeCrochet.com.

5 Free Christmas Crochet Patterns: Crochet Christmas Wreaths - Receive five amazing crochet Christmas wreath patterns in this eBook. You can use them to hang on a door or you can make them into ornaments for your tree. Make one for yourself or give one as a gift, have fun this holiday.

"Make it a Red Heart Holiday" eBook from Red Heart Yarn - Free Christmas crochet patterns is exactly what you'll find in this fabulous eBook.There are 26 free crochet patterns and free knitting patterns in this eBook, perfect for the upcoming holidays.
How to Crochet Granny Squares: 9 Free Crochet Afghan Patterns - Learn how to crochet beautiful Granny Squares with this collection of 9 free crochet afghan patterns.

Guide to Free Crochet Patterns eBook: 13 Crochet Stitches and Our Favorite Free Crochet Patterns - Here you can find 13 crochet stitches by Emilda Harrington and 10 of our favorite crochet patterns. You can keep this book on-hand for any time you need to refer to a crochet stitch.

Wrap up with 25 Afghan Patterns from Red Heart Yarn - Enjoy this free eBook from Red Heart Yarn. You can find 25 great afghan patterns, four of which are knitting patterns and 21 are afghan crochet patterns. Whichever you are looking for, this eBook has it all.
12 Halloween Crafts to Crochet - Get ready for Halloween with this collection of Halloween crafts to crochet. Celebrate the season with homemade home decor items and crocheted Halloween costumes.

Crochet and Knitting Patterns from Red Heart Yarn - In this free eBook, you can find 19 free crochet patterns and free knitting patterns, some of which include afghans, scarves, hats, bags, scarves and many more. Find the right pattern you're looking for now.

25 Quick and Thrifty Free Crochet Patterns - Here you can find 25 free, easy crochet patterns to create small items in a single sitting. You can enjoy such items as dishcloths, flowers, and small baby items. These free patterns are easy to make and they make amazing housewarming gifts too.