22 Popular Free Crochet Patterns eBook
By: Kara Huen, Editor, AllFreeCrochet.com

Updated December 15, 2016
22 Popular Free Crochet Patterns eBook

If you love free crochet patterns like we do, check out our latest eBook! This 61-page eBook boasts free easy crochet patterns, free afghan crochet patterns, free crochet patterns for beginners, and much more. 22 Popular Free Crochet Patterns is your one-stop shop for the best free crochet patterns around.

All of these beautiful crochet designs range in skill level from beginner to advanced, so there is a pattern for everyone. Treat yourself to any one of these free patterns today, especially since it's free to download this eBook. You can get all 22 patterns immediately if you just click on the link- the PDF will show up right away. Then you can print it or save it on your computer so that you can access it over and over.

Download your free copy of 22 Popular Free Crochet Patterns today!
Table of Contents
Note from the Editor
Dear Crocheters,

Sometimes we aren't always sure of what pattern to start crocheting. There are so many patterns and styles to choose from that we get lost, confused, and scared to actually pick one. It can be so hard to find something that feels just right for your mood and the amount of time you want to spend on it. We want to help you out a little bit by giving you this extra special eBook, 22 Popular Free Crochet Patterns.
We picked out some of the most popular patterns on AllFreeCrochet, compiled them together right here, and are giving them to you in full for free. It really can't get any better than that! No more searching, no more giving up, no more wasting your time. Just take a quick look at our table of contents below to see which category seems right for you, and start moving those hooks.
Take a few minutes, hours, or days to work up some of these crochet patterns. They vary in size, style, color and purpose because, obviously, it's a collection of everything you like the most! You'll find crochet hats, baby blankets, doilies, and even more types of patterns in the pages below. All you have to do is take a peek and you'll be hooked. (Literally and figuratively!)
People may have constantly changing tastes, but there are certain things that just keeping staying popular over and over again no matter how many things we throw at you. Sometimes it's nice to see what other people are working up, too, so you can feel like you're in the loop. Everyone loves this collection of popular free crochet patterns so much that we knew they deserved to all be together in one place.

Happy Hooking,
The Editors of AllFreeCrochet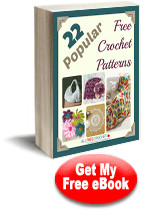 ---
Download your copy of 22 Popular Free Crochet Patterns today!
---
What's Inside This Free eBook
Hat Patterns and Hair Accessories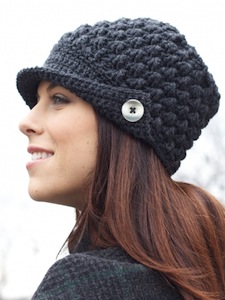 Crochet hat patterns and hair accessories are small projects that are quick and generally easy to work up. These can add a personal touch to any outfit (and help you out on a bad hair day). Don't let the thought of working in rounds to crochet a hat scare you off - once you start working around, simply keep count of your stitches and you'll have no problem following this pattern. Winter hats, baby hat patterns, and even a few crochet headbands are included in this collection.
Bottoms Up Crochet Hat (pg. 5) - Be simple and stylish with one accessory that's worked from the bottom up. This crochet hat will keep you perfectly warm all winter long.
Ice Queen Cap (pg. 14) - This crochet hat has a sort of elegance about it with the texture that's worked into the main part of the hat. Feel like royalty even in the bitter cold of winter.
Petals Newborn Hat (pg. 9) - Work up this darling little newborn hat by using the cluster stitch throughout. Add a cute little flower for a delicate touch!

---
Crochet Wearables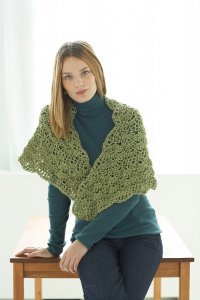 Crochet wearables are always a hit - choose from crochet scarves, shawls or poncho patterns to complete your look. When you get to work up a clothing piece, you get to make sure it is tailored exactly to your liking. These crochet patterns are fun to make and often don't require shaping. This collection of crochet wearables is just what you need to spruce up that outfit. Work up a one-skein scarf as a quick weekend project, or stay cozy and chic in the Granny Square Poncho - your new favorite patterns await!
Asymmetry Scarf Using One Skein (pg. 22) - Even the best accessories can be quick and easy to work up. This crochet scarf pattern only uses one skein, but it will still keep you snug with its bulky weight!
Crochet Tranquil Wrap (pg. 27) - Wrap yourself in tranquility with this easy crochet wrap pattern. Use the nice, deep green color or whatever is your favorite to work up this delicate half-circle crochet shawl.
Granny Square Poncho (pg. 29) - This crochet poncho is proof that crochet granny squares can be used in just about everything! Choose your favorite colors for a fun and unique accessory.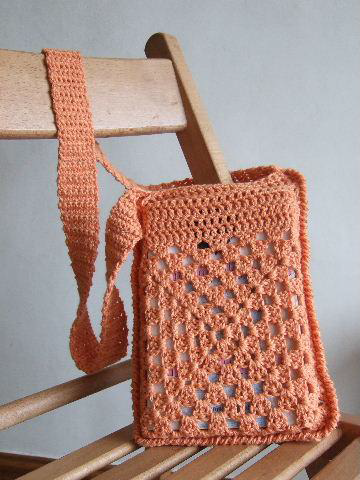 ---
If you love this collection and want even more crochet patterns—even on a budget—this free eBook is for you: 25 Quick and Thrifty Crochet Patterns.
---

Baby Blankets and Crochet Afghans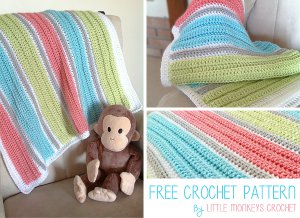 Crochet baby blankets - much less intimidating than a regular-sized crochet afghan, and much quicker to work up, too! With crochet baby blankets, you can choose colors that will match the baby's nursery or stick with sweet pastel shades. Baby patterns like these make great baby shower gifts or projects to work up while you are waiting for baby to arrive. It will give the new little one something personal to welcome them home, and so many children keep that first blanket for many years to come.
Kaleidoscope Afghan (pg. 38) - This unique design will truly blow your mind. Work up this pattern that reminds us of how fun it is to look through a kaleidoscope.
Road Trip Baby Blanket (pg. 44) - This super soft and super cuddly blanket is perfect for snuggling up in. Your baby will love sleeping with this on long car trips.
Beginner Baby Blanket (pg. 48) - It's amazing how seriously easy this baby blanket pattern is. Even beginners can work it up!

---
Extra Crochet Motifs and Accessories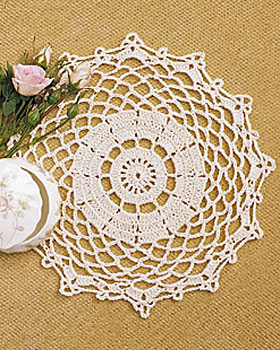 From crochet flowers to doilies to crochet bags and totes, this group of crochet patterns features some extras just for you! Accessorize your table with the doilies and use the totes as your normal shopping bags. Plus, you can work up many little crochet flowers and add them to any accessories for an instant pop of color. These patterns can be part of your DIY home decor and give your space that warm, personal feeling of crochet.
Dainty Crochet Doily (pg. 53) - Decorating your kitchen and dining room can now be utterly gorgeous with the crochet doily pattern.
Easy Flowers (pg. 55) - These simple crochet flower patterns are easy to work up and look great added on to any crochet piece, from scarves and bags to blankets and even hats.
Two Hour Tote (pg. 58) - Don't waste your time! Take just a couple hours to work up this adorable crochet bag.
...and much, much more!
Don't Miss Our Other Free eBooks!
Be sure to check out our entire collection of free eBooks, where you will find all of the best downloadable crochet patterns. You'll find titles such as:
Need Help Downloading?
AllFreeCrochet eBooks are free, downloadable crochet pattern collections all organized around a central theme. They are all PDF documents that can be downloaded off of our website, saved to your computer, and/or printed out for easy reference while crafting and crocheting.
If you are having trouble downloading our free eBooks, visit our FAQ page here: How to Download Our eBooks.
Sign Up for Our Free Newsletter
With your free copy of 22 Popular Free Crochet Patterns, you also have to opportunity to subscribe to our Hooked on Crochet newsletter to become part of a fabulous and friendly crochet community. In subscribing to the newsletter you will receive:
Six weekly emails with free crochet patterns, tips, collection pages, videos and more.
Chances to win crochet books and products from our weekly giveaways and contests.
New FREE patterns made available to you throughout the year.
Access to our free pattern library full of 1000's more free crochet patterns.
The opportunity to share ideas and help others in the crochet community.
I know you have such a strong passion for all things crochet so you might as well download this 22 Popular Free Crochet Patterns eBook now, especially since it's free! Be sure you subscribe to receive our newsletter Hooked on Crochet, too. These free crochet designs will not only make you a better crocheter but they will bring you a ton of inspiration for future projects! You should also take a peek at our yarn blog, Stitch and Unwind, for great crochet, knitting, and afghan patterns galore! You won't be disappointed.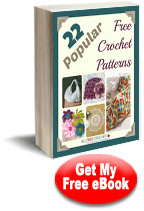 ---
Download your copy of 22 Popular Free Crochet Patterns today!
---
Which do you like to crochet more: crochet blanket patterns or something you can wear?
Tags / Related Topics
Your Recently Viewed Projects
Images from other crochet readers

Love these projects? Get MORE delivered to your Inbox – FREE Click Here!