How to Crochet Edges & Make Crochet Borders on Patterns
By: Christine Weiher, Editor for AllFreeCrochet
Your wrists are sore, your fingers are throbbing and your eyesight went away about three hours ago, but you have just one more row to work up before your crochet design is complete. Yeah, we've all been there plenty of times. When you find the perfect crochet pattern to make it's like you're five years old all over again. You get giddy with a huge grin on your face and you can't wait to get your hands on the perfect crochet colors to start and finish your masterpiece. But wait, now that you're finished with your last row and all the ends are weaved in, you stare at it with a puzzled look. There's just something about it that you can't pinpoint. That's where we come in to help you!

Crochet edges and crochet borders are the greatest finishing touches to many crochet patterns out there. Buttons, appliques and bows are great embellishments too, but sometimes you want something a little more elegant and dainty. Whether the crochet borders are worked in lace or worsted weight yarn, there's just something about them that'll put your mind at ease knowing your project is complete and at its best.

In our latest eBook, How to Crochet Edges & Make Crochet Borders on Patterns, we'll provide you with easy crochet edging patterns along with crochet blanket edgings. If you've never worked with crochet borders or you're a beginner then we're here to teach you how to crochet edges with our easy-to-follow tutorials. Now is the time to customize your crochet design and go outside of your comfort zone. We know crochet itself is addicting, but wait until you start to work with crochet edging.

How to Crochet Edges & Make Crochet Borders on Patterns
Crochet Edging
When you search the web for crochet edging, of course you're going to come across many patterns, but we've saved you the hassle by providing those tutorials in this eBook. From easy crochet edging to a bit more advanced, we have a few your certain to like.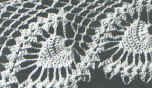 The Pineapple Swirl Edging is ideal for linens and other delicate crochet items as it's worked up using thread or lace. The shell stitch is done by crocheting three double crochets, chaining two and working three double crochets again. With 12 rows of double crochets and shells, the beautiful pineapple swirl edging will begin to show itself.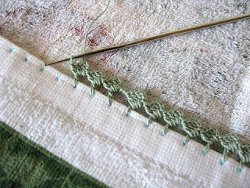 The Zig Zag Edging is also worked up in lace, but you can easily substitute it for another type of yarn if you wish. Crochet edges like this are practical for household items like fancy towels, living room or bedroom curtains and even pillowcases. The step-by-step visual tutorial makes this an easy crochet pattern to complete.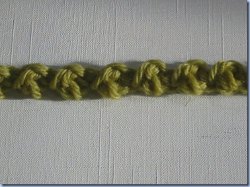 The Easiest Ever Crocheted Edging is just that: it's the easiest ever! With your choice of yarn all you need to do is double crochet, slip stitch, double crochet and slip stitch again; it's that simple. You can repeat those stitches as many times as required to edge your item.
Download your copy of How to Crochet Edges & Crochet Borders on Patterns, now!
Crochet Blanket Edging
When learning how to crochet edges, it's best to have a pattern in mind before diving right in. When you make crochet borders on patterns you'll find that you have more patience if you start out with easy designs than the more intricate ones. This eBook provides some cute and easy patterns for you to follow.

The Quick and Easy Crocheted Blanket Edging Patterns are unique designs in that the crochet edging gets worked around fabric or a material instead of a crocheted piece. There are three easy crochet patterns to choose from within this tutorial. From fleece blankets to flannel and even receiving blankets, the crochet blanket edging is sure to complete your piece. Of course you can work up this crochet edging on a crochet blanket, too, but the instructions pair up with a blanket that already has a set amount of stitching on it.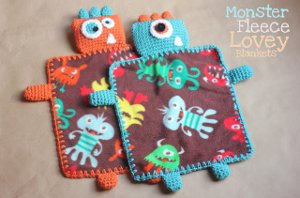 The Monster Fleece Lovey Blankets have been a hit with our readers as well as babies and kids. Lovey blankets are great "friends" and comforters to babies when they're feeling scared, fussy or lonely. The crochet edges are worked onto a piece of fleece that will later have arms, legs and a head attached to it. A skip stitch blade is required in order to poke holes into the fleece before working up the crocheted edge. You'll love creating this little guy just as much as the kids will love having him.
Crochet Borders on Home Decor Items
Have you ever wanted to give your home a face lift, but you just didn't want to spend the money on it? Well now you CAN get that face lift without breaking the bank. With your leftover scraps of yarn (or a trip to the yarn store), you can redesign your home decor to get the exact look you want.

The Pillow Edgings by Bernat are a great way to give any room a simple makeover. This pattern features four crochet edging options: picot, tassel, ruffle and lace. With a steel crochet hook and cotton yarn you can embellish your pillows in a fancy and tasteful way.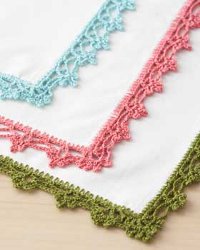 The Lace Napkin Edging is a nice way to spruce up those fancy guest napkins that you use once a year (ok, maybe twice). Add your own special touch to your napkins with this simple crochet pattern. If you can find thread in an accent crochet color, that's where you're going to get the best result. Accent colors will really make the design pop.
Download your copy of How to Crochet Edges & Crochet Borders on Patterns, now!

When you download How to Crochet Edges & Make Crochet Borders on Patterns, it really will change your mentality on the way you finish your crochet patterns. Accents, embellishments and ribbons all look very nice, but crochet edges and crochet borders are the way to go. When you know how to crochet edges and make borders, it'll open up your options to more crochet designs and then you'll have an even bigger plethora of crochet patterns in your collection. This eBook is great for those who have been crocheting for many years or those who are interesting in learning how to crochet edges. With your free copy of How to Crochet Edges & Make Crochet Borders on Patterns, you can also subscribe to our Hooked on Crochet newsletter to become part of a fabulous and friendly crochet community. We've said it before and we'll say it again, the crocheters we've encountered are truly the best as they are so passionate about their skill. In subscribing to the newsletter you will receive:

New FREE patterns made available to you throughout the year.
Access to our free pattern library full of 1000's more free crochet patterns.
The opportunity to share ideas and help others in the crochet community.
Six weekly emails with free crochet patterns, tips, collection pages, videos and more.
Chances to win crochet books and products from our weekly giveaways and contests.

If you've ever been one who wasn't satisfied with your finished product, then maybe it wasn't finished at all. Try to make crochet borders and see how you like it. The upside about this small detail is that you can redecorate, redesign and change just about any item to your liking, even if you're on a budget. We have great patterns and tutorials in How to Crochet Edges & Make Crochet Borders on Patterns, all you have to do is download it. And once you subscribe to receive our newsletter, Hooked on Crochet, you will really see how neat it is to be a part of our organization and crochet community. Crochet is where the heart is, and AllFreeCrochet is where crochet is; you get the picture. If you've searched for how to crochet edges or crochet borders then let AllFreeCrochet be your one-stop shop. Our yarn blog, StitchandUnwind.com, is also an amazing resource for all yarn-lovers out there. Our newsletter, blog, and free crochet patterns are 100% free to the consumer and will exceed all your expectations. Expand your crochet collection today and download this eBook for free; you won't regret it.
Download your copy of How to Crochet Edges & Crochet Borders on Patterns, now!
Tags / Related Topics
Your Recently Viewed Projects
Love these projects? Get MORE delivered to your Inbox – FREE Click Here!
Something worth saving?
SAVE all your favorite patterns
ADD personal notes
QUICKLY reference your patterns