How to Crochet, Volume 1: Free Beginner Crochet Patterns
Bonus: Get our newsletter & special offers for free. We will not share or sell your email address. View our Privacy Policy

How to Crochet: Choosing the Best Crochet Hook Sizes
By: Jeanette Benoit, Editor, AllFreeCrochet
For many, crochet is quite a relaxing and stress-free hobby-- once you know what you're doing. But learning how to crochet can be somewhat overwhelming at first.
Before you even get started crocheting, there are a number of different things you should learn including how to select the right yarn, how to determine crochet hook sizes, and how to read crochet patterns.
Here, you will learn everything you need to know about crochet hooks. Scroll down to learn about the different types of hooks, the different sizes of each, and when you should be using which hook.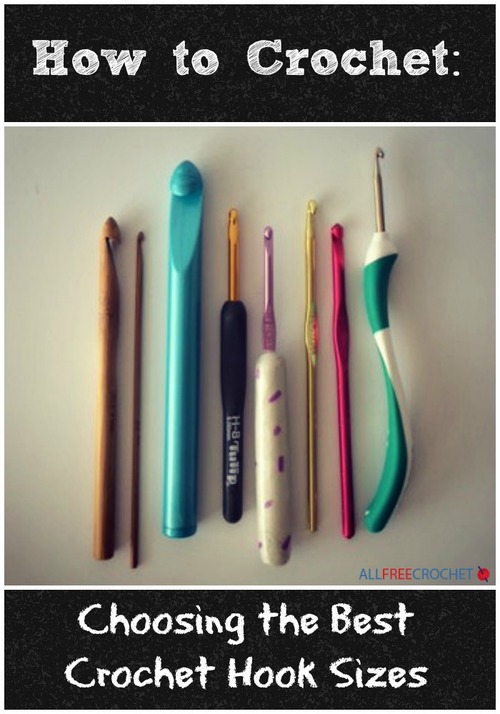 Find even more super helpful crochet tutorials here including how to crochet the magic circle, how to change colors in crochet, and more.
Once you've learned the basics and are ready to put your skills to the test, check out this collection of beginner crochet patterns.
Types of Crochet Hooks
Steel: Usually reserved for fine thread crocheting, such as doilies.
Aluminum: This is likely the most "generic" hook choice. Aluminum hooks are available in a large range of sizes. It's a popular choice (espcially for beginners) because the yarn glides smoothly and quickly.
Plastic: Another popular choice and generally the most cost-effective. Plastic hooks are available in all the common sizes, as well as jumbo hooks.
Bamboo: Llightweight and warm in the hand; these are available in all sizes except the smallest and jumbo sizes.
Tunisian: These are longer than regular hooks, and sometimes have a hook on each end. A crochet hook with a hook on both ends is also called a cro hook. Like a knitting needle, you keep your stitches on a tunisian crochet hook as you create the fabric. Tunisian crochet is also called afghan crochet, and the fabric looks different from normal crochet, and a little like knitting.
Ergonomic: Designed to reduce the strain in your hands as you crochet, these hooks usually have larger soft handles or handles you can insert a regular hook into. There are also stress relief gloves available that also help to ease discomfort.
The Knook: A long crochet hook with a hole running through one end. You thread a piece of yarn through the hole in the knook needle, and you can create stitches that look like knitting, but with a single crochet hook rather than with knitting needles.
Crochet Hook Sizes
Crochet hook sizes vary based on the material, brand, and country that the hook was produced in. You can usually find the hook size directly on your crochet hook. There will either be a number or a letter, or sometimes both.
The number represents the diameter of the shaft (in millimeters), which is the part of the hook between the point and the handle. The size of the shaft is what determines how large your stitches will be. Crochet hooks made and sold in the USA use a lettering system for their sizes. The letters represent hook size from smallest to largest ("B" is usually the smalled and "Q" is the largest). As the letter gets further into the alphabet, the hook gets larger.
If you find that your crochet stitches are too loose, then go down a hook size. A general rule of thumb is that your yarn and hook should somewhat correspond with each other. For example, smaller yarn uses a smaller hook and a larger hook is used for bulky yarn.
Steel hooks are also known as "thread hooks" and should only be used for fine lace thread. They come in numbered sizes that get larger as the number gets smaller. The sizes vary from the 0.6 mm thickness of the size 14 to the 3 mm thickness of the size 00.

---
---
Thread Hooks vs. Yarn Hooks
Crochet hooks are usually separated into two categories: thread hooks and yarn hooks. Thread hooks are made from steel and yarn hooks are usually made from plastic, aluminum, or even wood.
Steel are for the smallest sizes and are often used in projects with fine thread. Below, you'll find charts for both that will help make it easier when converting millimeter hook sizes to popular letter and number sizes. We've included both US and UK yarn hook sizes.
Yarn Hooks: Thread Hooks:
| | | |
| --- | --- | --- |
| Metric | US | UK |
| 2.25 mm | B/1 | 13 |
| 2.75 mm | C/2 | -- |
| 3.25 mm | D/3 | 10 |
| 3.5 mm | E/4 | 9 |
| 3.75 mm | F/5 | -- |
| 4.0 mm | G/6 | 8 |
| 4.5 mm | -- | 7 |
| 5 mm | H/8 | 6 |
| 5.5 mm | I/9 | 5 |
| 6 mm | J/10 | 4 |
| 6.5 mm | K/10.5 | 3 |
| 8 mm | L/11 | 0 |
| 9 mm | M/13 | 00 |
| 10 mm | N/15 | 000 |
| 15 mm | P/Q | -- |
| 16 mm | Q | -- |
| | |
| --- | --- |
| Metric | US |
| 3.5 mm | 00 |
| 3.25 mm | 0 |
| 2.75 mm | 1 |
| 2.25 mm | 2 |
| 2.1 mm | 3 |
| 2 mm | 4 |
| 1.9 mm | 5 |
| 1.8 mm | 6 |
| 1.65 mm | 7 |
| 1.5 mm | 8 |
| 1.4 mm | 9 |
| 1.3 mm | 10 |
| 1.1 mm | 11 |
| 1 mm | 12 |
| .85 mm | 13 |
| .75 mm | 14 |
Choosing the Right Size Crochet Hook
On most yarn you buy, the suggested hook size should be right on the label, as well as an estimated number of stitches per inch (or 4 inches). Before you begin a crochet pattern, we suggest you crochet a swatch with the stitch pattern you are going to use for your project, wash your yarn, let is dry, and then measure your stitches. This is especially helpful when you are crocheting an item in which size matters, such as a sweater or skirt.
Your Recently Viewed Projects
Images from other crochet readers

Love these projects? Get MORE delivered to your Inbox – FREE Click Here!