The Best Crochet Hook for Beginners
By:
Emma Fiander, Editor, AllFreeCrochet.com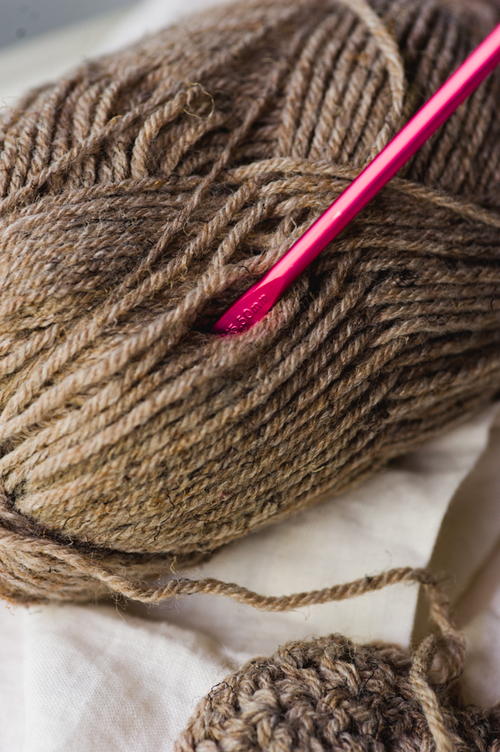 Getting started in any new craft can be a daunting endeavor, but getting started in a hobby as seemingly complex as crochet can be downright overwhelming. There are so many factors that go into a craft like crochet, and it can be difficult to know where to start. Luckily, this handy guide on The Best Crochet Hook for Beginners is here to help answer some of your questions.

Let's say you take yourself to the craft store, all ready to load up on supplies. Then you find yourself in the crochet aisle and suddenly, your entire plan flies straight out of your head. There are a surprising number of options when it comes to crochet tools, and one of the first questions you might ask yourself is, "What's a crochet hook and which one am I supposed to use?"

If you want the short answer to that question, most experienced crochet experts will say you should use an H-8 (5mm) aluminum hook. For a more nuanced look at the question, as well as some other tips for beginners, keep reading.
 
What do the different sizes mean?
As a beginner, it's recommended that you use an H-8 (5mm) hook. This is a medium size, right in the middle. If you use one that's too small, it will be difficult for you to see your individual stitches as you go, Marie from Felt Magnet says. Large hooks present the opposite problem. The medium size is also simply more comfortable to hold, making it easier for a beginner to adjust to the movement. All of the different ways to label sizes can be confusing, however, if you don't know what exactly you're looking at.
Letters: If you're looking at the letter, basically the further into the alphabet you go, the bigger the hook, with B being the smallest and Q being the largest. However, in typical American fashion, the U.S. is the only place that uses the letter system.
Numbers: There are often numbers that correspond to the letters. The letter B corresponds with the number 1, and so on. They aren't always exact matches — for example, G corresponds with 6 and H corresponds with 8, leaving 7 without an exact letter match — but they do follow the general rule of the larger the number, the larger the hook size.
Millimeters: The most exact way to measure would be in millimeters. Letters and numbers can be a bit arbitrary and vary from brand to brand, but when you're measuring in an exact unit, it's generally the same across the board.
Basically, when you look at a crochet hook size, such as E-4 (3.50mm), each symbol is telling you the exact same thing; E = 4 = 3.50mm. For more detailed information, check out this guide on
Crochet Hook Sizes: Choosing the Right Hook Size
.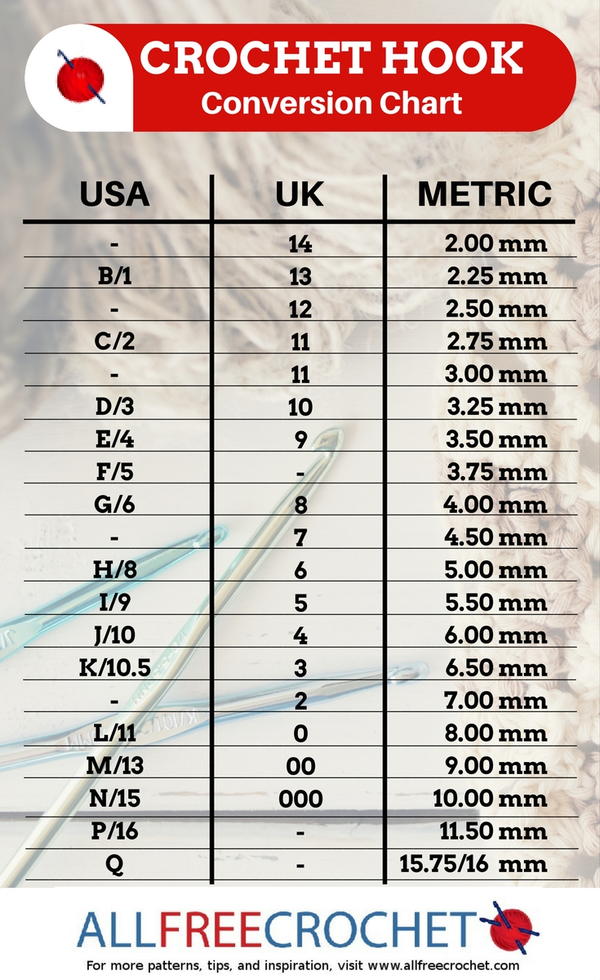 What are the differences in hook materials?
Once you pick a size, you have to decide what kind of material you want your crochet hook to be made out of. There are lots to choose from, and you'll definitely want to experiment to figure out which one is right for you.
Metal: Usually made from aluminum, get a metal hook if you're not prone to wrist pain and want a durable, general hook. Most experts, like those over at Knit Simple, recommend starting with one of these.
Plastic: Plastic hooks are great for people on a budget, like apprehensive beginners who haven't quite decided if they're all-in on crochet yet. Because they're lighter than metal hooks, they're also ideal for crafters worried about wrist pain, Ashley Little from Craftsy says.
Bamboo: Like plastic crochet hooks, bamboo hooks are lightweight, and much warmer in your hand than metal ones. Opinions differ on whether they're a good tool for beginners, however. Ashley Little recommends using bamboo hooks if your stitches keep slipping, but Marie from Felt Magnet says this can lead to your yarn sticking too much, which might be frustrating for newcomers.
There are a few kinds of specialty crochet hooks out there, and you don't want to accidentally end up with one of those for your first time. Just keep your eyes peeled and stay away from Tunisian hooks — longer than normal, and often double ended — and small steel hooks — specifically used for crocheting thread, not yarn — and you should be fine.
How does hook size correspond to yarn type?
The size of your stitches and how comfortable the hook is in your hand aren't the only reason hook size matters. What weight of yarn you'll be using in your project is the biggest determining factor for how big or small your hook should be. As a beginner, you'll want to stick to a worsted weight yarn.
Sock/Baby/Fingering: 2.25–3.25mm or B-1–E-4
Sport/Baby: 3.25–3.75mm or E-4–7
DK/Light/Worsted: 3.75–4.5mm or 7–I-9
Worsted/Afghan/Aran: 4.5–5.5mm or I-9–K-10½
Chunky/Craft/Rug: 5.5–8mm or K-10½ –M-13
Bulky/Roving: 8mm and larger or M-13 and larger
Another thing to keep in mind when picking out a yarn is that lighter colors show your stitches more clearly, making them better for beginners than darker colors. Additionally, Knit Simple recommends, you'll want a fiber with some give to it, like acrylic, wool, or a blend. Stay away from cotton if it's your first time out.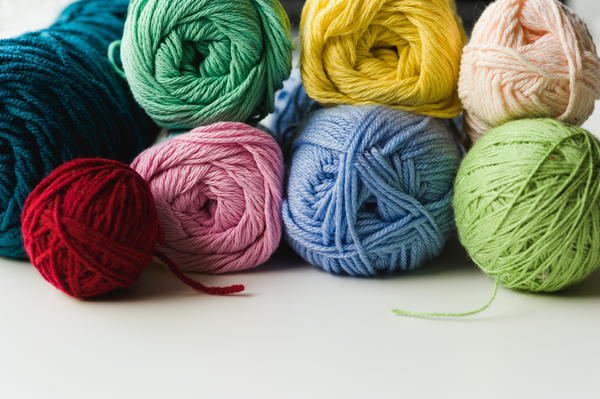 Projects for Beginners
So now that you know what kind of crochet hook you need and which yarn to use, it's time to get started crocheting! You may already have a specific project in mind, and that's great. If you're still searching for inspiration, though, any one of these adorable crafts would be perfect for you.
Picking out your tools is just the first step. Next, you need to learn how to actually crochet. Check out this handy guide: How to Start Crocheting
What size hook did you first learn crochet with?
Let us know in the comment section!
Free projects, giveaways, exclusive partner offers, and more straight to your inbox!
Tags / Related Topics
Your Recently Viewed Projects
Images from other crochet readers


Something worth saving?
SAVE all your favorite patterns
ADD personal notes
QUICKLY reference your patterns