10 Crafts Similar to Crochet
On the hunt for crafting hobbies for adults that are similar to crochet? This list has you covered!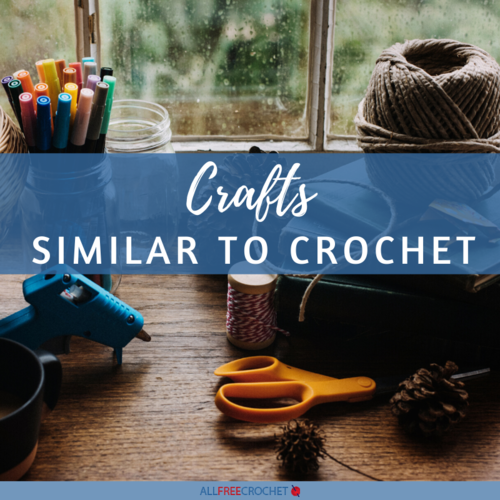 If you know crochet and want to know what other craft hobbies you should get into, then this page will help guide you in the right direction.

If you don't know how to crochet, that's fine, too! These crafts just happen to be similar in certain aspects but none of them actually involve crochet.

So, when you find yourself asking, What craft should I do?, then you'll want to read through our resource, 10 Crafts Similar to Crochet.

We love to crochet, of course, but sometimes it's nice to take a break or use similar skills to learn a new talent and create something that you've never made before. This list includes craft ideas for adults, some for children, and craft hobbies for guys, too.

Creative people are always looking for different crafts and new ideas to expand their abilities and experiences, which is why this resource is so handy. Take a look at our suggestions below and learn a new craft today!

1. Knitting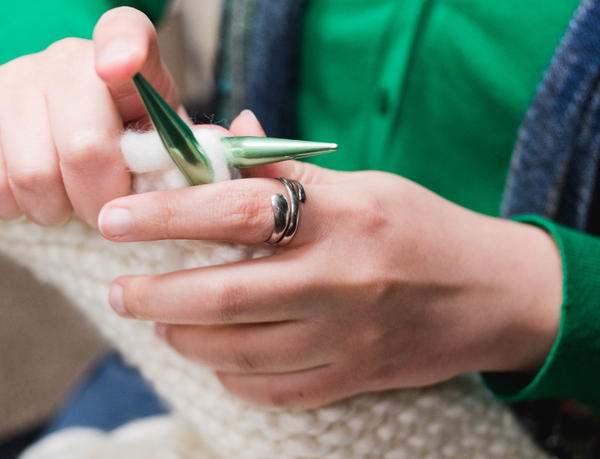 PLUS! Have you ever tried knooking? This yarn technique involves a tool called a knook and the process and style is described as a combination between knitting and crochet. This unique craft might be for you if you like crocheting, knitting, or both!

Learn more here:
How to Knook: Leisure Arts Knooking Instructions for Beginners from AllFreeCrochet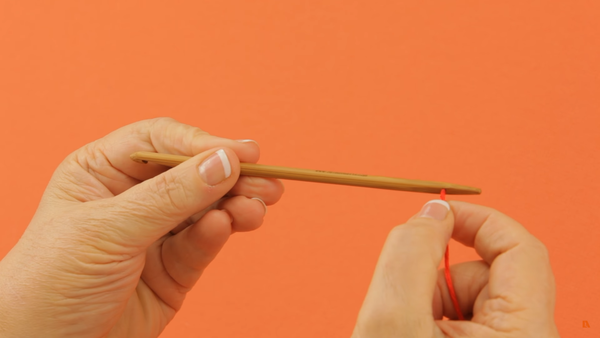 2. Macramé
Yes, it's trending again! Popular in the 1960s and '70s, macramé, like many of the textile crafts mentioned earlier, involves knotting a length of cord in different ways. It can be done to create wall hangings, plant holders, jewelry, and similar items. Learning the different knots you can master is similar to learning all the crochet stitches you might need for future projects.

Learn more here: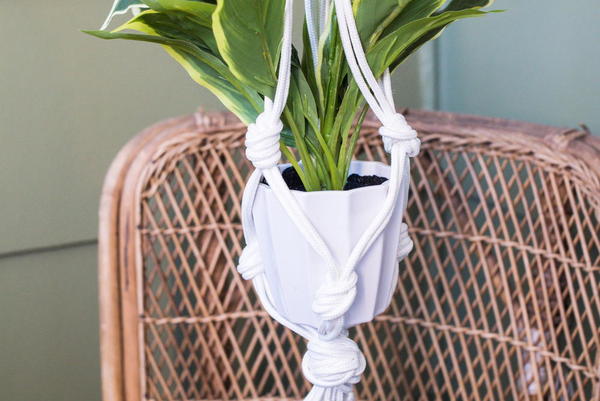 3. Nålebinding
Nålebinding (other spellings include naalbinding, nålbinding, nålbindning, or naalebinding) is also known as "Viking knitting" or "Viking crochet" and it is one of the oldest forms of yarn crafting. It's Danish for "binding with a needle" and it is a beautiful and unique technique that may remind you of crochet.

Learn more here:
Nålebinding Tutorial Part 1 - Oslo Stitch from HomeWithMyBookshelf on YouTube
Nalebinding – Viking Knitting Technique from Think Crafts!
Nalbinding Crash Course from The Knitting Genie
View this video from HomeWithMyBookshelf on
YouTube
right below to learn more:
4. Sewing/Quilting
Sewing is a needlecraft like crochet but instead of yarn, you're using thread and fabric. Instead of a hook, you'll have a needle.

Let's start with general sewing. This can be done by hand or machine and is easy to learn. We would suggest starting with a simple hand-sewing project to learn the ropes before getting into more complicated projects.

However, once you learn how to use a sewing machine, it becomes easier and faster than doing anything by hand. Like crochet, patterns are often used and it takes precision and skill.

Learn more here: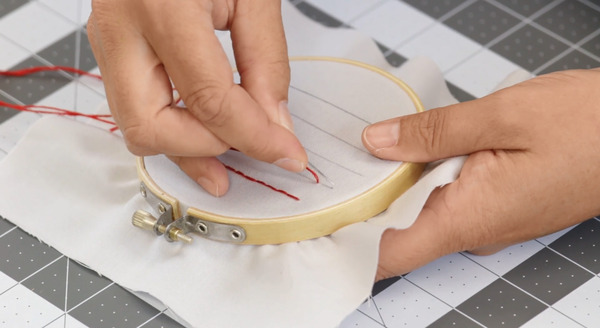 Quilting involves more advanced sewing. Quilting is mostly done by machine and involves designing and sewing pieces of fabric together to create decorative or household items. Quilts and throws are the most common creations but bags, placemats, cases/covers, drink cozies, and many other unique projects can be made by quilting.

Learn more here: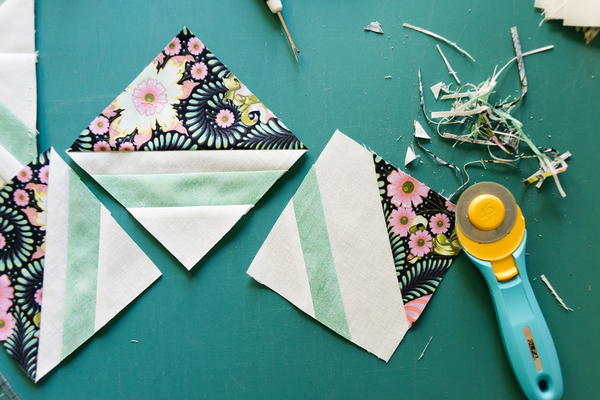 5. Embroidery/Cross-Stitch
Embroidery and cross-stitch are technically in the sewing category but they are slightly more detailed and exclusively done by hand. Embroidery can be done using thread or yarn and a hand needle to create designs on fabric. A variety of stitches can be incorporated to result in different textures and shapes. Embroidery work can also be embellished with other materials, such as sequins or beads.

Learn more here:
How to Start a Hand Stitch from AllFreeSewing
Embroidery Stem Stitch Tutorial from AllFreeSewing
How to Sew a French Knot from AllFreeSewing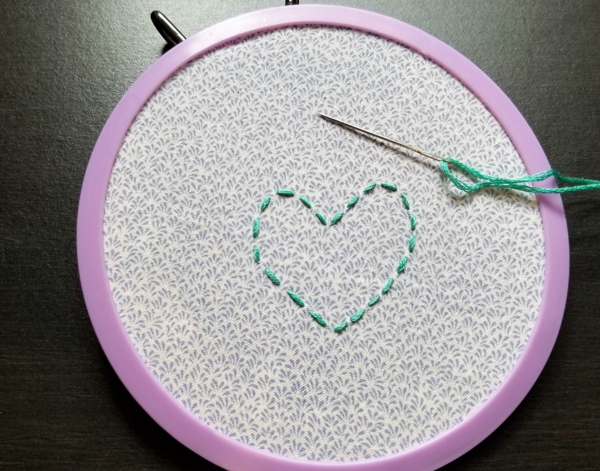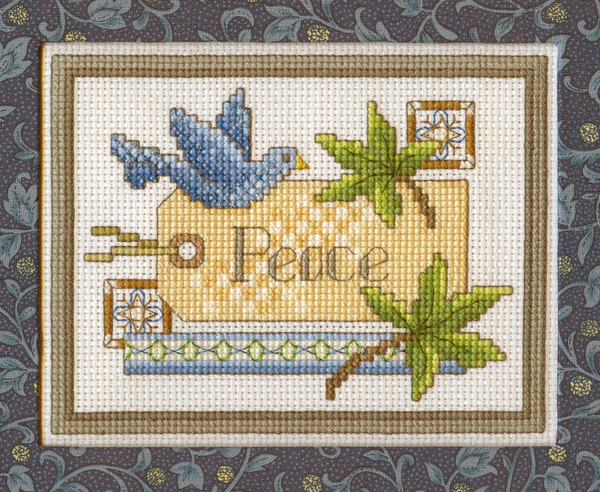 6. Weaving
Speaking of weaves, weaving is also a similar craft to crochet because of its use of yarn and textures. This textile craft involves interlacing a set of yarn (or thread) that results in a piece of finished "fabric" in the design of choice. Much like crochet and knitting, the process can involve different methods to achieve a certain look or texture.

Learn more here:
Paper Plate Weaving from FaveCrafts
Spring Fling Woven Wall Decor from FaveCrafts (shown below)
God's Eye Craft Tutorial from FaveCrafts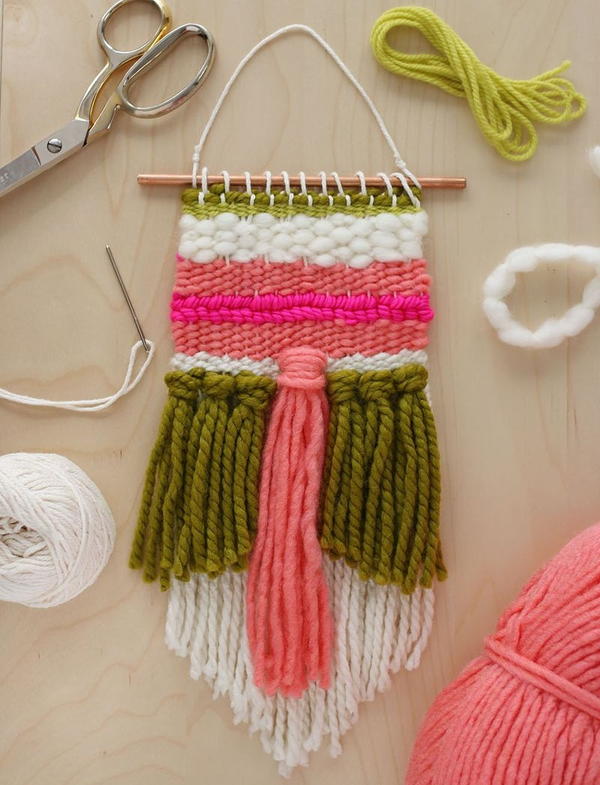 7. Needlepoint/Canvas Work
Like cross-stitch, needlepoint (aka canvas work or plastic canvas work) is a form of counted thread embroidery but, in this version, it's done with a base of stiff plastic canvas. The canvas has open weaving, which allows a needle with thread, fabric, yarn, or similar materials to be pulled through. The image below shows the Spice Islands Placemat Pattern being worked on. That design uses raffia, which is sturdier than most yarn.

Learn more here:
8 Plastic Canvas Stitches from FaveCrafts
17 Christmas Plastic Canvas Patterns from FaveCrafts
Spice Islands Placemat Pattern from FaveCrafts (shown below)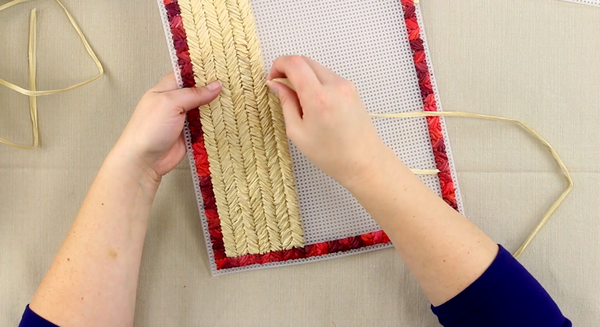 8. Tatting
If you've done any steel crochet hook work with crochet thread, then you'll love tatting! Much like lace crochet, tatting is used to make delicate items such as doilies, jewelry, collars, and other decorative items. However, instead of a crochet hook, a tool called a shuttle is used. However, needles can be used to achieve a similar result.

Learn more here:
Introduction to Tatting by Kaye Judt
Tatted Bookmark from FaveCrafts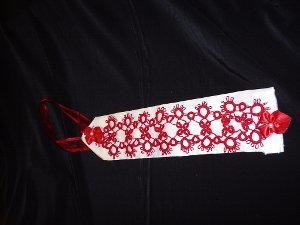 9. Rug Hooking
Rug hooking is a lot of fun and is one of the best craft hobbies for guys, though everyone can enjoy it. With a tool called a rug hook, that looks very similar to a crochet hook, strips of fabric are looped through a woven back, usually burlap or linen. Intricate designs or abstract creations can be created with this unique hobby.

Learn more here:
An Intro to Rug Hooking for Beginners from Rug Hooking Magazine
How to Cut Wool Strips Tutorial from Rug Hooking Magazine
Treasure of the Sea from AllFreeCrochet (shown below)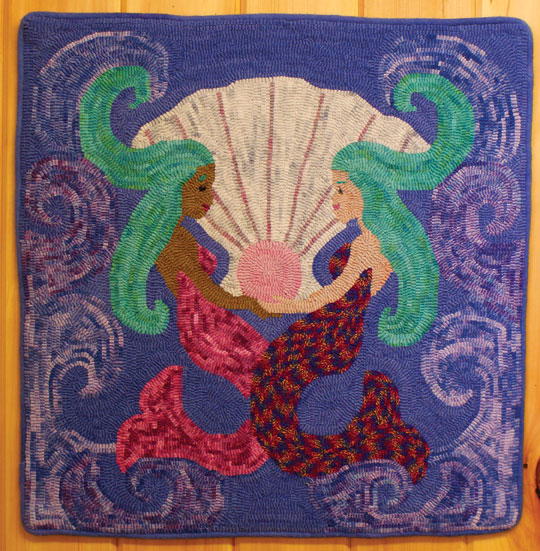 10. Latch Hooking
Latch hooking is similar to rug hooking as well as crochet in that it involves a similar hook. The latch hook looks like a rug or crochet hook but has a latch that holds the yarn while working. That's right, we said yarn! Latch hooking uses short pieces of yarn knotted around an open weave canvas piece. Like rug hooking, a decorative image can be designed with different colors of yarn in certain places (the canvas is usually colored to match) or something more abstract.

Learn more here:
How to Latch Hook from Instructables
Latch Hook Basics from Hands Occupied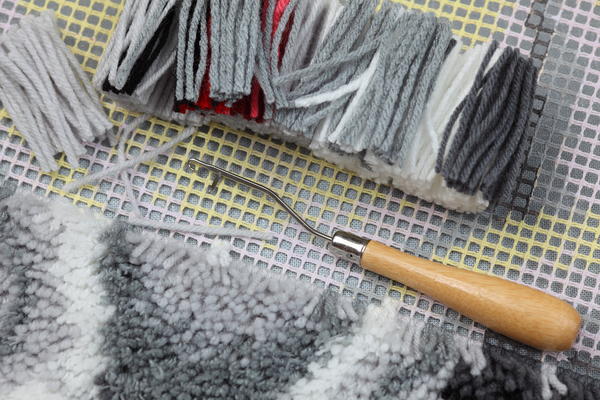 BONUS! Punch Needle Embroidery
Similar to rug hooking, punch needle embroidery uses a tool that holds and feeds different weights of yarn through to a tightly woven fabric, creating designs of your choice. It's fun to start with kits and then get more creative by making your own designs. It takes a while to get the hang of the tool and process but, once you do, it's a super fun activity that will remind you of working up your favorite crochet projects.

Learn more here:
Flower Burst Punch Needle Pattern from FaveCrafts
Home With Yarn Punch Needle from FaveCrafts (shown below)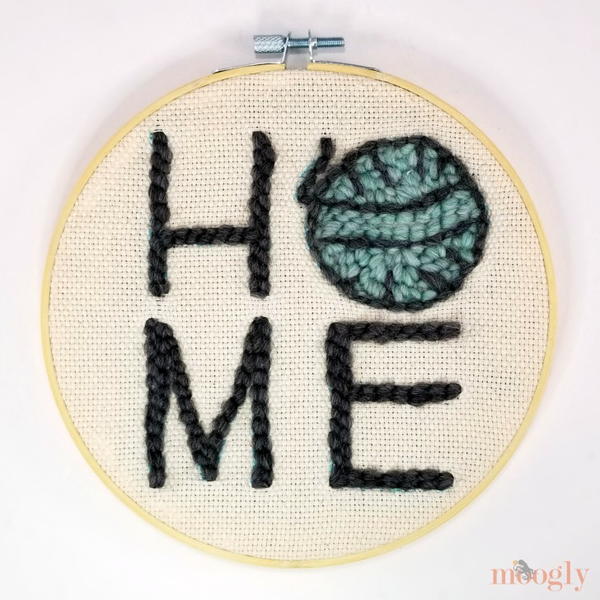 Your Recently Viewed Projects
Join our community of 5 million crocheters! Right now!
Get free crochet patterns, exclusive partner offers, and more.
Thank You for Signing Up!
There was an issue signing you up. Please check your email address, and try again.