Hand Crochet: Everything You Need to Know + Free Patterns
Learn how to hand crochet a blanket, scarf, or anything at all with this article.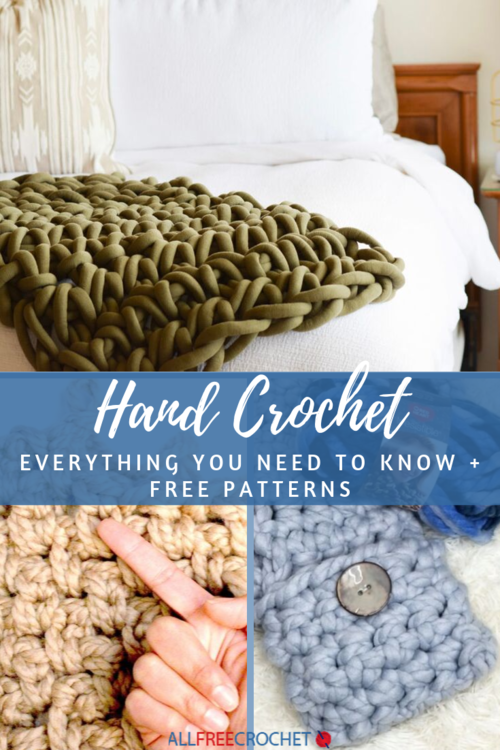 Learn how to hand crochet! This fabulous skill is wonderful for experienced crocheters and novices alike. Make a hand crochet blanket or other gift for loved ones during the holidays.

You can make a birthday gift or a gift for any other occasion! Hand crocheted items are perfect for gift giving or a rainy day activity in general because these projects work up fast.

Hand crochet is easiest if you already know how to crochet the traditional way with a hook. You'll use the same method, just using your hand instead of a hook!

However, you can still hand crochet even if you've never picked up a crochet hook before. Read more about the advantages of learning this lovely skill, how to do it, and some patterns featuring this technique that we love.

Pictured in collage:

Top pattern: 
How to Hand Crochet a Big Yarn Blanket
Bottom left:
How to Finger Crochet
Bottom right:
Cool Hand Pocket Scarf Tutorial

Subscribe to the AllFreeCrochet newsletter here.
Advantages of Hand Crochet
THERE'S LESS COUNTING! Many hand crochet blanket patterns call for chaining between 9 and 13 stitches to start. That's far less than a regular pattern where you might chain 150.

IT'S FAST! You can create an entire hand crocheted blanket in an hour!

IT'S KID-FRIENDLY! Nicole Phoenix of our AllFreeCrochet Community group on Facebook shares a lovely story in this post:

"It's great for younger children who want to start learning to crochet. My 3rd and 4th graders wanted to learn how to crochet after noticing all of the things I would wear. They begged me to learn. So I grabbed a ton of yarn and large hooks and did a group lesson. A few girls who were used to working with their hands picked it up nicely and became obsessed (like me.) A bulk of the group got frustrated pretty quickly after we started to learn how to chain. One boy cried. So we switched to finger crocheting with bulky yarn and it became all the rage. They learned to chain, single crochet, and a basic cowl pattern. Pretty soon my kids top after school activities were either playing with slime, fidget spinners, or CROCHETING. It became such a popular activity our group produced 25 cowls to sell at our holiday craft sale!"

"It's also great for older people who can no longer have the dexterity or eyes for detailed work."
Types of Yarn to Use for Hand Crochet
Generally speaking, you have two options:
Jumbo yarn (weight 7 or higher) where you can use just one strand, like Lion Brand Yooge or Red Heart Irresistible.
 
Super bulky yarn (weight 6), but holding several strands together, at least 3 or 4.
Dianne Fritz of the
AllFreeCrochet Community
group on Facebook says, "I have used my fingers to crochet rugs. T shirt yarn is easy to use. Be careful using rougher textured yarns - very hard on the hands."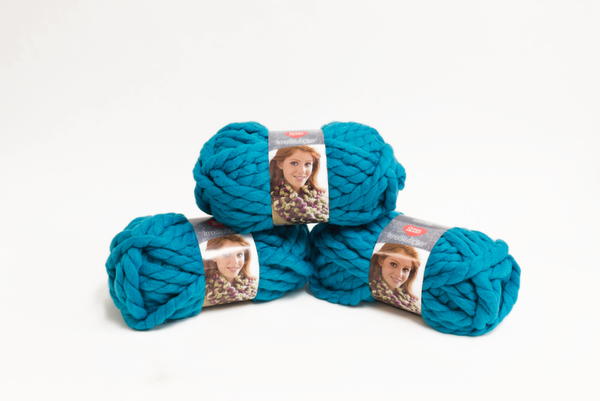 Disadvantages of Hand Crochet
There are only a few disadvantages to this technique that you'll want to bear in mind:
It can be expensive, but not always. One skein of Lion Brand Yooge can make a nicely sized throw blanket, but it'll run you $100. You might need several skeins of other yarns; since the yarn is so thick, the yardage tends to be shorter per skein. A cost effective option might be going with super bulky weight 6 yarn and holding several strands together. I'll also say, if you're crocheting a blanket the traditional way or this way, no matter what, it's going to be pricey!
 
Using a hook is easier for keeping tension consistent. In fact, Alexandra Richards of Eye Love Knots describes her experience: "I tried it once with sashay yarn to make a chain scarf, but I am weird, and I need the consistency of loop sizes, so I stick to using a hook." Meanwhile, another member of the AllFreeCrochet Community named Donna says, "Why hand crochet when you can do the real thing!"
Frankly, if you're used to working with a hook and you love it, you might not care for learning a new technique for crocheting with your hands! Consider learning 
How to Crochet a Super Bulky Scarf
instead. There's even a video tutorial!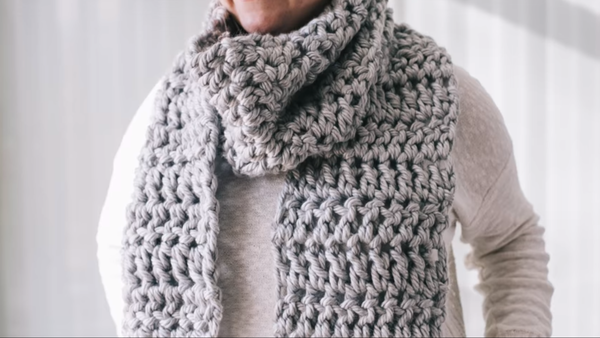 If you know crochet and want to know what other craft hobbies you should get into, then this page will help guide you in the right direction.
>>>10 Crafts Similar to Crochet
How to Hand Crochet
In general, the bigger your tool (hand vs hook), the thicker your yarn needs to be. Finger crochet usually involves working with two strands held together, and hand crochet might involve three or four strands held together of super bulky yarn.

Pia Thadani of stitchesnscraps.com suggests the following: "Use a big yarn with easy to see stitches."

TIPS:

Don't feel like you need to fit your entire hand through each loop! The trick is to stick your fingers in the loop up to around the knuckles. This keeps your tension consistent and it makes the motion of hand crochet much smoother. Last, it will keep your stitches a bit tighter, creating an more aesthetically pleasing fabric.

In some cases and depending on the project, you may want to hand crochet using just three of your fingers (thumb, index finger, and middle finger). Again, this will make the process go more smoothly and help you keep a consistent, tighter tension.

Last, if your yarn is thin enough, you can use a jumbo crochet hook, such as a  size 70 (35mm) hook to achieve a similar finished product.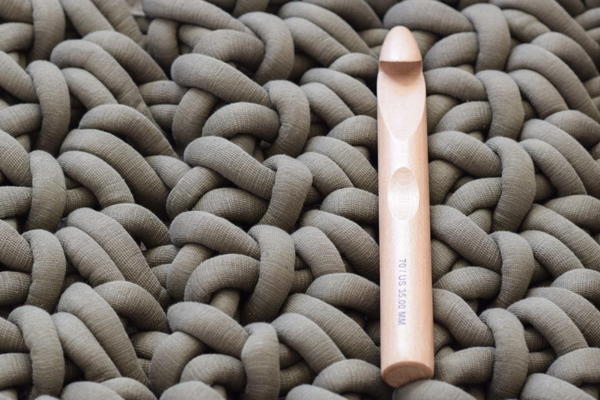 How to Hand Crochet Video Tutorial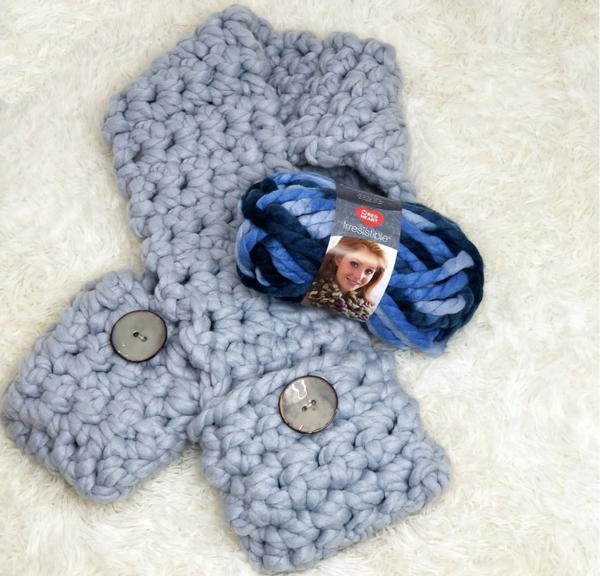 Hand Crochet Blanket Patterns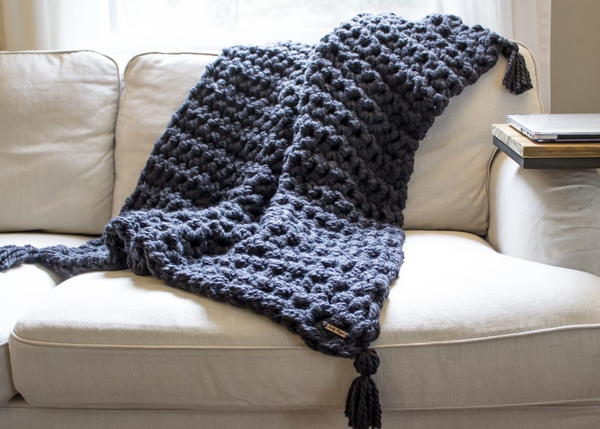 How to Hand Crochet a Big Yarn Blanket
Mama in a Stitch has another beautiful hand crochet blanket pattern with ulta huge yarn that you will be just dying to play with! This tutorial does include a video as well so you can follow along. Of all the patterns, this is probably the fastest blanket to work up and EASY since you only need to use one strand of yarn.

Get the Pattern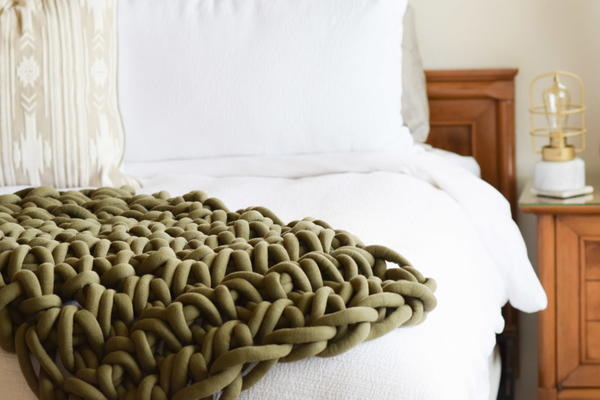 How to Easily Knit a Big Yarn Blanket
I know, I KNOW! This is AllFreeCrochet, not AllFreeKnitting, but I just had to share this big knit blanket. Jessica Potasz also has a video tutorial for this pattern, and it really isn't all that different from hand crochet! So if you like the look of this blanket, consider giving this technique a try, too. '

Get the Pattern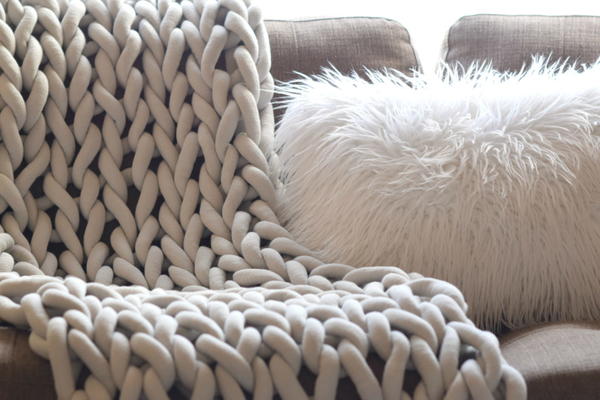 More Hand Crochet Patterns
BONUS: Finger Crochet
Instructables has a fabulous article on the art of finger crochet! Finger crochet allows you to work with slightly thinner yarn while maintaining a tightly woven fabric. I think this blanket turned out just beautifully!

Get the Pattern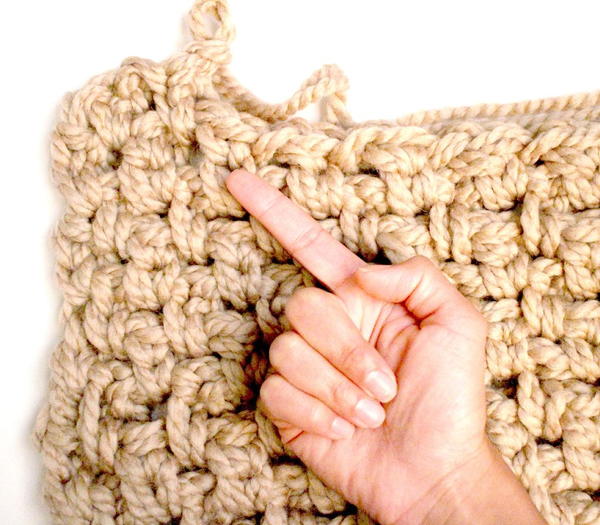 Your Recently Viewed Projects
Join our community of 5 million crocheters! Right now!
Get free crochet patterns, exclusive partner offers, and more.
Thank You for Signing Up!
There was an issue signing you up. Please check your email address, and try again.