Crochet Hook Sizes: Choosing the Right Hook Size
Learn how to find the best hook type and size for any project.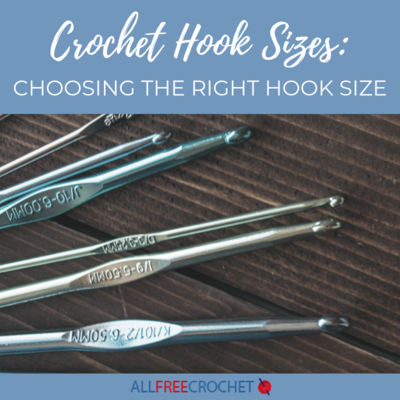 For many, crochet is quite a relaxing and stress-free hobby-- once you know what you're doing. But learning how to crochet can be somewhat overwhelming at first. Before you even get started crocheting, there are a number of different things you should learn including how to select the right yarn, how to determine crochet hook sizes, and how to read crochet patterns.

Once you've learned the basics of crochet hooks and are ready to put your skills to the test, you can check out this collection of beginner crochet patterns, but first, take some time to learn everything you need to know about crochet hook sizes and more here. First, we will share a downloadable crochet hook size conversion (and thread crochet hooks) chart, which will help you every time you are starting a crochet project.

After the chart, we will go over the details of hook sizes; what the numbers and letters mean, when to go bigger or smaller, and other important information. The next section includes the most common crochet hook types, from steel to wood, with an explanation and image for each. Once you have learned all about crochet hooks, you will need to know how to choose one. We go over that in our last section, so be sure to take a look before heading off to crochet.



If you love these patterns, be sure to

subscribe to our newsletter

to get amazing crochet patterns like these delivered to your inbox every day!


PLUS! Check out our video below on types of crochet sizes and hooks, and then scroll down to learn about the different types of hooks, the different sizes of each, and when you should be using which hook. 
 
Table of Contents
What crochet hook size do you like working with most?
Your Recently Viewed Projects