30+ Crochet Border Patterns
Whether you're looking for fancy crochet edging or simple crochet edging, you'll love all of these crochet border ideas.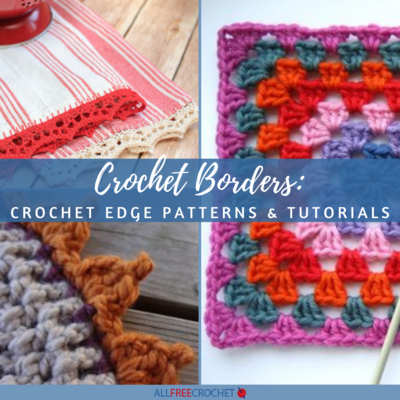 Do you ever find yourself with a finished project, but it just doesn't look complete? You stare at it and can't figure out what needs to be done with it until a lightbulb goes off. Maybe you need to add crochet edging to complete your pattern. Voila! 

Any one of the crochet stitch patterns on this page, 30+ Crochet Border Patterns, can work as an edging on an afghan, baby blanket, sweater, scarf and more! First, we'll share our videos for the prettiest crochet edgings you've ever seen.

Simple edging can be added to just about any project out there. It makes your design look complete and a bit more sophisticated. If you're unsure of how to crochet borders then you're in luck because we have some great patterns for you to follow.

These free crochet trim patterns and videos help walk you through the process and they are loved by visual learners. After the videos, you will find edging patterns for all sorts of crochet pieces, from clothing to home decor.

There are so many ways to add crochet borders, it's incredible. You can completely change the look of a project by adding a unique edging around. Be sure to bookmark this page so that you'll never have that missing pizzazz again.

Subscribe to our newsletter Hooked on Crochet
to get amazing crochet patterns delivered to your inbox every day!
Plus! Check out this video below from our good friend Kristi Simpson on how to work the easy shell edging. It's one of the prettiest crochet border ideas around.
Table of Contents
Your Recently Viewed Projects