How to Read Crochet Patterns
Learn how to read crochet instructions with this how-to guide!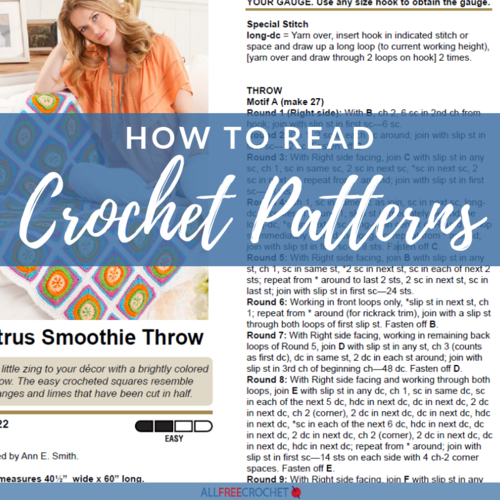 Learning to crochet practically means learning another language- or at least that's what it may seem like at first. Don't worry! Our guide, How to Read Crochet Patterns, will help you master this new language! Reading crochet patterns is done from left to right, just like you're reading a book, which is a helpful thing to remember at the start.

I am here to help you understand how to read crochet patterns, no matter if you are a beginner crocheter that is just starting out or if you're more advanced and looking for a refresher.

Crochet patterns usually have a few things in common. Most of them start out with a foundation chain where other stitches are worked from later. However, there are a few patterns that start out with a chainless foundation, which creates your stitches and your chain at the same time and completes the first row.
 
Crochet Terms and Abbreviations
The key to understanding crochet patterns is knowing how to read the crochet language. These crochet abbreviations are actually the stitches that the pattern uses in shorthand because it could take pages and pages to write out all of the words in full. Most of the time, the pattern you are working with will have an indication of what stitches they are using by including their own chart of abbreviations.

Below, you will find a table of common terms that are used in crochet instructions for US patterns, just in case you find yourself reading a crochet pattern that is without its own specific abbreviation guide.

Reading patterns between the UK and the US is also a completely different story, so make sure you know what abbreviations you're following before you start. If you need help with those translations, go to our Crochet Symbols and Directions Chart.

You will find these abbreviations as well as a diagram explaining how each stitch is used in both types of patterns. Once you understand these abbreviations, you'll be able to know how to read a crochet pattern.

Feel free to pin or print out this Common Crochet Abbreviations Chart to keep it handy and always know how to read a crochet pattern!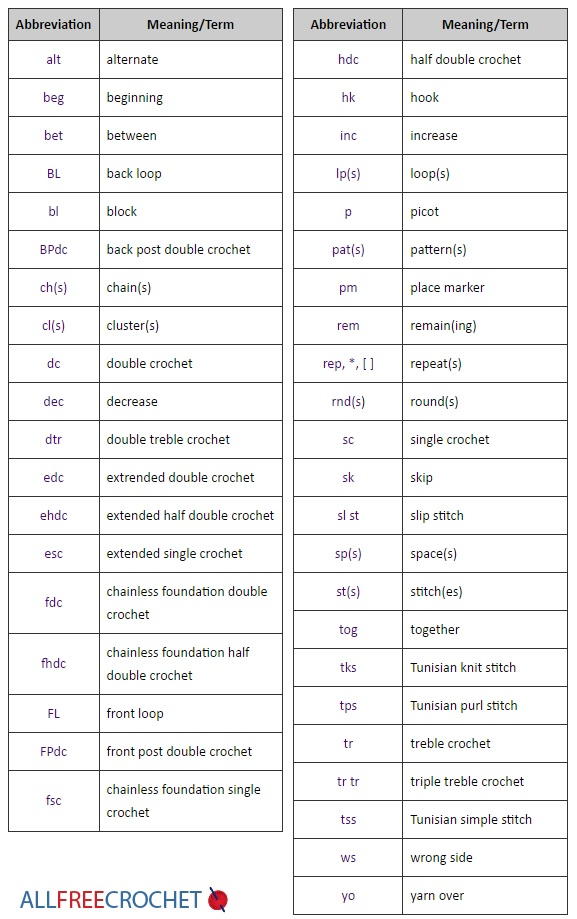 How to Read a Crochet Pattern
Let's start with the basics: What is a crochet pattern? It's a guide with a set of instructions, materials, and more that will have everything you need to know in order to make a specific crochet pattern.

Here, we'll go over the common qualities of reading crochet patterns to fully understand them. Even though people and companies write their instructions differently, that doesn't mean you can't break it down to the basics of how to read a crochet pattern. You can at least count on these things to be there for you.

To best explain this, we will use Red Heart's Citrus Smoothie Throw PDF instructions. This has nearly every aspect of a crochet pattern you'll run into.

Click on the image to download a larger version.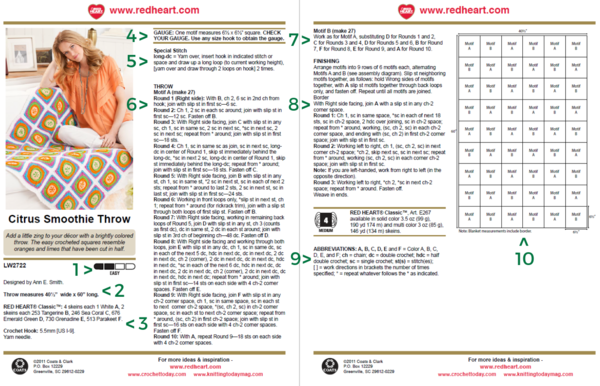 Overview: Looking at the pattern above, you'll see a standard pattern for a crochet throw. It shows an image of the finished throw, the name, a description, and the designer of the piece. You'll also see their reference number (LW2722). Then it goes into the pattern itself.

Reference the green numbers and arrows shown on the image above to correspond with the explanations here.
Suggested Skill Level: This is either written or shown with an image. In this case, it's an easy pattern. The other skill levels are beginner, intermediate, and advanced.
 
Finished Size: A pattern should tell you what the finished size will be. Sometimes you'll see a range of sizes or instructions on making your crochet project bigger or smaller.
 
Materials List: Along with yarn type/weight and hook size needed - this will help you prepare before even getting started. Buy your yarn in the shade you want and make sure you have a crochet hook that goes along with it BEFORE you start. Learn how to choose the right crochet hook size and see a helpful crochet hook size chart, or browse patterns by hook size.
 
Gauge Requirements: This will clarify whether gauge is important for the project. If it is, it will tell you what measurements you need to meet with your hook and yarn. To learn more about gauge, read our gauge guide.
 
Special Stitches: If there are any unique or less well-known stitches used in the pattern, the pattern will explain what it is and how to work it.
 
Pattern Instructions: Shown row-by-row (or round). This should be listed out with a row or round on each line, so it's easy to follow and note where you are in the pattern at all times. This is where you will see abbreviations without explanations as to what they are. You need to know or check the guide while reading the pattern.
 
Motifs: If your pattern has motifs, it will explain them. At the start of this particular set of pattern instructions, it said "Motif A (make 27)" and then after you have finished those, "Motif B (make 27)". What is a motif? It is usually a square or repeated stitch pattern that is used to complete the full design. If you look at this throw, there are two different square designs. Those are the motifs.
 
Finishing Instructions: This explains how to use what you have already crocheted to create the full piece. In this case, you will finish the throw by combining the two sets of motif designs. Most often, you will also see "Fasten off" and "Weave in ends" as the final steps.
 
Abbreviations: As the chart shows above, this guide will usually appear after the pattern in company patterns but sometimes before the pattern in other crochet designer's patterns. Abbreviations are needed because the specific punctuations help to simplify reading the crochet pattern (Learn how to understand punctuation better here).
 
Diagram: This may be the assembly diagram or the diagram of specific stitches or techniques. If your pattern includes a diagram, it will be mentioned in the pattern ("see assembly diagram" for example). Most of the time it is easy to understand how to read a crochet diagram since it's meant to help simplify the pattern. In this case, the diagram in the pattern image above shows how to assemble the motifs.
Remember:
Don't be afraid to ask for help! If a pattern is included on a crochet website or blog, you can usually leave a comment for the designer to help you out if you get stuck. For visual learners, it can also be very helpful to
check out crochet videos
 that can take you through the process step by step along with another person. Thanks to technology, you can access video tutorials on almost any topic without leaving the comfort of your own home.  
Video Tutorial on Reading Crochet Patterns
For all of you visual learners out there, here is a video tutorial from our friend Mikey at The Crochet Crowd. He walks you through reading a typical Bernat pattern.
 
Mikey's Tips for Understanding Written Crochet Patterns
Now that you've watched Mikey's video tutorial, here's a little message from him about understanding written crochet patterns, from the process of general patterns to using diagrams:

"If you're having trouble understanding written crochet patterns then read more into this article. It gives you a few tips on how you can learn to have a better understanding of free crochet patterns.
 
Many new crochet enthusiasts just taking up the craft complain about the complexity of free crochet patterns and especially reading them. As a crochet tutorial maker, I can't help but shake my head at many patterns I read. I get bogged down when I see endless pages. I start evaluating if I have time or if I really want to read code to get a pattern. If the pattern looks complicated or the pattern is horrible to read, I just go skipping along to the next pattern to find something simpler.
 
Maybe it's a "GUY" thing, but I love diagrams. They tell the story in a clearer form for me. Instead of having someone writing gobbly gook on a pattern, I can clearly see the stitches and decipher the meanings of the shapes.
 
The Yarn Council of America is trying too hard to standardize Abbreviations and Symbols for Crochet. Sometimes, I find myself googling meanings and abbreviations. I'm just as bad, I never call something "Yarn Over", I just say "WRAP".
 
So how's the easiest way to learn? Start by writing some simple free crochet patterns of your own work. You will start to see why people write patterns the way they do. You will find yourself using REPEAT a lot but it has to be clear where you are "REPEATING" from. By writing patterns, you start to understand other patterns that may have been rough at first.
 
My video tutorials allow people to not have to read a pattern, but it's not the pattern that is always the problem. Sometimes it's the understanding of why you are having to do a step. You think to yourself the step makes no sense as the author is keeping things brief and you are just doing as instructed without truly realizing until you are a few steps ahead why the "the appearing meaningless" instruction was actually important.
 
So try writing patterns to gain understanding, better yet, try a few diagrams too! You may find it beneficial in moving up your understanding of a pattern!"
 
Michael Sellick is one of the world's leading crochet socialites found on YouTube and Facebook. A fun fact, he's one of the original YouTube hosts for AllFreeCrochet back when we first started offering online videos to crocheters. Learn more about him here:Michael Sellick
Starting Your Crochet Project
Being a good crocheter doesn't necessarily mean that you've known how to crochet for years and learned all the tips and tricks. In my opinion, a good crocheter is always aware of what they are doing and how they are doing it.

For instance, a big part of the crochet process is counting your stitches as you work. If you don't do this, you are just going to make the crochet project worse for yourself and end up taking more time than expected.

It is also important to know what the gauge is and how to check it, which could mean a few things. You may work up a swatch before you start the actual project so that you have something to compare. You may also use a ruler to check that you have the right amount of stitches within an inch or four, depending on what the pattern specifies originally.

If you have more stitches per inch, change to a larger hook. If you have fewer stitches per inch, change to a smaller hook. Knowing these simple things can increase your crochet ability in no time.

If you think that you are now ready to tackle the crochet world, try your hand at our beginner crochet patterns. You might also be interested in what you can crochet with your specific crochet hook sizes here. 
Your Recently Viewed Projects
Join our community of 5 million crocheters! Right now!
Get free crochet patterns, exclusive partner offers, and more.
Thank You for Signing Up!
There was an issue signing you up. Please check your email address, and try again.