12 Beautifully Unique Crochet Stitches
Looking for some cool crochet stitches to try? This page has some of the most interesting and exciting options.
Are you finding basic crochet stitches a little boring right now? Want something exciting and new? Then you will want to check out these 12 Beautifully Unique Crochet Stitches. Plus, what to make with them! These are the kind of stitches that turn heads so you'll definitely want these free patterns, too.

If you are wearing a scarf or are carrying a bag made with one of these elegant crochet stitches, people will stop and ask you where they can get one. If you make someone an afghan in one of these, they'll be forever grateful.

Most of them are intermediate to advanced, which is important to keep in mind. But once you are able to crochet these, you won't regret it.

If you pay attention to new crochet ideas and designs, then you may be familiar with some of these less common crochet stitches. Some of the older unique crochet stitches in this list have become classics that you have probably seen around.

The 12 unique crochet stitches we are featuring on this page are sure to be favorites of any crocheter, whether they are already known or are new ideas.

Don't forget to check out the different patterns available for the stitches or combination of stitches. You will find all sorts of crochet projects to make, from wearables like scarves and sweaters to home decor, like pillows and afghans and everything in between.


PLUS! For more tutorials, references, and free patterns, be sure to sign up for our weekly newsletter. It's the perfect dose of daily crochet for any skill level.


Sign me up for the Hooked on Crochet newsletter!
Table of Contents
Crocodile Stitch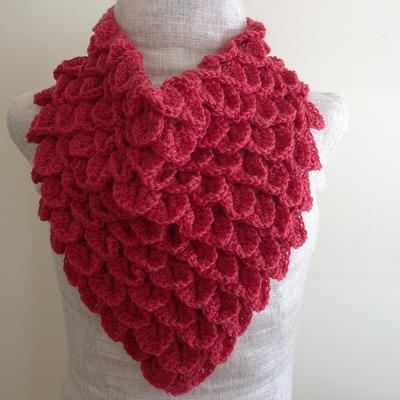 If you have seen this crochet stitch, you remember it. The crocodile stitch is one of the most remarkable and cool crochet stitches around.

The finished appearance of any project made using this stitch has such a distinct look.

A line of this stitch looks like a row of crocodile scales (or teeth), except your yarn can be colorful and pretty. Want to learn? Watch our video tutorial for the crocodile stitch.

Shown: Coral Crocodile Stitch Crochet Cowl
Larksfoot Stitch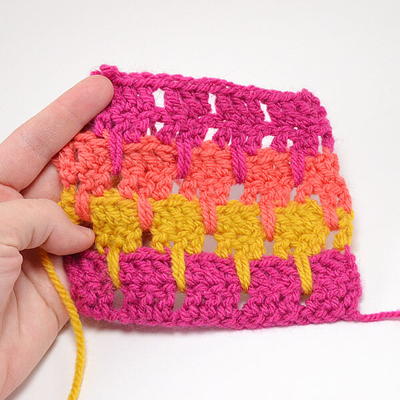 Like the crocodile stitch above, the larksfoot stitch resembles its name. It's a unique crochet stitch because each "foot" is large and distinctive.

It looks like a square but there is a long point, like a claw of a bird's foot.

This is a popular stitch for scarves but it can be used for all sorts of crochet projects. Try experimenting with this neat crochet stitch on a small scale and build up to making larger creations, such as blankets.

Shown: How to Crochet the Larksfoot Stitch Tutorial
Spike Stitch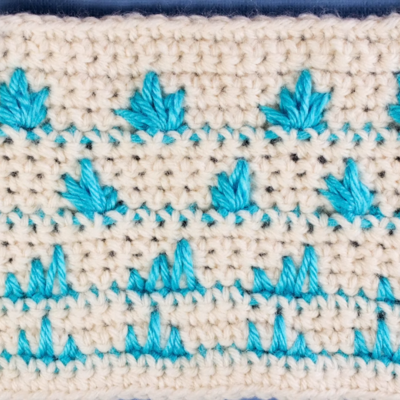 If you have never seen the spike stitch, learn how to crochet it with our spike stitch video tutorial.

As you can see from the images above and below, there is no one exact way to crochet this unusual crochet stitch, but all of them are similar in that there is a "spike" somewhere in the stitch.

This creative stitch allows you to add decorative touches to crochet patterns or create something truly original. It can be used for any and every type of design that you want to look a little edgy and modern.

Shown: How to Crochet the Spike Stitch
Catherine Wheel Stitch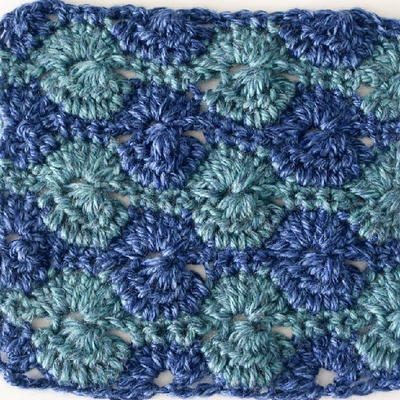 The Catherine wheel, also known as Harlequin, is a well-rounded stitch! The finished look is of textured wheels.

It works well for blankets and other home decor patterns as well as wearable projects, such as the hand warmers shown below.

Learn how to crochet this stitch with our Catherine wheel video tutorial and then take a look at these patterns you can make. So pretty, so elegant.

Shown: How To Catherine Wheel Stitch Tutorial
Star Stitch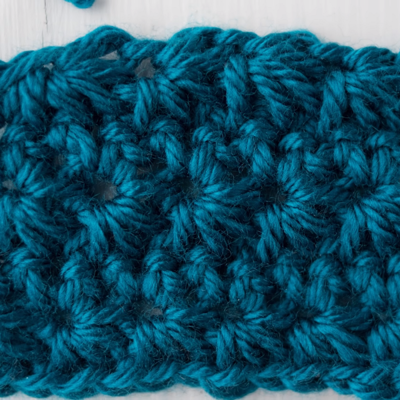 Twinkle, twinkle, little star stitch...this is a pretty one that looks like it was pulled right from the sky! The star stitch is a burst of stitches which resemble stars.

Learn it with our star stitch video tutorial.

It is a wonderfully unique crochet stitch that can be used for all sorts of crochet pieces, from cup cozies, scarves, and bags to boot and wrist cuffs and headbands.

Shown: Crochet Star Stitch Tutorial
Popcorn Stitch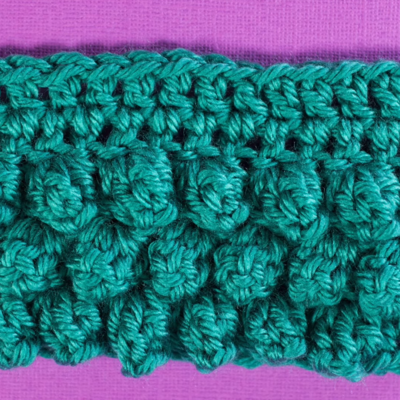 Once you learn the popcorn stitch, you will want to use this stitch to add three-dimensional texture for all sorts of projects.

The popcorn stitch looks like popped popcorn kernels, giving this stitch a one-a-kind look. As you can see, crochet stitches are often named after their appearance.

Use the popcorn stitch to add decoration, such as for flower petals, or make a crochet pattern that's utilitarian, like a popcorn stitch scrubby. So many ideas!

Shown: Popcorn Stitch Tutorial
Pineapple Stitch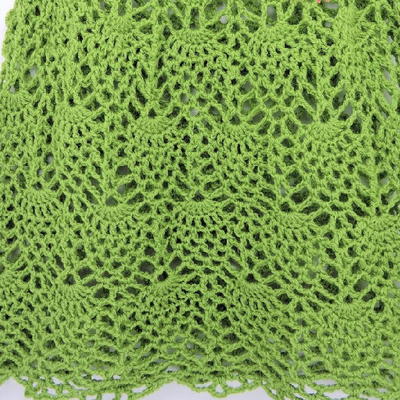 The pineapple stitch is so stunning that there is no way we could leave it out of this list. Not only is it original but it is incredibly intricate. Look at these patterns.

Do you notice the pineapple shape that the stitches create? It's so beautiful.

Because it is so delicate, it is used for lightweight items, such as shirts and scarves. If you want something decorative, the pineapple stitch is a wonderful choice.

Shown: Pineapple Cascade Baby Dress
Cable Stitch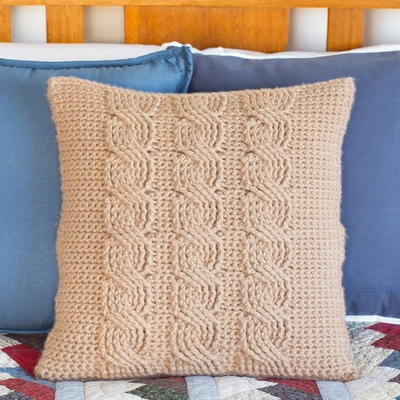 The cable stitch is a classic for a reason. Learn how to crochet a cable stitch and then take a look at these beautiful patterns below to see how you can use it.

It gives the look of rope or twisted yarn, which makes it the perfect stitch to use for a variety of projects, like hats and scarves but afghans and pillows as well.

It is often combined with other, more simple stitches so that the cable pattern stands out, but it can definitely be crocheted on its own as well.

Shown: Cabled Throw Cushion Cover
Broomstick Lace Stitch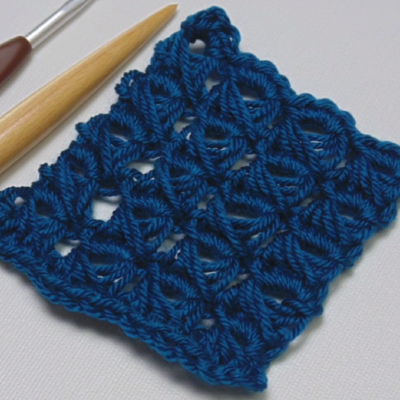 Learn the broomstick lace crochet stitch and you will never look back. This elegant and gorgeous stitch adds a level of class that is at the top of crochet goals.

This circular and wavy stitch is most popular for use with cowls and scarves but can be used for many more designs.

You will love this lovely stitch. It's a pretty stitch for baby patterns, too! It will always make a statement.

Shown: Broomstick Lace Crochet Tutorial
 
Shell Stitch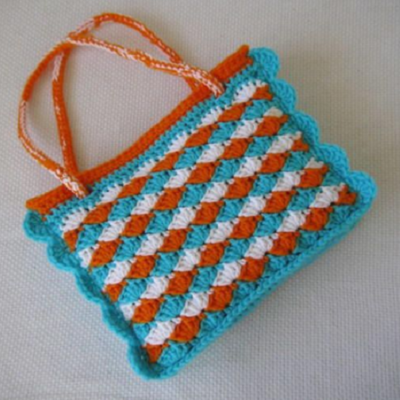 Tulip Stitch
No one would deny that one of the most pretty crochet stitches has to be the crochet tulip stitch. How perfect is it? It looks just like a spring garden, especially when you use the accurate colors. 

Even if you choose to do this stitch in solid colors, it looks stunning.

Not only is this unusual stitch used as a decorative touch for crochet but it's thick and durable with an unbeatable texture and so it's used for placemats, dishcloths, and more.

Shown: Tulip Stitch Afghan Square
Waffle Stitch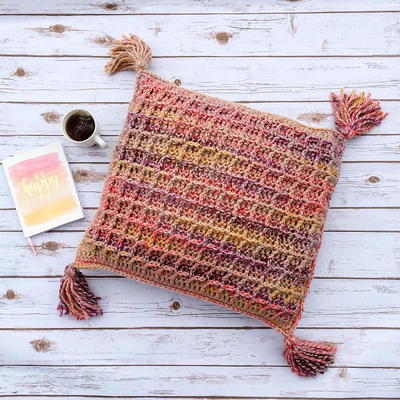 The crochet waffle stitch is definitely one of the most interesting crochet stitches around. It might even make you hungry. This stitch is thick and distinct, and so you can easily identify it.

Learn how to crochet this creative stitch with our waffle stitch video tutorial. It's a beginner-level pattern that's easy to follow. 

Our favorite way to use the waffle stitch is with variegated yarn so that the texture becomes even more unique and interesting. But, as you can see with the crochet patterns below, it looks great in every type of project.

Shown: Waffle Stitch Throw Pillow
In your opinion, what is the most elegant crochet stitch?
Let us know in the comments below.
Your Recently Viewed Projects
Join our community of 5 million crocheters! Right now!
Get free crochet patterns, exclusive partner offers, and more.
Thank You for Signing Up!
There was an issue signing you up. Please check your email address, and try again.