How to Teach a Child to Crochet + 10 Crochet Projects for Kids
Crochet for kids can be a fun activity. Check out these tips and suggestions to help them out.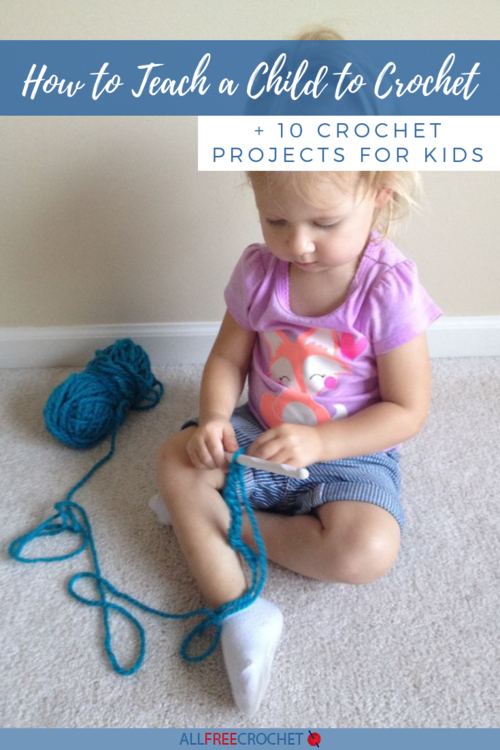 Some of the best memories are made of the simplest things in life. Since we're all crocheters at heart what better gift to give others than to teach crochet? With How to Teach a Child to Crochet + 10 Crochet Projects for Kids, we will discuss tips on starting with kids and crochet.

Crochet lessons can start when children are at young ages but it depends on the individual. Learning to teach kids to crochet is rewarding and provides them with a lifelong skill that they can work on improving every year.

Crochet for beginners can be taught in small steps and little kids are the perfect students to begin with. it teaches them patience, creativity, and so many other things that will help them grow as people.

Below, you will find tips and suggestions for the best crochet hooks to start with, the best yarn types, best age, and more.

Lastly, we are featuring some beginner and easy crochet patterns for kids to try after they have learned some basics. Take a look and learn all about how to teach crochet to your little ones.

 
At What Age Should You Teach a Child to Crochet?

Crochet can start at a young age as little as two or three years old, but there are a lot of factors to consider. Learning how to teach kids to crochet can prove to be difficult, but with patience and the right materials, you can make it easier on yourself and on the kids.

"Beginning ages vary from child to child but usually it's when the child is interested. Some say when children can hold the hook. I'd suggest 6 and up. Arm crocheting and finger chaining are a good way to introduce the concept of crochet for children to teens." — Dixie Berryman, Craft Yarn Council 
Don't push children into skills if they're not quite ready for it. Even if you can't wait to teach your child to crochet because it's a fantastic skill to have, you don't want to force it. Each child learns at a different pace and fine tunes their motor skills at different ages.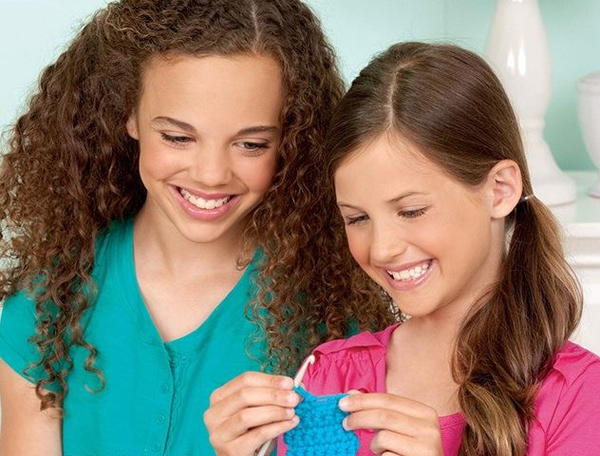 Teaching Crochet to Kids: How to Start

Being a teacher, regardless of what you are teaching means you always need to be organized, prepared, focused and have a lesson plan. When talking about crochet for kids you need to have something in mind.

What do you want to teach that child: Is it a simple chain, single crochet, double crochet? Have a plan ready so the lesson can go smoothly. A large part of teaching children to crochet is that you must have patience, but you also want to keep it fun. Get a little silly with them while explaining what's going on. 
 
Keep in mind that showing a child is easier than just telling a child. Crochet takes a lot of visuals, especially with young children. Show the child what a hook and yarn is and then show them a finished crochet pattern so they can see how two simple products can create a beautiful masterpiece.

"While giving instruction, pause frequently to allow the child to think about what you have just said. Speak clearly and slowly. Speaking slowly will allow your mind to work ahead of what you are saying and you will be less likely to forget anything. It is always a good idea to make a brief outline of things you want to cover in class each day." — Dixie Berryman, Evie Rosen, and Audrey Hein, Craft Yarn Council 
Explain to them that crochet is a series of stitches and knots woven together, but don't go into great detail more than they can understand; we don't want to confuse them or put them off. You will also want to teach them crochet shorthand and abbreviations as they learn, but only teach them the terms as they need to know them.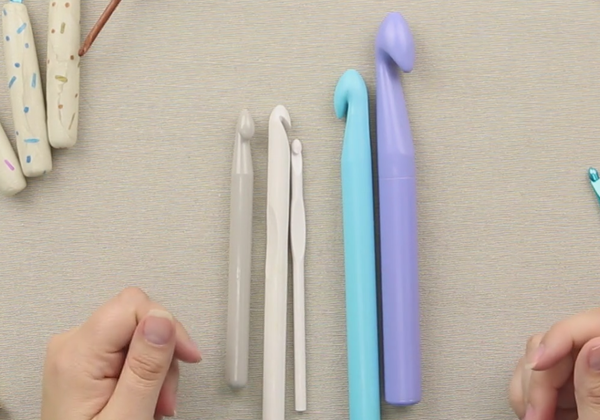 How to Teach Crochet With Hooks

The simplest way to teaching children to crochet is by using a large hook and bulky yarn. After all, their tiny hands most likely can't grasp a tiny hook as well as an adult; the bulkier the yarn the better, and the bigger the hook the easier it'll be.

However, starting without a hook may be easier for some children. Natalie Gagnon from Nattypat Crochet says,

​"While some kids may be able to coordinate both hands to chain or even single crochet, I highly recommend starting them without a hook to prevent initial frustration."
Another way to encourage interest is to let the child choose his or her yarn. If they choose the color they want to use then they'll be that much more excited about learning how to crochet. Crochet hooks are also available in lots of fun colors, which kids will love. Choosing a hook size is important in crochet for children.
"As for what size crochet hook to start kids on, that depends... but I prefer something in the middle size range. Small needles; though easier for little hands to hold create stitches that are too small/tight and therefore to hard/frustrating for a new learner. Too big, and they become too big/cumbersome for little hands to manage." — Katie Sullivan, My Sweet Homeschool 
More importantly, allow them to move at their own pace. If they can't quite get the hang of it, it's ok. Let them continue trying the same stitch or movement over and over again. We all know that practice makes perfect.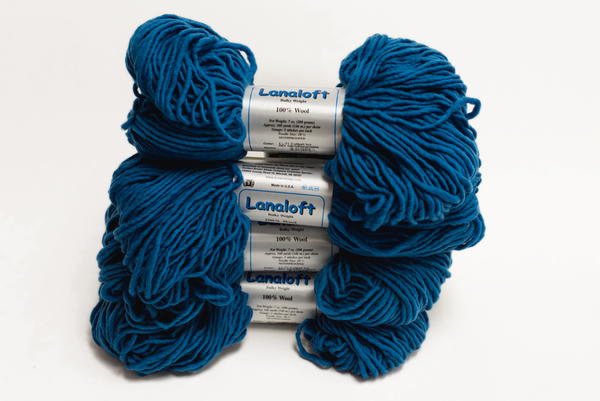 How to Teach Kids to Crochet: Beginner Stitches
In order to learn crochet, children will need to learn the basic crochet stitches and beginning points. Where should you start when teaching a child to crochet?

Katie Sullivan from My Sweet Homeschool says,

​"We teach a slip knot first and then a single chain. We single chain a long time, making necklaces and garlands and the like before we move on to single crochet. Dishcloths are a great project for single crochet (pick a cotton yarn for dishcloths since they will get wet often), so are scarves."
So,
teaching a slip knot
 should be first when working on crocheting with children. It is simple and easy to learn. Then, move on to single chains. Single crochet should be the first full stitch type they learn, and then they will move on to
more basic stitches
, like double and triple crochet. Then choose easy projects that use those stitches. Check out the section below for some ideas!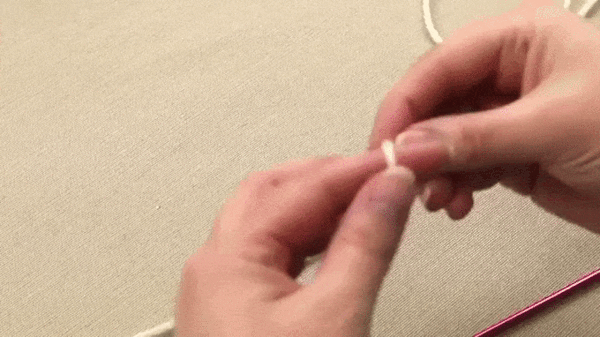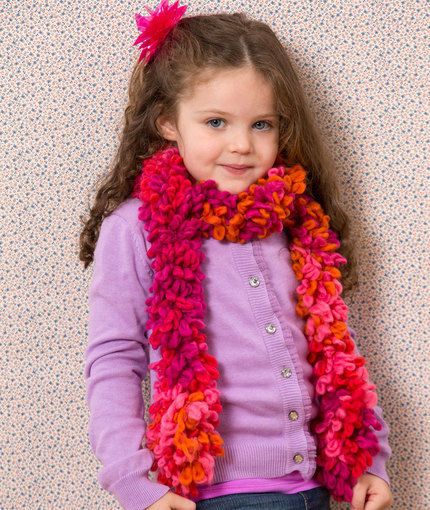 Easy Crochet Patterns for Kids

As mentioned by Katie above, simple crochet patterns like necklaces, garlands, dishcloths, and scarves are all smart projects to start with. Just because a pattern says it is for the beginner or easy level crocheter does not mean a child will enjoy it or be able to understand the directions. Crochet for children needs to simplified in terms of style, hook, yarn, and pattern instructions.

"For a first project, I would recommend a simple crochet chain necklace/bracelet that is made without a hook and with hands only. They can make one really long chain and wind it around several times, or just go with a single chain made with chunky yarn. You can also add some large wooden beads to it to jazz it up (typically a big hit for girls) or attach a bubble-making wand (hit with both girls and boys when combined with a bubble blowing trip to the beach or park and BONUS—they shouldn't lose the wand this way).

I have a free pattern download, the Stash Buster necklace, available on NattypatCrochet.com, which is a good place to start. *Note: the single crochet tube which is added can be made by an adult to assist or forgone altogether." — Natalie Gagnon, Nattypat Crochet 
These crochet projects for kids range in style and type, and may still be too advanced for some learners. Use your best judgment when it comes to picking a pattern. Take their suggestions, too! Would they prefer something long and repetitive like a scarf or small and a little more detailed with curves, like a crochet flower?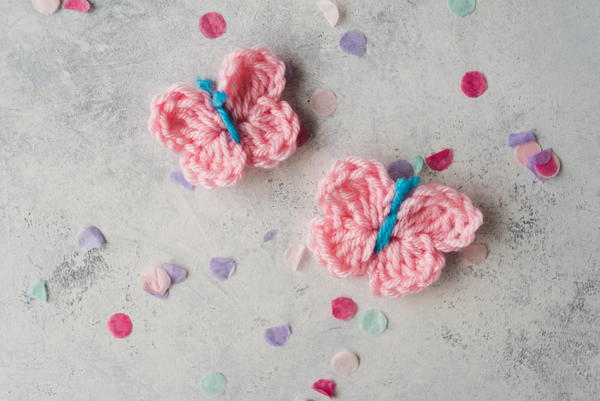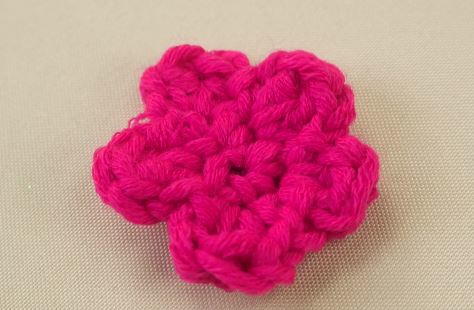 Check out more of Christine's work here. Find more of Krista's editorial work here: Krista Childers
Did you teach your children to crochet?
Let us know in the comments below!
Free projects, giveaways, exclusive partner offers, and more straight to your inbox!
Tags / Related Topics
Your Recently Viewed Projects
Images from other crochet readers


Something worth saving?
SAVE all your favorite patterns
ADD personal notes
QUICKLY reference your patterns