A Fun Way to Learn to Crochet for Kids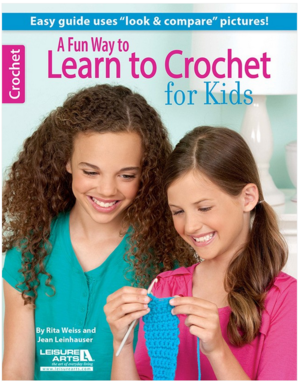 A Fun Way to Learn to Crochet for Kids
Gifted by: Leisure Arts
www.leisurearts.com
Reviewed by Christine Weiher, Editor, AllFreeCrochet.com

Rita Weiss and Jean Leinhauser sure do get it. The crochet industry is picking up and it isn't just for grandmas anymore. Kids as young as four or five have learned the skill and made them realize they can do just about anything.
In A Fun Way to Learn to Crochet for Kids there are 32 pages filled with great visuals and instructions that children can easily follow. The book begins with telling kids what they need to crochet - their hands, a hook and some yarn. It then goes on to talk about the hook and what each part of the hook is called so that they can understand how it works. Then we move on to visuals on how to hold the hook and the different names of each kind of hold.
Page 4 starts to explain how to crochet with figures. Each page goes through the slip knot, the chain stitch, the single crochet stitch, the double crochet stitch, the half double crochet stitch and so forth. The figures are cartoon-like, but have explanations for each allowing any child to understand each step.
Once kids grasp each of the concepts the book then provides four patterns to practice - a headband, a cell phone/tablet holder, a hook or pencil holder and a scarf. Each pattern is a beginner pattern which is perfect for kids to work up. Lastly, in the back of the book there are explanations on skill levels, yarn weights, abbreviations and popular symbols.
A Fun Way to Learn to Crochet for Kids is an appealing book and an easy guide that uses "look and compare" pictures. Once your child, or any child, is done reading this book he or she will not only be hooked on crochet, but will want to make multiple projects. It's a win, win!
Your Recently Viewed Projects