Solved: Can I Take a Crochet Hook on a Plane?
Updated for 2021: Can you bring crochet hooks on a plane? Find out here!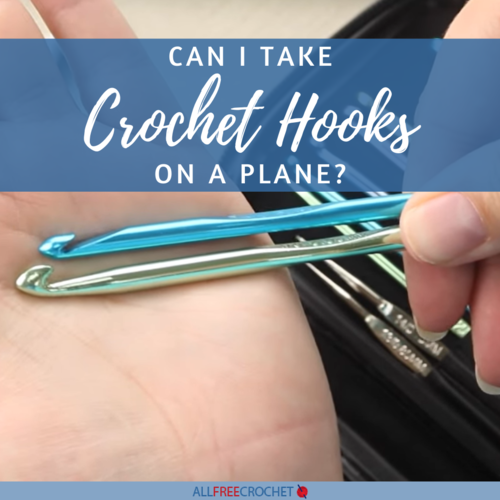 A common question when crocheters travel is, "Can you bring a crochet hook on an airplane?" The answer is yes with a "but" as there are a few different factors to consider. On this page, we'll answer your question, "Can I Take a Crochet Hook on a Plane?" and explain the details of why or why not you can take hooks on planes.

Besides hooks, what about the related tools, like scissors? We'll also answer that! So, before you pack for your next trip, be sure to read this and be prepared. Though it seems like a simple question, it's asked a lot and the answer isn't as clear as we'd like. So, can you take crochet hooks on a plane? Yes but there are certain restrictions and parts to this answer, which we'll do our best to answer below.

Before you plan your next trip, be sure to read our guide, How to Crochet While Traveling. It will help you figure out how to plan, pack, and provide tips on crocheting while you're away from home. You might as well use that time to work up a beautiful crochet project, right? Of course!

Looking for the best free craft patterns or recipes? Sign up for one of our awesome newsletters!
 
What is your favorite type of crochet project to make while traveling?
Let us know in the comments.
Your Recently Viewed Projects