15+ Free and Easy Take Along Crochet Projects
Make traveling for holidays less boring with some easy crochet projects for airplanes, cars, trains, and boats!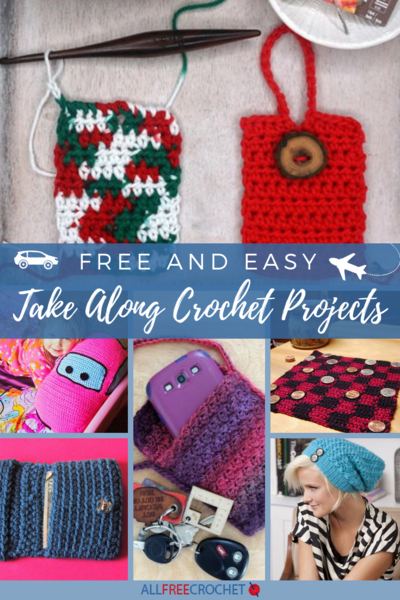 The holidays are often one of the most popular times to travel around the country. Do you ever find yourself sitting on an airplane waiting for your long flight to be over when you just took off 10 minutes ago?

Whether it's during the holidays or not, when you're traveling anywhere, especially on long flights, you're going to want something to do to keep you busy. Why not bring some free easy crochet patterns to work on? 

With this collection, 15+ Free and Easy Take Along Crochet Projects, we are offering some of the best travel-friendly crochet patterns. Plus, many of these crochet projects make fantastic gift ideas, so you'll always have something ready when the next gift-giving holiday approaches.
 
With Christmas and New Year's Eve so close together, families might decide to stay an entire week or two to visit. With that stay, you can have a joyous time and think of fun Xmas party game ideas to keep you busy for Christmas Eve and Christmas Day.

But before you leave town you'll want to look at these free easy crochet projects for planes so you have something to take along with you. It's so fun and easy to spend your time working up a pattern while flying or as a passenger in any form of transportation; you'll get to your destination in no time once you have your crochet projects to make while traveling. Not to worry, you're allowed to bring crochet hooks with you on the plane. To Grandmother's house we go!
 
Our Favorite Take Along Crochet Projects
You'll find at least one crochet project for the airplane in this list, that's for sure. While you're thinking of Xmas party game ideas to play on Christmas, food you'll be making and eating, and family and friends you'll be catching up with, you can also be making free easy crochet patterns to keep you busy.

Whether you're flying in a plane or driving in a car, time will always go faster when you're doing something. A skein of yarn and a crochet hook are easy to bring with you and don't take up much space.
 
BONUS! Tips for Traveling with Crochet
Bethany Steiners from Jimmy Beans Wool has some great tips for traveling with crochet materials this holiday season.

Traveling season is upon us and I've just spent some time reviewing the TSA regulations before I hop on the plane! We crocheters are a creative bunch, so I've compiled a list of my favorite tips for working around those regulations so that I can finish all my holiday projects on time!
Need a handy container for your crochet hooks? I like to use a traveling toothbrush holder! I find the ones with the smallest drainage hole, and you can find them for little money in most places (Just double check for length!). You can toss the container in your bag when not in use!
 
Scissors longer than 4" are no longer allowed, and even then it's up to security, so I just take dental floss for cutting yarn.
 
To fasten off your project, use a yarn needle instead of a hook to weave the ends back through. This secures them better and reduces the chances of unraveling during those turbulent flights!
We hope you have safe and happy travels this holiday season and wherever life takes you.  
How do you travel during the holidays and which of these projects would you consider making?
Your Recently Viewed Projects