How to Crochet While Traveling
Can I crochet on a plane? Plus other tips you need to know.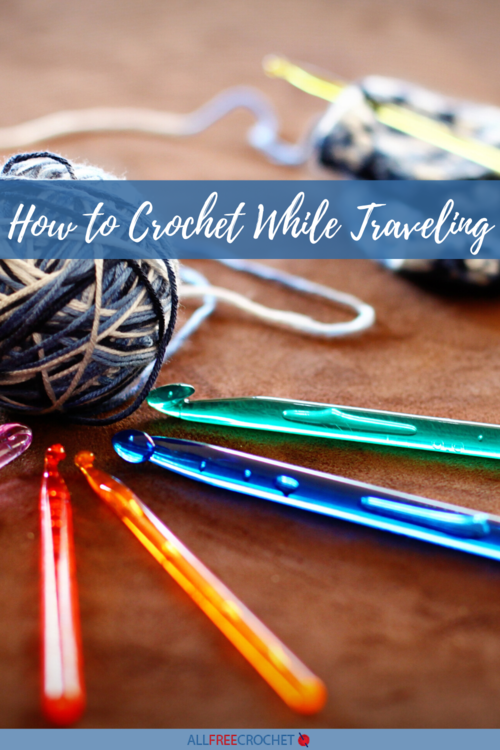 Do you have some big trips planned for this year? If you're also planning on crocheting all year, you know you'll want to bring your favorite hobby for long car rides or flights. This page about How to Crochet While Traveling will give you some great tips and tricks on bringing your crochet patterns along on your travels and having them make it through the trips safe and secure.

You don't want to lose any work, especially if you're trying to finish something when you're traveling, so make sure you read through these pointers. You'll be surprised by how many things for which you didn't think to prepare. 

Depending on how long your trip is, you'll want to judge what kind of crochet pattern to bring with you. If you have a two-day drive ahead of you during which one day you won't drive, plan on taking a bigger project. If you're on a plane and it's only a few hours, bring a granny square or potholder pattern for the short ride and to minimize the amount you have to carry on with you.

You might want to also consider taking a pattern with techniques you already know because learning something while you're traveling might be difficult.
What should I bring with me?
There are some necessary items that you'll need when you're crocheting on-the-go, but you can also make choices based on how well some materials will travel in comparison to others. The size and type of your crochet pattern that you're going to make also warrants some decisions on what else to bring. Don't worry, it'll get easier to know how to crochet while traveling the more you do it.
Yarn, of course! - You'll want to choose your yarn wisely.  Washable yarn is recommended just in case you spill something on it or it gets dirty with the hectic nature of traveling.  Worsted weight or lighter yarn is a better option than bulkier varieties because it takes up less space and you get more out of a skein for the crochet pattern you're working on. 
 
A crochet hook! - It's best if you have it or multiple hooks in a designated case or holder. Avoid steel hooks as those could cause issues. Check out our guide of types of crochet hooks for more information. 
 
Other helpful tools like a yarn needle, sewing materials, and scissors - Avoid long scissors or a circular cutter as those might cause problems at security, but you could bring plastic child scissors, which will still cut yarn. 
 
A printed copy of your pattern - This is important unless you're designing your own crochet pattern on the fly. Print out the picture of the end product as well as the instructions. Make sure you're familiar with how to crochet all the stitches involved before deciding on which crochet pattern you bring.
 
A stitch counter and markers - While you may not use them normally, there might be interruptions during your travels, so you'll want to take care and keep track of where you're at in your stitches.
 
A project bag of some sort - Place all of these tools in a designated project bag, a pencil case or even just a Ziploc bag for safe keeping and organization instead of floating around in your purse or carry-on bag.
If you're worried about traveling with your crochet and getting your yarn tangled, keep this article handy in case you need to untangle yarn later!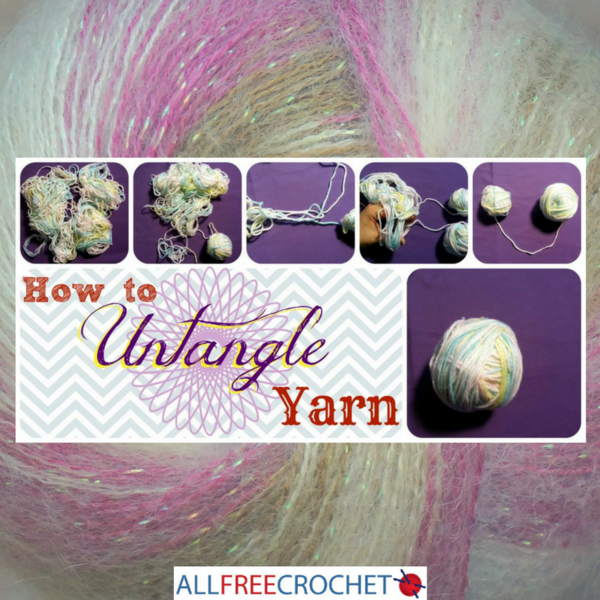 How to Pack Crochet Projects While Traveling
The best way to pack your crochet pattern is to put it in a separate bag within your carry-on at the very top. This way, nothing gets lost and it's easily accessible.
 
Be sure to pack your yarn in the plastic bag and keep it in the bag while you're working so that the yarn doesn't go everywhere and get tangled. Always do everything with care if you want your crochet pattern to be intact when you arrive at your destination.
 
Make sure that your yarn is ready to go, like as a center-pull skein, so that it's not a mess to work with in your lap.
 
Don't bring too many colors because that means more yarn in your bag and the bigger chance it will get tangled.
 
Crochet thread is NOT recommended to bring because you'll have to use a steel hook to work it, which might cause problems at security if you're flying. It also takes more concentration to work with, which you won't be able to do well on a bumpy car ride or turbulent plane ride.
 
Just in case, travel with hooks you'd be ok parting with. Even if you plan ahead, your hooks might get confiscated or your luggage could get lost or damaged.
Are crochet hooks allowed on planes (2021)?
If you're flying, you know that the TSA has specific rules regarding certain instruments and what you can and cannot bring onto a plane. 

Luckily for crafters, crochet hooks are allowed on planes in 2021! According to the TSA website, make sure you place anything containing actual blades in your checked baggage. Crochet hooks, short dull-pointed/child-sized scissors and plastic yarn needles are all allowed.

Just a note, everything going through security can be subject to additional screening. The final decision always rests with the TSA. Learn more and hear from crocheters on their experiences with our guide, Can I Take a Crochet Hook on a Plane?
Your Recently Viewed Projects
Join our community of 5 million crocheters! Right now!
Get free crochet patterns, exclusive partner offers, and more.
Thank You for Signing Up!
There was an issue signing you up. Please check your email address, and try again.