Crocheting with Arthritis: A Guide to Pain-Free Hooking
Our guide to crocheting and arthritis includes tips on how to crochet to relieve pain, what tools to use to support your hands, and much more.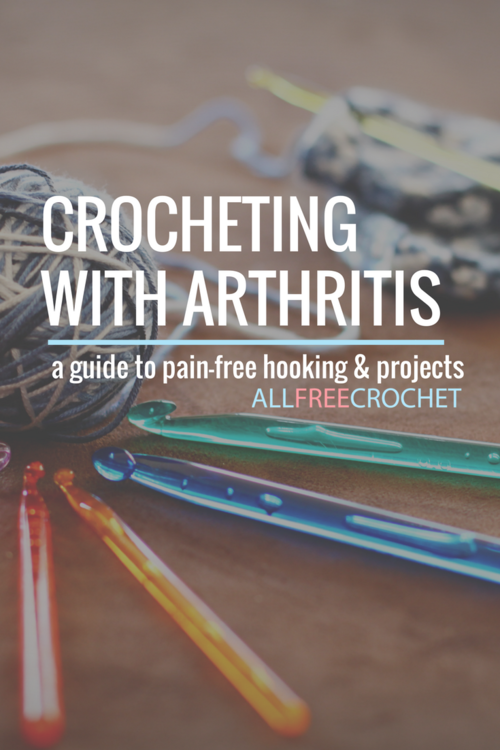 By more conservative estimates, nearly 55 million Americans have been diagnosed with arthritis. It comes as no surprise that many crocheters are afflicted with the painful condition. Luckily, many crocheters have found helpful ways to adapt their craft and take care of their hands. Crocheting with arthritis is possible and might actually help you stave off the long-term effects of the illness by keeping your hands and joints happy and healthy. Crocheting releases a chemical called serotonin which has been proven to improve a person's mental well being and health.

Can you crochet with arthritis?

Absolutely. In order to crochet with arthritis, you just need to make sure to take extra steps (like stretching and buying ergonomic hooks) to ensure that you protect yourself from further aches, pains, and damage.

Crocheting with hand and joint pain can be really difficult. It doesn't take much discomfort to make the once-relaxing hobby seem stressful and painful. Many crocheters deal with the symptoms of arthritis and have to find ways to enjoy their hobby happily while still taking care of their condition. While it is true that crocheting and arthritis will never be the perfect pair, this sort of pain and discomfort does not have to stop you from hooking beautiful projects and patterns. 

We have collected the top tips for crocheting with arthritis below! From the best crochet tools and hooks for arthritis to tips for caring for your hands before, during, and after a project, this list is chock full of expert advice as well as first-hand suggestions from our readers!

Changing How You Crochet for Arthritis Relief
In order to crochet with arthritic hands and wrists, you will need to alter how you usually crochet. The truth is that you will have to work with your pain instead of around it. Ignoring your symptoms can make them so much worse. Plus, you could actually hurt yourself by pushing yourself too hard. Crochet should be fun, not something you grimace your way through. Try the following habits to make it an enjoyable experience.

Alternate Between Projects: Varying the projects you are working on and even the number of projects you make progress on in one session is a great way to make sure you are taking proper care of your hands. By switching from one project to another, you give your hands a break. Each project comes with a different tension and type of yarn, so you will be crocheting differently. This micro-adjustments between projects ensure that you are not adding undue tension to muscles and joints. 

Types of Projects to Work On: If your pain is especially bad or your symptoms include stiffness, it might be time to change the kind of projects you work on. Crocheting intricate projects with fine and lightweight yarn includes more stitches, tighter tension, and more time spent. When your symptoms are bad, try working on worsted weight projects that use larger hook sizes.

Adjust Your Tension on Sore Days: On sore days, it is going to be harder to crochet. Depending on the weather or the time of day, how bad your symptoms are can change. This means you need to adjust your tension. Make sure you have a handful of projects you are working on at once, allowing you to crochet lighter tension projects when you need to do so.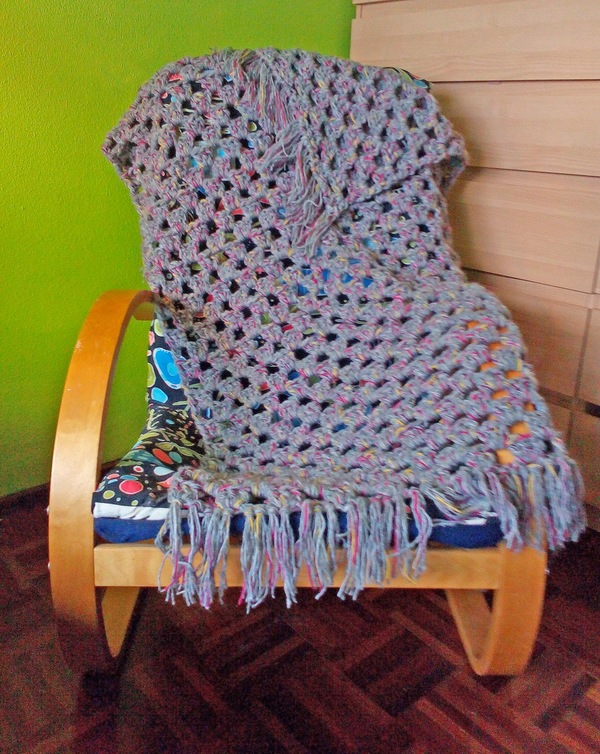 Lights and Seating
Another thing that might not occur to all crocheters is that where you crochet and how well you see your project can actually impact the pressure and tension you put on your hands. If you're sitting awkwardly or pausing frequently to recount stitches, this can really cause tension in your hands as you might be gripping mid-stitch or tensing your muscles. We recommend the following changes to your space:

Work on Your Posture: Sitting on a straight-backed chair can help ease tension in your hands. Your shoulders, arms, and hands are all connected, meaning tension in one leads to another. Slumped shoulders can only make the problem worse.

Have an Arm Rest: If you have somewhere to set your elbows down and place projects in your lap on a flat surface, this eliminates tension in your wrists and fingers as you are not holding up too much weight.

Get a Lamp: A simple desk lamp or reading light will do the trick. Being able to see clearly will make sure that you are not squinting or pausing during hooking. This can actually alleviate tension and pain as you continue with a fluid motion instead of stopping uncomfortably.

Wear Your Glasses!: Just like the tip above, wearing your reading glasses or everyday glasses is imperative. If you're squinting or slouching towards your project it can hurt you back and ruin your posture, continually placing undue pressure on your aching joints and wrists as you lift them closer.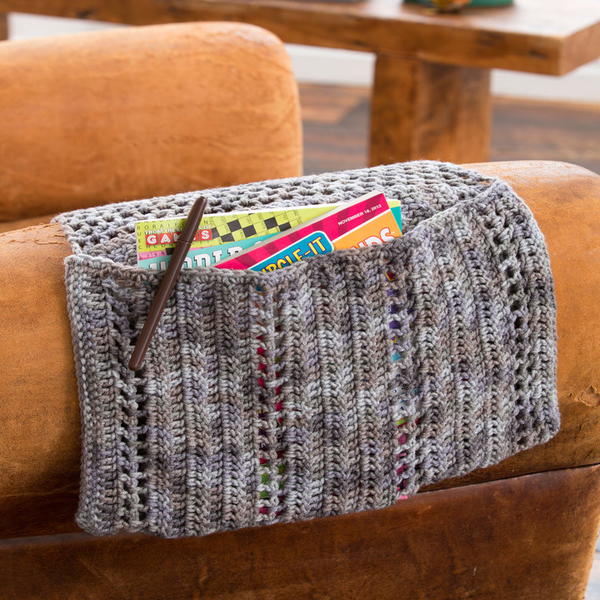 Do Not Crochet First Thing in the Morning or Late at Night: These times of the day are when your crochet symptoms will be worse. Your body has not had a chance to wake up, meaning your hands have not warmed up. Make time to crochet when you are at your best so that the process is fun and easy.

Have Someone Watch You Crochet: Whether you check in with an expert crocheter or doctor, this can be immensely helpful. Have someone take a close look at your hands and hook while you crochet for a few minutes, they might be able to identify ways in which you are holding your hook that could be doing more harm than good. Changing your crochet posture can be hard, but it is worth the extra effort. 

Have an expert crocheter or fellow crocheter "watch" you work to see if they can offer a new way to hold the hook that might offer relief.

Consult Your Doctor Regularly: As with any medical condition, it is important to be in contact with a healthcare professional. If your pain gets worse or changes, let your doctor know. He or she might be able to provide some tips and tricks for the pain. Always be honest with your doctor about your pain level and stiffness. 


Taking Care of Your Hands
One of the best ways to care for yourself while crocheting and dealing with arthritis symptoms actually has nothing to do with HOW you crochet. It focuses on what you do before and after you crochet. You need to make sure you are taking care of your hands, both by finding relief for your symptoms as well as implementing preventative measures. Try the following to keep your hands happy and healthy:

Heat: One of the best ways to relieve pain in the hands and joints is through heat. Heat will soothe the swollen parts of your joints and help you relax. Before and after you crochet, consider soaking your hands in warm water. This will help you unwind. You can even toss in some essential oils for aromatherapy. 

Massage: Giving yourself a hand massage before, during, and after crocheting is a fantastic way to alleviate the tension from repetitive motion. It also gets the blood flowing in your hands, helping with circulation, which can actually stave off some arthritis symptoms like pain and stiffness.
Stretching: One thing to keep in mind when you are crocheting on ailing and sore joints is that you have to be extra careful with yourself and make sure you are not pushing yourself too hard. This means treating a crochet session like exercise. Just like you would stretch out before a big run and after, you should do the same when crocheting. This will make sure that your hands are ready to work!

Paraffin Wax Treatment: One thing many of our readers swear by is giving your hands the paraffin wax treatment often. Paraffin wax helps to relieve the symptoms of many painful conditions like arthritis and fibromyalgia. You can either try and DIY your own paraffin wax treatment or buy one of the many products on Amazon that help out with this.

Crochet Tools for Arthritic Hands
The number one way you can ease the stress and pain of crocheting with arthritis is by using the correct equipment. Making changes to your crochet hooks, for example, will make a world of difference. Crocheting means you are performing repetitive motions over and over again with tired joints. Anything you can do to provide support and alleviate the tension and pressure you place on your joints, wrists, and hands can work wonders. 
Crochet Hooks for Arthritis Sufferers
If you currently crochet with simple, metal hooks, changing what kind of hook you use to crochet is going to make a world of difference. You will likely be shocked by how comfortable these crochet hooks can be! There are a ton of crochet hooks for arthritis out there.

Which option you use is really up to you and what kind of pain you are managing. Every crocheter is different and every crocheter has different needs. We recommend exploring a few different options and finding out what works for you.
Ergonomic Hooks Recommended by Our Readers
We asked our active Facebook audience and AllFreeCrochet Community to let us know what brands and hooks they loved. The crochet hooks are reader-tested for arthritis relief!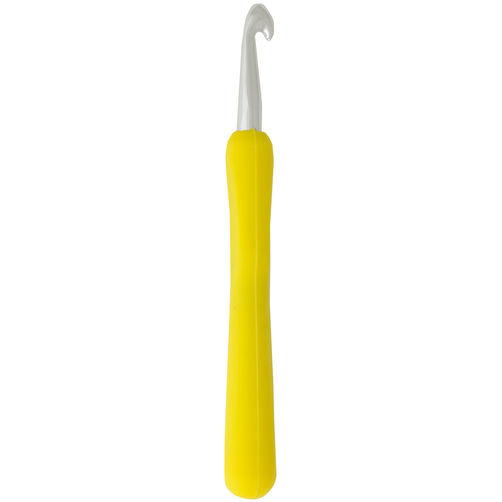 Make York Own Ergonomic Crochet Hooks
Not ready to invest in brand new hooks or need to save some money? There are a few DIY options. Check out these projects!
Funky Polymer Crochet Hook Handles - The polymer clay added to typical aluminum handles provides an easier and softer grip. You can probably make these with hooks you already have.
 
Recycled Crochet Hook Holders - This simple tutorial shows you how to add crochet hooks to old pens! Pick a pen that's comfy on your hands (especially one with a grip) and try it out.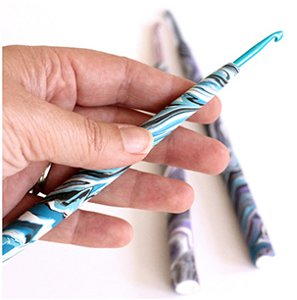 Compression Gloves (Crochet Arthritis Gloves)
Another great addition to your crochet toolbox is a set of nice compression gloves. These gloves help relieve the aches and tension from crocheting with arthritis as they serve to protect your hands and pad the repetitive movements. They are specifically designed to support vital parts of your hands. Check out some of our favorite brands below.
Lion Brand Stress Relief Gloves ($15.99) - Designed especially for crochet and knitting, these gloves were created to massage muscles and enhance blood flow without restricting movement.
 
Crafter's Comfort Gloves ( $12-$13) - These gloves are comfy and made of cotton. Designed especially for hand pain and swilling, they come in three sizes, making sure they fit perfectly.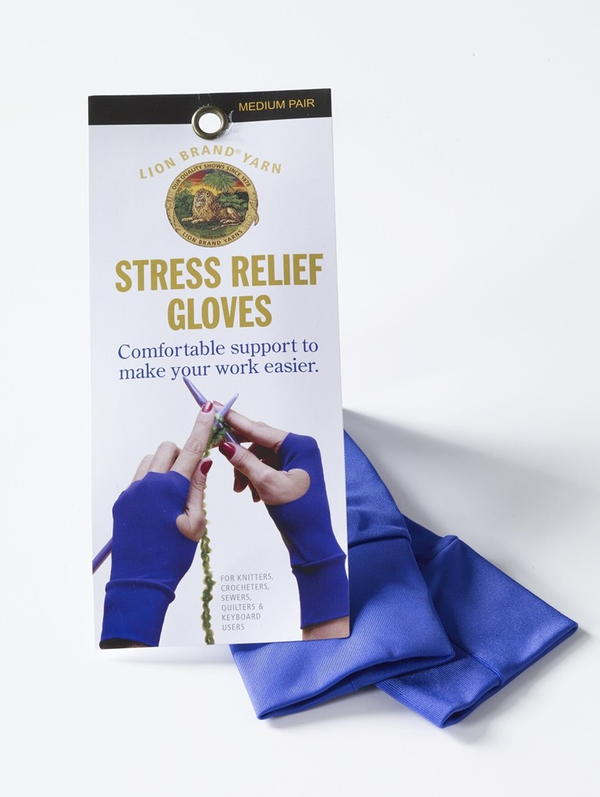 Bonus Resource: Loose Ends
We hope everyone is able to enjoy crocheting for as long as they'd like. However, if you or a loved one become unable to finish a crochet project due to arthritis or other illness, Loose Ends is a wonderful organization that can help. Loose Ends matches volunteer "finishers" with people whose loved ones are unable to finish a craft project due to illness or death. The volunteers finish the projects and return them to the families, so they can enjoy the comfort of a handmade gift from someone close to then. Learn more about Loose Ends here!
Do you have any tips for crocheting with joint and hand pain?
Your Recently Viewed Projects