16 Crochet Shawl Patterns: DIY Clothing You'll Love
By: The Editors of AllFreeCrochet.com

Updated October 11, 2016
16 Crochet Shawl Patterns: DIY Clothing You'll Love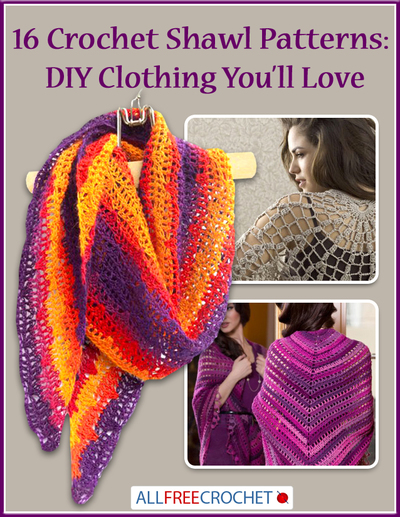 The definition of a shawl is a simple item of clothing loosely worn over the shoulders, upper body and arms. The bigger the shawl you have the more it will cover. A crochet shawl pattern is great to have because you can really wear crochet shawls with any outfit. If you have some bulky shawls you can wear them during the winter months to keep you nice and warm, but the lightweight shawls, like a summer crochet shawl, is perfect for the spring and summer months. Lace is perfect for that time of year. The editors of AllFreeCrochet have created a perfect eBook just for your enjoyment. In this amazing eBook you can find 16 great free crochet shawl patterns including a crochet triangle shawl and a summer crochet shawl. You can wear them during the summer or winter, dressed up or dressed down. Whatever you're looking for, we have it. AllFreeCrochet is the perfect one-stop shop for all your needs.
What we like most about DIY clothing, such as DIY crochet shawls, is the satisfaction you get once the design is complete. When you look at your perfected piece you really can stare at it with amazement while taking that deep sigh of relief. All those hours of sleepless nights and sore hands are well worth it when working up crochet shawl patterns. What's even greater about DIY crochet is picking out all the fabulous crochet colors you've always wanted to work with; now you can get exactly what you wanted. We've all tried on clothing in stores only to come home and find that it's a different color than what we saw earlier; bring on the yarn! Inside 16 Crochet Shawl Patterns: DIY Clothing You'll Love, you're sure to find a new favorite. There's no way you'll be disappointed with the designs we've chosen for you. As mentioned earlier, you can dress up your outfits or dress them down with these crochet shawls.

Download your free copy of 16 Crochet Shawl Patterns: DIY Clothing You'll Love today!
16 Crochet Shawl Patterns Table of Contents:
What's Inside This Free eBook
Crochet Shawl Patterns
Just because this eBook is full of amazing crochet shawls for you, doesn't mean you can't make one for a friend, too. After all, once you show off your new design, your best friend without a doubt will be asking you to make her one. When you put yourself in that DIY clothing category you know you're in for a treat. After all the frustrations and frogging that you might go through, you'll be glad you've downloaded this eBook.

The Goddess Shawl is one of our more popular crochet shawl patterns. How can you not enjoy something as beautiful as this? The intricate design of this pattern looks like amazing webbing you can't find in stores. This is the perfect shawl to wear during those hot summer days because it allows you to breathe while still looking stylish.
The Unforgettable Top Down Shawl almost leaves us speechless every time we look at it. As you may have guessed, this DIY crochet design is worked from the top, all the way down to the scalloped edge. This is an elegant and timeless shawl that can be worn for years to come. It measures 31 inches long, which is great for any time of year.
The Sapphire Satin Sparkle Shawl is worked in cluster stitch rows, making it an easy and absolutely breathtaking shawl to work up. The deep navy color will be an elegant addition to any outfit. Plus, the yarn's subtle sparkle is enough to make anyone swoon.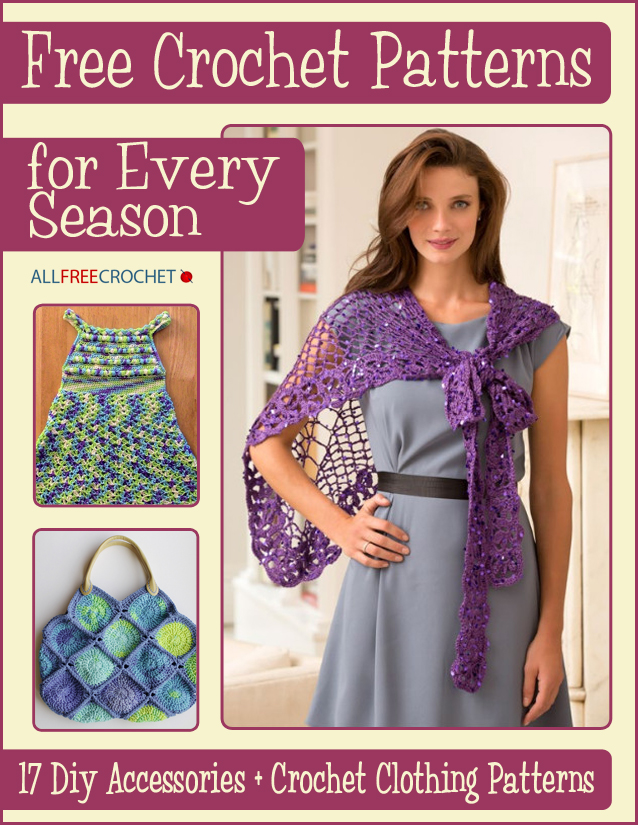 ---
What looks good with DIY clothing? Crochet accessories! You can find both in another of our free crochet eBooks: Free Crochet Patterns for Every Season: 17 DIY Accessories + Crochet Clothing Patterns.
---
More DIY Crochet Shawls
With crochet shawl patterns as versatile as these, you can make several without feeling like you're repeating your style. There are so many options, from brilliantly colored striped crochet patterns to pure, delicate white. You definitely need a closet full of shawls for every occasion, so keep this free eBook close at hand during your crochet time!

The Endless Summer Shawl will be a constant reminder of how fantastic a sunset can be. The bright crochet colors are almost too stunning to look at, but will surely make others appreciate your crochet skills. The trapezoid shape allows this shawl to be draped loosely around your shoulders, wrapped as a cowl, or tied as a fashion scarf; get creative with your look.
The Beautiful Bridal Shawl is sure to catch your eye, especially when worn by the bride! Add a homemade touch to your wedding day with this crocheted shawl; this heirloom can be passed down from generation to generation. Crocheted in a different color, this shawl can be made for the bridesmaids, too.
The Summer Morning Shawl is as bright and cheery as the sun. The light and lacy crochet design is perfect for cool summer evenings or crisp autumn afternoons. You can never have too many classic shawls like this in your closet. It's a timeless fashion piece that looks great on any body type.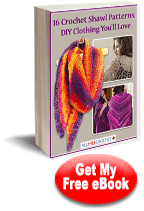 ---
---
Note from the Editor
Hi Crochet Enthusiast,
Are you dying to pick up your hook and grab some fun crochet colors? If you want to experiment with a fresh design then stay tuned because this eBook is full of amazing crochet shawl patterns. Buying outfits at the store sometimes just doesn't cut it, so you might as well use your crochet skill to make some DIY clothing. These designs are fashionable and will look great on anyone.
From solids to multicolored shawls you will find something that calls your name. These patterns have beautiful motifs and when worked up properly, you will feel so proud of yourself. This eBook will become your new best friend because once you crochet one of these shawls; everyone is going to want one.
Our eBooks, like all our crochet patterns, are absolutely FREE to members of our crochet community. Please feel free to share with family and friends and ask them to sign up at our website for our free e-mail newsletter.
Happy Hooking,
The Editors of All Free Crochet
Don't Miss Our Other Free eBooks
Be sure to check out our entire collection of free eBooks, where you will find all of the best downloadable crochet patterns. You'll find titles such as:
Need Help Downloading?
AllFreeCrochet eBooks are free, downloadable crochet pattern collections all organized around a central theme. They are all PDF documents that can be downloaded off of our website, saved to your computer , and/or printed out for easy reference while crafting and crocheting.
If you are having trouble downloading our free eBooks, visit our FAQ page here: How to Download Our eBooks.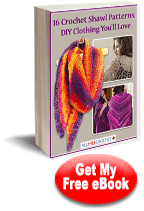 ---
---
Sign Up for Our Free Newsletter
With your copy of 16 Crochet Shawl Patterns: DIY Clothing You'll Love eBook, you can also subscribe to our Hooked on Crochet newsletter to become part of our fabulous crochet community. In subscribing to our newsletter you will receive:
Six weekly emails with free crochet patterns, tips, collection pages, videos and more.
Chances to win crochet books and products from our weekly giveaways and contests.
New FREE patterns made available to you throughout the year. Access to our free pattern library full of 1000's more free crochet patterns.
The opportunity to share ideas and help others in the crochet community.

Making your own DIY clothing has never been so fantastic like it is with crochet shawl patterns. Crocheted shawls can be unique with their over-the-top designs, intricate stitch work and overall greatness. Whether in nice slacks or a pair of jeans, a crocheted shawl can complete the outfit. We weren't lying when we told you we had 16 Crochet Shawl Patterns: DIY Clothing You'll Love. All you have to do is subscribe to the newsletter, today. Regardless of your skill level, we have a pattern for everyone.

Once you subscribe to receive our newsletter, Hooked on Crochet, you will easily see how fun it is to be part of our community. Crocheters truly have that passion that most people long for. If you've never put a hook in hand or run yarn through your fingers then you're missing out. If you've searched for crochet shawl patterns or DIY clothing then let AllFreeCrochet.com be your one and only place you come to. Our yarn blog, StitchandUnwind.com, is also an amazing place for yarn lovers to visit. It's a great resource for all things crochet (and knit)! Our newsletter, blog and free crochet patterns are absolutely free to the consumer and will make you come back for more. We promise you'll love what you see!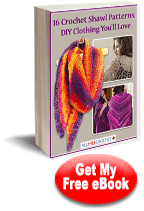 Download the 16 Crochet Shawl Patterns: DIY Clothing You'll Love Free eBook!
What was the first DIY piece of clothing you made?
Tags / Related Topics
Your Recently Viewed Projects
Images from other crochet readers

Love these projects? Get MORE delivered to your Inbox – FREE Click Here!