How to Make Crochet Bags: 11 Fantastic DIY Bags
By: The Editors at AllFreeCrochet.com

Updated November 21, 2016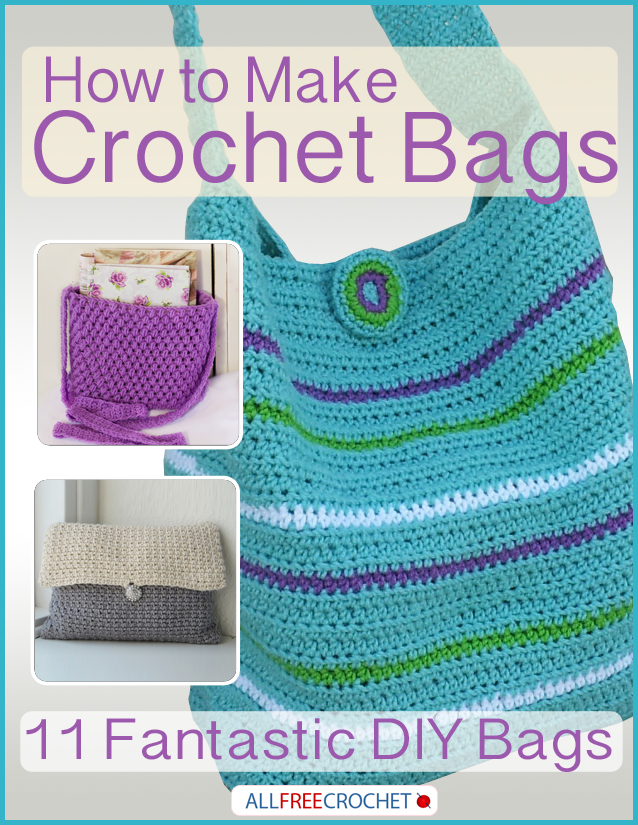 Are you a "Sex and the City" type of girl who stares in the store window at the beautiful handbags from Louis Vuitton, Prada, Gucci and Michael Kors, but you cry on the inside because you know you can't afford it? Yep, I'm that type of girl, and as the tears stream down my face I realize how silly it is just for a name. It's like a light bulb goes on every time because that's the moment I realize I can make my own DIY bags. When learning how to crochet bags I smile from ear to ear knowing that not only am I saving my money, but I'm also putting in the time and effort to get exactly what I want. There's nothing more satisfying than starting and finishing a project you handmade yourself, which is why we're presenting you with this brand new eBook full of all kinds of DIY bags!
In How to Make Crochet Bags: 11 Fantastic DIY Bags, you'll find purses, clutches and totes so there's really a style for just about everyone. If you're looking for something fancy for a nice occasion then you'll love the choices of clutches that we have, but if you're looking for an everyday bag then we have just the thing, too. We're providing the crochet bag patterns, all you need to do is grab your yarn and hooks and have at it.

Download your free copy of How to Make Crochet Bags: 11 Fantastic DIY Bags today!
How to Make Crochet Bags Table of Contents
What's Inside How to Make Crochet Bags Free eBook:
How to Make Crochet Purses
Crochet purses are great everyday bags—they can go from work to play with ease and typically feature a long shoulder strap to keep it close. Sometimes you just really need a purse that you can slip on over your shoulder and go, so don't miss out on these stylish but functional designs!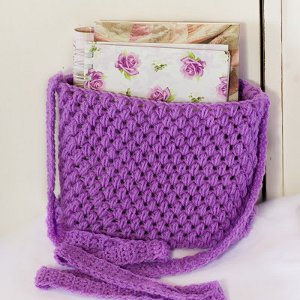 The Mesmerizing Messenger Bag (p. 16) is truly remarkable! Crochet bag patterns like this are glorified in the crochet colors that you choose, but the pattern itself is just stunning. This handmade bag is stylish and roomy and can hold all your belongings. A nice added touch is the optional strap adjuster, so be sure you check this one out!
The Pretty Purple Purse (p. 24)
is worked in a rich purple color to die for. This is a pretty bag pattern that you can treat yourself with. It's a casual looking bag that uses the
puff stitch
, giving it that nice texture. The strap is long enough to be worn as a cross-body bag. If you're looking for simplicity, then this is your go-to.
How to Make Crochet Clutches
Perfect for going out on the town, crochet clutches are just big enough for the essentials. You won't have to juggle those small, loose items like a cell phone, wallet, or keys, which are important to keep with you but can look clunky or distracting when you carry them around in your hand. This way, clutches can add style to a more formal outfit and help you stay organized at the same time.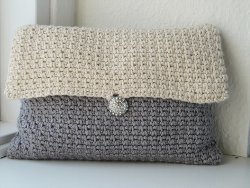 The Crochet Clutch (p. 36) is a cute crochet design because you can embellish it with just about anything. This particular DIY clutch bag is embellished with two buttons, but you can also add flowers, sequins, or appliques. This is a simple crochet pattern that can be worked up quickly in single crochet since this pattern consists of only 32 rows.
The Art Deco Clutch (p. 38) is a classic-looking clutch that's the perfect size for errands around town. It's big enough for your daily essentials, and it's easy enough to be an ideal crochet pattern for beginners. Make sure to line the bag to help it keep its shape.
How to Make Crochet Totes
Totes are the heavy duty, utility model of purses and bags. However, just because you plan to put a larger bag to work doesn't mean that you have to sacrifice on looks. These items all have personalities of their own that will keep you looking good while you conquer the world, one bag at a time. These crochet totes are great to use as shopping bags and beach bags.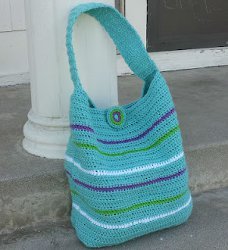 The Striped Crochet Bag with Button (p. 27) is a simple, sturdy and reliable bag to work up. Plus, it has a button to keep your contents secure. You can work this up in just one color, but add some thin striped sections, as pictured, for a bag as unique as you.
The Trendy Tweed Tote (p. 41) is an easy crocheted bag to work up. Red Heart recommends using two strands of yarn at once for added stability and it'll give it an interesting tweed-like texture. The colors complement each other nicely, but as usual, you can use any colors you wish. You might also consider crocheting this design in solids.
Note from the Editor
Dear Crocheter,
This eBook is full of one of my favorite items ever; bags! What girl doesn't like a bag to complete her outfit? I have plenty of bags, totes and clutches in my closet that I could probably have one per outfit if I really wanted. Aside from a nice pair of heels (and diamonds, of course), bags are a girl's best friend.
From DIY bags to DIY clutches and totes, we have something you're sure to love. Once you learn how to crochet bags, you can easily make all the fantastic DIY bags out there. With your favorite crochet colors and your go-to outfit in mind, work up these fabulous designs for that new stylish look you've been waiting for.
You can find more illustrated crochet stitches, patterns, tips, tutorials and videos for free at http://www.allfreecrochet.com.
Our eBooks, like all our crochet patterns, are absolutely FREE to members of our crochet community. Please feel free to share with family and friends and ask them to sign up at our website for our free e-mail newsletter.
Happy Hooking,
The Editors of All Free Crochet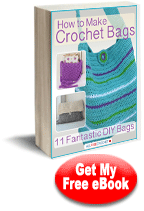 ---
Download your copy of How to Make Crochet Bags: 11 Fantastic DIY Bags now!
---
Don't Miss Our Other Free eBooks!
Be sure to check out our entire collection of free eBooks, where you will find all of the best downloadable crochet patterns. You'll find titles such as:
AllFreeCrochet eBooks are free , downloadable crochet pattern collections all organized around a central theme. They are all PDF documents that can be downloaded off of our website, saved to your computer, and/or printed out for easy reference while crafting and crocheting.
If you are having trouble downloading our free eBooks, visit our FAQ page here: How to Download Our eBooks.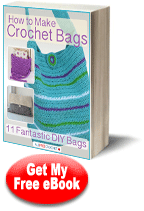 ---
Download your copy of How to Make Crochet Bags: 11 Fantastic DIY Bags now!
---
Sign Up for Our Free Newsletter
With your copy of How to Make Crochet Bags: 11 Fantastic DIY Bags eBook, you can also subscribe to our Hooked on Crochet newsletter to become part of our fabulous crochet community. In subscribing to our newsletter you will receive:
Six weekly emails with free crochet patterns, tips, collection pages, videos and more.
Chances to win crochet books and products from our weekly giveaways and contests.
New FREE patterns made available to you throughout the year.
Access to our free pattern library full of 1000's more free crochet patterns.
The opportunity to share ideas and help others in the crochet community.
Now that you know how to make crochet bags you can go ahead and make each and every one in this eBook. Instead of flushing money down the toilet by purchasing a Tory Burch, a Coach or a Fendi handbag, crochet your own! These designs are top-notch and if you make one yourself, it'll be that much more fantastic. If you're headed to the office, to a wedding or to an outdoor event, we have just the design for you. DIY bags allow your creativity to come out, so you might as well download How to Make Crochet Bags: 11 Fantastic DIY Bags now. You can get this eBook by subscribing to our newsletter in which case you can then become part of our amazing crochet community. Everyone truly is passionate about their crochet skills and love talking with others about it. In subscribing to the newsletter, you'll find a plethora of crochet patterns, fun contests and so much more. Our yarn blog, StitchandUnwind.com, is also an amazing place for yarn lovers to visit. It's a great resource for all things crochet (and knit)! Our newsletter, blog and free crochet patterns are absolutely free to the consumer and will make you come back for more. We promise you'll love what you see!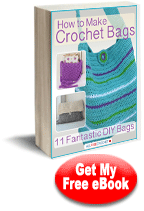 ---
Download your copy of How to Make Crochet Bags: 11 Fantastic DIY Bags now!
---
PLUS: Don't miss our newest purses, clutches, and crochet bag patterns!
What outfits are you going to combine with these amazing bags?
Images from other crochet readers

Tags / Related Topics
Your Recently Viewed Projects
Love these projects? Get MORE delivered to your Inbox – FREE Click Here!