How to Read Yarn Labels
Learn how to read a yarn label and get crocheting!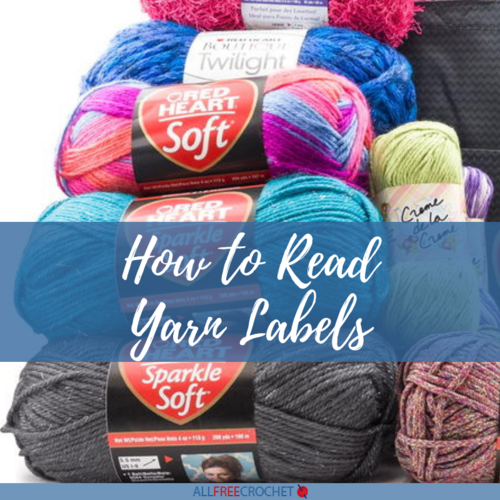 Have you ever looked at a yarn label and wondered what the heck all those symbols and numbers mean? You aren't alone! Yarn labels have to fit in a lot of information in a small amount of space, and instead of using a lot of small text (which would just be unreadable and annoying), they use symbols where they can. Learn How to Read Yarn Labels with this quick tutorial.

Yarn labels are pretty standardized - no matter the brand, you'll be able to find the information you're looking for. What you'll find on a yarn label, besides the barcode and the color name is the dye lot, the yarn weight, knitting and crochet gauges and required sizes, and washing and drying instructions. 

From the moment you pick up a yarn label, you'll be able to tell the yarn weight, the hook size (or needle size for you knitters) you'll need, and exactly how you should wash and dry this yarn. When you spend so much time on a project, it's important to know how to take care of it - you don't want to dry something in the dryer and warp all your hard work, right? 
 
How to Read a Yarn Label
Follow along with the numbers on the yarn label pictured below to find the yarn label information explained.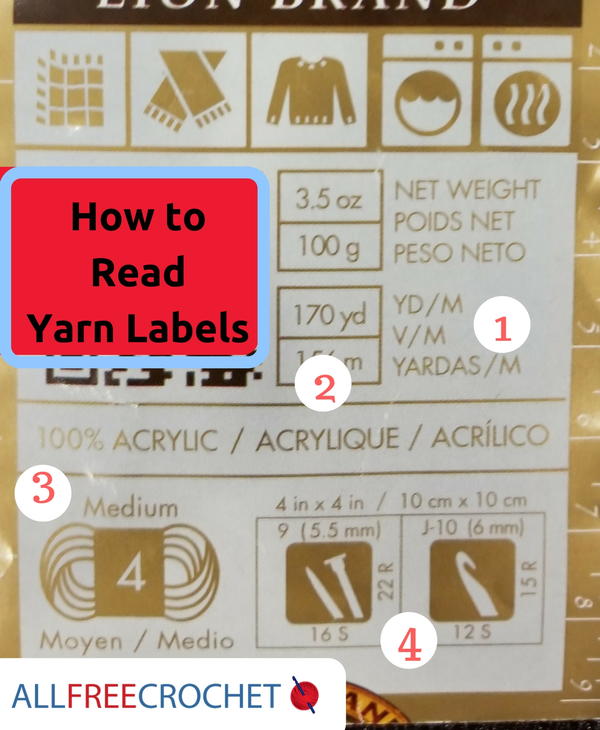 1. Skein Information
How much yarn is in a certain skein? How many skeins will you need to buy to complete a certain project? You'll find the yarn weight and length on your yarn label so you can know right away if you can get away with just one skein for that scarf or if you'll need more to finish it off. 
2. Yarn Type
Do you only want to use easy-to-care-for acrylic yarn? Is 100% wool too scratchy for you? Would you prefer to work in a plush and cozy wool blend? Your fibre contents will be included on your yarn label so you can see, at a glance, just what the fibre blend will be.
3. Yarn Weight
The yarn weight will always be between 0-6, from thread to super bulky yarn. The yarn weight is one of those basic stats you'll need when choosing yarn for a project since it's the first step in narrowing down your yarn. 
4. Knitting and Crochet Needle Size + Gauge
The recommended hook size for your skein will be listed here as well as your recommended gauge for a 4x4 swatch. You can learn all about gauge with our page, What is Gauge in Crochet?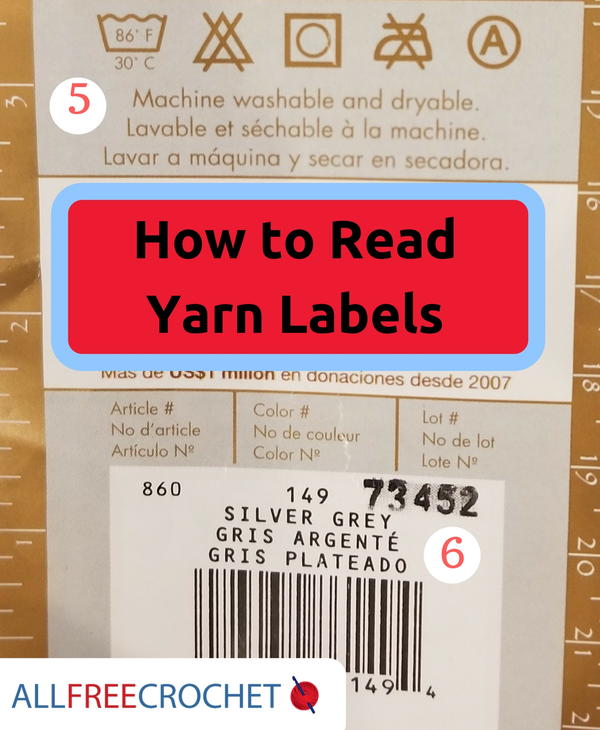 5. Care Instructions
Not all yarns are created equal when it comes to caring for your crochet. Luckily, care instructions are provided right on the label so you can know right away if the yarn for your baby blanket is machine-washable or not, if you should hand dry it, what temperature you can wash it dry it on and if you can iron your clean work or not. This is also useful information to provide when giving a gift!
6. Dye Lot
The dye lot is usually located near the barcode and UPC on the label. The dye lot is a way to group yarn together that was dyed at the same time, so that yarn is all the exact same shade, without any discrepancies. This is useful if you're working on a larger project that will require multiple skeins of the same color but not as much if you just need to use one skein. 

Yarn from different dye lots can look similar in the store or side by side, but as you're crocheting, you can really notice the differences in the fabric as you go. 
Your Recently Viewed Projects
Join our community of 5 million crocheters! Right now!
Get free crochet patterns, exclusive partner offers, and more.
Thank You for Signing Up!
There was an issue signing you up. Please check your email address, and try again.