Solved: Best Yarn for Crochet
What's the best yarn for scarves? How about hats or blankets? This page full of yarn choosing tips will help you plan!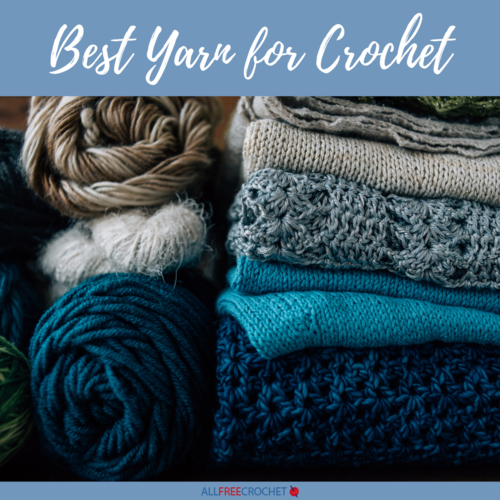 Just over four years ago I decided to pick up a crochet hook and try detangling a skein of yarn. I'll be honest; I had no idea what I was doing.

Trying to figure out the best yarn to use for the project you want to make can be tricky - and then having to match your crochet hook to that, oh man! That's why I've put together this page to go over tips on choosing: Best Yarn for Crochet.

There are a lot of things to keep in mind as you start learning how to crochet, from the tools you need, to the techniques you need to know. Before you can even get to choosing your yarn colors and brands, you need to understand yarn weights.

You also need to know what kind of crochet yarn you're working with in order to choose the right hook size for the best outcome of your project. Once you've got the right tools for your project, you can start working on crocheting the perfect scarf, hat, or whatever you plan to make.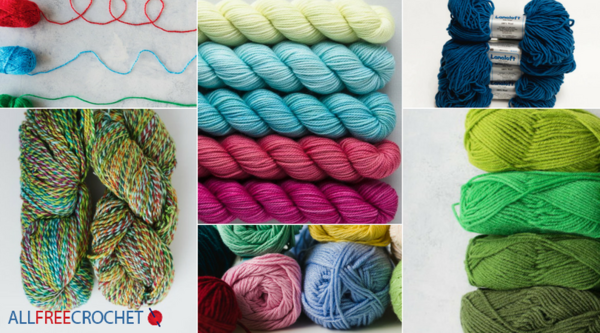 Hank vs Skein: Crochet Yarn Basics
I'm sure you're wondering how to choose the proper yarn for your crochet patterns. I don't blame you - there are SO many options! Well, let's start with the basics. Yarn can be called a skein, a hank or a ball. Most yarn that you'll buy at a bigger yarn or craft store will come in skeins or balls, while 

A ball of yarn is yarn that's wrapped up in a ball, as the name suggests. It's round, and you can pull from within the ball or from the outside to start crocheting.

A skein of yarn is similar to a ball, except it is a more oval shape. You can still pull from within the skein to start crocheting or work from the outside end. 

A hank of yarn is yarn that's been wound into a larger ring of yarn. It's then twisted to keep it from tangling. When you receive a hank of yarn, you'll need to wind it into a ball or skein before you start using it (or risk a tangled headache). 

When first learning how to crochet I suggest you start out with cheap crochet yarn as you're probably going to make a lot of mistakes. You'll either leave the mistakes or you'll rip them out and start over, aka frog it (rip it, rip it).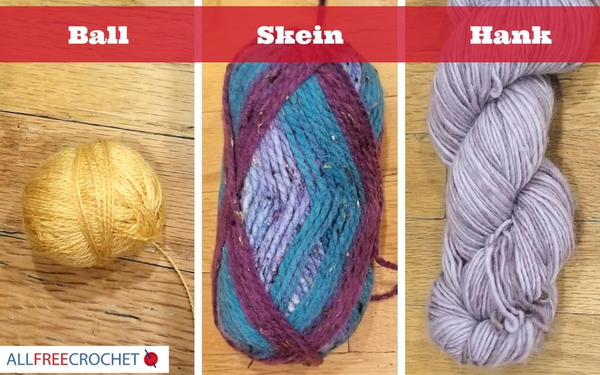 Types of Crochet Yarn and Yarn Weight
As a beginner, I found it easiest to work with bulky weight yarn as it slid through my fingers easily. When working with bulky yarn, you also work with a larger hook size making the whole process a breeze. But should you buy acrylic yarn or still with heavy wool yarn? Maybe you should go with a silk blend?

When trying to decide on yarn, your first choice will be between natural fibers and synthetic. From there, you have a variety of options available to you. Synthetic yarns are man-made and produced, but are often cheaper (though not always the softest), but they can usually handle machine washing and drying.

On the flip side, natural yarns like cotton or silk (or even a blend) tends to be of a higher quality. These fibers are naturally softer and more luxurious... but they might require more careful care. 

When choosing the proper yarn for your crochet patterns you should also know the different yarn weights to choose from. Yarn weights play a crucial role when working up patterns. On every skein of yarn, you'll see what type of yarn it is and what the recommended hook size is. Using that yarn with the specified hook size will give you the best results.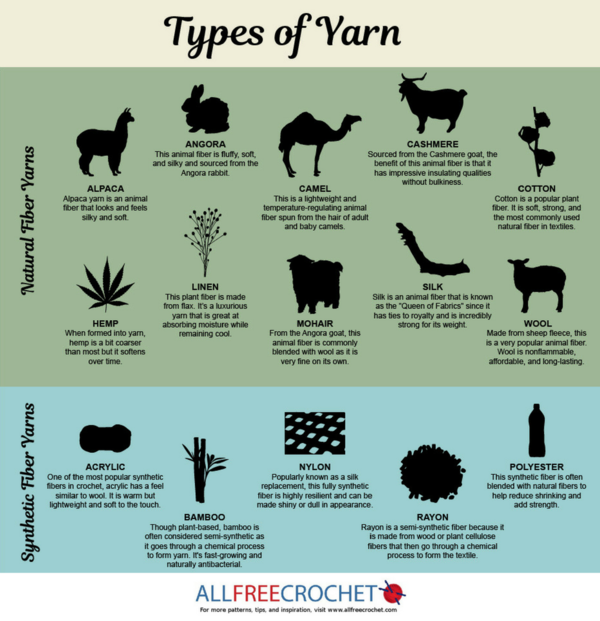 Best Yarn for Sensitive Skin
It's not just what you're crocheting that matters, it's also who is getting it! If the person receiving your yarn piece has sensitive skin or a wool allergy, then you will want to consider a hypoallergenic yarn. Along with allergy-free yarn, the texture is important, particularly for wearables. You certainly don't want to give an itchy yarn wearable to someone who might get a rash.

Some natural fibers, such as alpaca, bamboo, and cotton are hypoallergenic and safe more allergy-prone or sensitive skin. 
Cushy Yarn Options (Video)
Learn all about the different types of cushy yarn out there with this great, informative video!
 
Textures of Yarn for Crocheting
What you're crocheting and what type of results you're looking for will determine the texture and colors of the yarn. If you already have a design in mind, then choosing colors shouldn't be a problem, but textures might be.

Softer yarns are great for wearables and baby items, while wool yarns which might be great for winter items like hats and scarves. There are also the fuzzy types of yarn which are great for fun and stand-out projects.

Fuzzy yarns like Lion Brand Bellini yarn (on the left in the image below) and Red Heart Stellar yarn (on the right in the image below) are great for hats, scarves, and cowls; they're also great at hiding your mistakes.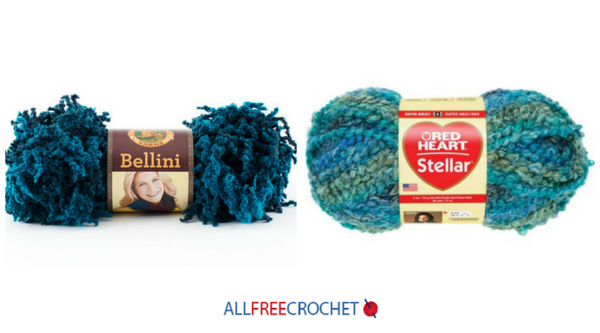 Understand Crochet Yarn Labels
When it comes to the best yarn for crochet, there's a lot of help to be found on the label itself!

Before you fill your cart with your favorite colors of yarn, be sure you look at the labels on the skein and that you understand how to read yarn labels. Each label should tell you the yarn weight, the hook and needle size, the care instructions and most importantly the yardage.

The yardage of the yarn is important to look at because this will determine how many skeins of yarn you need for your project. If a crochet pattern calls for 70 yards and the skein you're looking at is 30 yards, you're going to need three skeins to be sure you have enough to start and complete your project.

Another thing to pay attention to is the dye lot. Many skeins of yarn are appointed a dye lot number - all the skeins with the same dye lot were dyed at the same time.

This is important to know because let's say you run out of yarn in the middle of a pattern, you now have to buy the same yarn that came from the same dye lot. What's the big deal? If you buy the same color and the same brand, but the dye lot is different, your project's coloring could differ ever so slightly. 

The care instructions are also important to note. Should you hand wash something? Avoid ironing something? For instance, if you're crocheting a project for babies or small children, you should probably get yarn that's machine washable.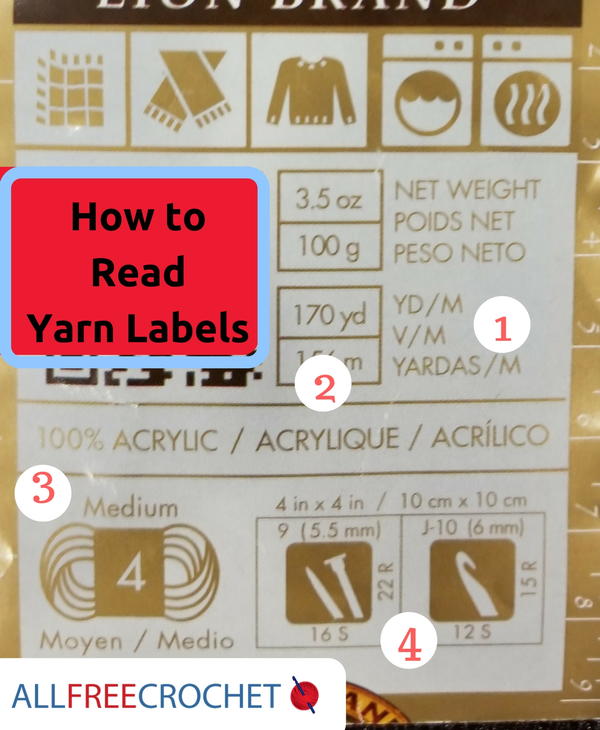 What's the Best Crochet Yarn For...?
Though there are no hard and fast rules for choosing the best yarn for crochet projects, there are some factors to consider. You and your recipients will have personal preferences, such as picking natural or synthetics, thickness, colors, but I wanted to share some tips for choosing yarn for specific projects, which will help you narrow it down.

Best yarn for crochet socks? If you are making socks to wear around the house or during colder months, then you'll want a thicker yarn. A lighter, everyday pair of socks should use a thinner yarn or crochet thread. Other factors to consider with socks is that you will want a yarn that's absorbent and breathable. Cotton is a great choice but a cotton blend with some stretch is better since the pulling of socks requires flexibility.

Find inspiration by looking through the crochet sock patterns featured on our site.

Best yarn for crochet hats? Like socks, hats should use a stretchable yarn if it's a beanie or winter-type snug-fitting hat. Most hats use worsted weight or chunky because they are thicker. A wool blend adds the needed warmth. However, you need to consider any allergies since it will be in contact with skin. If it's not a hat needed for warmth, you can go with a lighter weight. Soft yarn is essential for hats since you don't want it to be uncomfortable!

Find inspiration by looking through the crochet hat patterns featured on our site.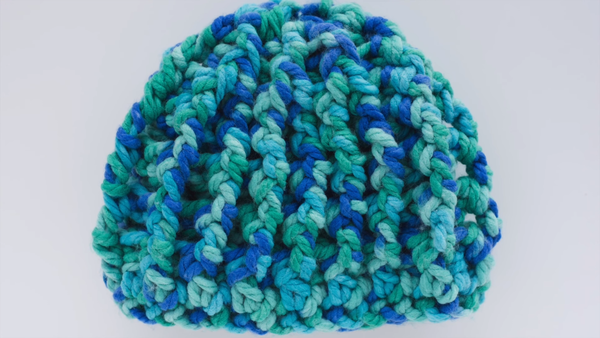 Best Yarn for Washcloths (Video)
Be sure to check out the awesome crochet video that will tell you all about the best yarns for you to buy for when you're making washcloths and dishcloths!
 

Best yarn for crochet scarves? Before choosing the best yarn for scarves, ask a few questions: is this an indoor or outdoor scarf? Are you wanting to use multiple yarn colors, solid, or a variegated yarn type? Are there any allergies to consider? The answers to these questions will play a role in what you choose. Scarves can really be made of any yarn and no matter what you decide, you will find a pattern to use. Just make sure it's soft and whoever is wearing it will be happy!

Find inspiration by looking through the crochet scarf patterns featured on our site.

Best yarn for crochet sweaters? Because sweaters are often pulled over the head, you will want there to be some flex in the yarn. However, if it's a cardigan or you want it to be structured and stay taut, then flexibility isn't going to be as important. Consider seasonality. A spring or summer sweater should be light and airy but a fall or winter sweater should be bulky or super bulky.

Find inspiration by looking through the crochet sweater patterns featured on our site.

Best yarn for crochet blankets? Softness is the correct thickness is the most important factor in blankets. A large blanket can be expensive if you choose a high-quality yarn, so make sure you consider the full amount of yarn you need before starting. It's rare to use a yarn weight lighter than 4 because you want it to have the right amount of thickness (though baby blankets are an exception since they are small and need to be lightweight). Most yarn companies also have a line of blanket-specific yarns that are perfect for throws, afghans, and other similar crochet projects.

Find inspiration by looking through the crochet blanket patterns featured on our site.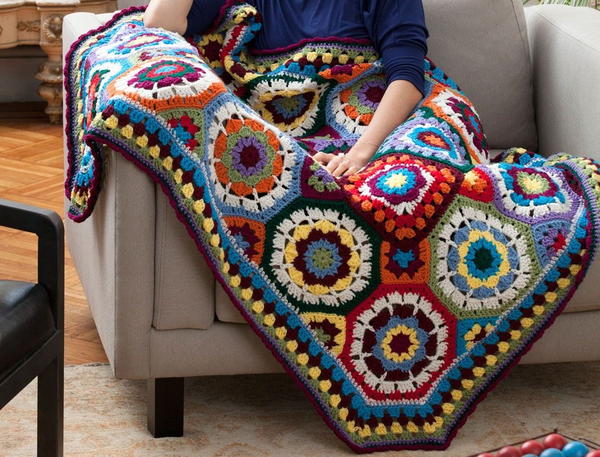 Best Yarn for Baby Blankets (Video)
What's the best yarn to use for baby blankets? This video will walk you through the different options out there so you can pick the absolute best and softest yarn for your little one.
 
Last-Minute Tips for Choosing the Best Yarn for Crochet
I know you just want to get out there and fill your cart with as many beautiful crochet colors as possible but do your research first. Find a pattern that interests you, decide on color and texture and then figure out how much yardage is needed for that project.

Be sure you read labels carefully and take a look at dye lot numbers for that perfect match. If you follow these tips on how to choose the perfect yarn then you're sure to come up with an amazing crochet pattern.
 
BONUS! How to Choose Colors For Your Yarn (Video)
If you ever wonder how to know which colors to choose when you are making a crochet project, then you need to check out this video. From discussing on-trend colors, to complementary colors, you will learn everything you need to know about colors to pick for your next project!
 
Your Recently Viewed Projects
Join our community of 5 million crocheters! Right now!
Get free crochet patterns, exclusive partner offers, and more.
Thank You for Signing Up!
There was an issue signing you up. Please check your email address, and try again.