19 Free Crochet Bathroom Rug Patterns
Make a crochet bathroom rug to give your powder room the touch of style and flair it's missing.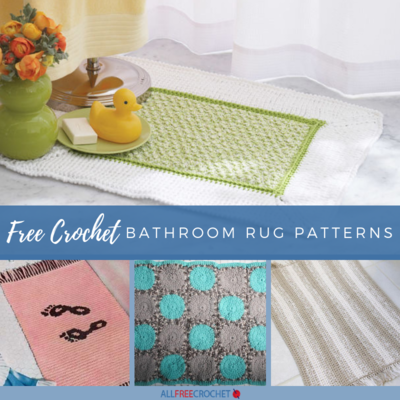 Shopping for a bath mat or rug can be a pain. The ones that match your bathroom are usually too expensive, and you end up buying one that's not even safe for the dryer. If you're already crocheting your own afghans and other home accents, why not crochet a bath rug too?

When making something is the best option, it's nice to have some projects to choose from. Here are 19 Free Crochet Bathroom Rug Patterns to help you learn how to crochet a rug for your bathroom!

You'll love the assortment of styles and crochet stitches available in this collection of bathroom rug patterns, too. Whether you're new to crochet and eager to try a new challenge or a longtime crocheter who'd like to try something different, you're sure to find a project that matches your skill level.

Keep these cute crochet rug patterns for the bathroom for yourself and your home. These rugs would also make great gifts for a housewarming shower or bridal party. It's not one of those gifts we think about but everyone needs one. Might as well make it pretty and unique.
 
Table of Contents
Traditional Crochet Bath Mats and Rugs
Forget the flowers and frills. Sometimes all you want is a classic bathroom rug for your home. Use whatever colors match your bathroom decor for these bathroom rug crochet patterns.
Children's and Fun Crochet Bath Rugs
Whether or not your kids have their very own bathroom, these bathroom rug crochet patterns are so cute! They would even look great in their bedroom or playroom. They may also work as a funky addition to your own bathroom, depending on your style.
PLUS! Crochet Bath Sets
These are the most gorgeous bathroom rug patterns you'll ever find. Your family will be so impressed; they won't believe you that you didn't buy them from a store!
Have you ever crocheted your own bath rug?
Let us know!
Your Recently Viewed Projects