11 Crochet Basket Patterns (for Your Home)
Find the coolest free crocheted basket patterns that can be used anywhere in your home with this collection.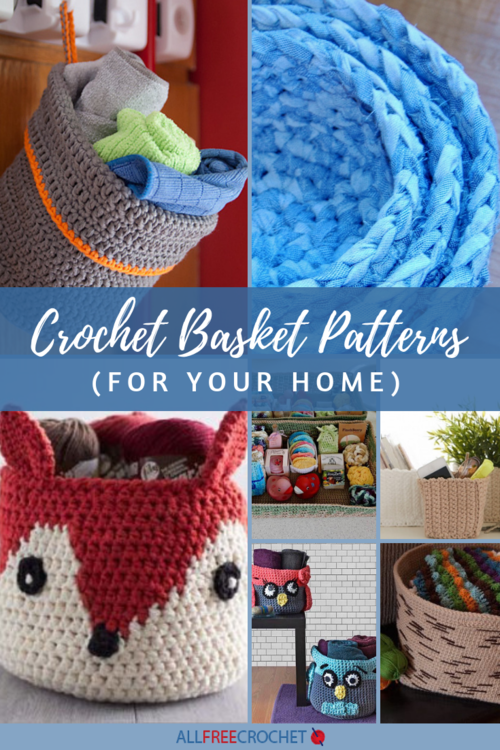 Some days are perfect for being lazy, sitting around the house, and curling up with a nice, warm blanket. Other days are great for being productive, tidying up, and being proud of the work you can do even around your own home. With these 11 Crochet Basket Patterns (for Your Home), you can easily make some of the best crochet patterns some of the most useful as well.

If you're anything like me, you can't stand messes. When I look around my house, I don't want things piled up everywhere or for something to just not have a place. I love being organized, overusing label makers, and making lists of what still needs to be done. Call it a Type A personality thing, but I think that everyone enjoys being cleanly no matter how much they may not enjoy the work it takes to actually clean.

That seems to be the biggest struggle people have: they look around and see the mess, but don't know what to do with it or just don't want to take the time to clean it all up. Find a solution to both of these problems by working up a crochet basket pattern. With just one crochet basket, you have a place for some of that mess to go, plus it's easy!

Crochet basket patterns can be as fun or as simple as you want them to be, so find the best one for your style and the atmosphere of your home. Then you can start being organized and neat at all times, and you've got a few new crochet patterns under your belt.
Expert advice doesn't often come free in life, but we've managed to collect some of the best crochet tips and tricks from our crochet friends – just for you:Free Crochet Tips and Tricks - Free PDF
Fabric Nesting Baskets
These adorable Fabric Nesting Baskets (shown below) are the perfect thing to organize your office, bedroom, or countertops. Complete this crochet pattern using homemade fabric yarn.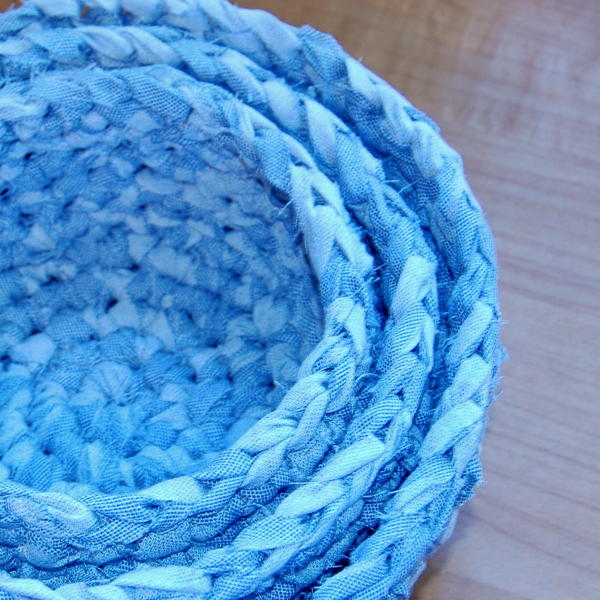 Tree Bark Basket
Nature lovers, this free crochet pattern is for you. This Tree Bark Basket (shown below) is sure to remind you of taking a walk in the woods. This large basket is great for organizing things around your home including kids toys, office supplies, and even your yarn projects.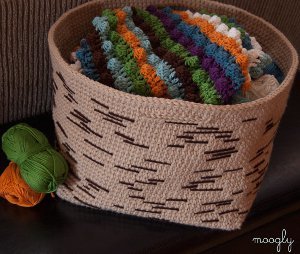 Simply Irresistible Diamond Trellis Basket
Decorate and organize your home at the same time with this Simply Irresistible Diamond Trellis Basket (shown below). The trellis pattern is so pretty and unique that people couldn't possibly believe you made it yourself. This crochet basket pattern is sturdy enough for you to carry things around the house but also decorative enough that it looks good just sitting in the living room.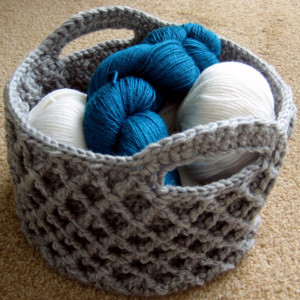 Hanging Crochet Basket
Stay in control of your world and get organized with the Hanging Crochet Basket (shown below). This free crochet pattern is perfect for keeping your stash of smaller items, like crochet hooks, collected and within reach. Keep smaller seasonal items organized in the back of your closet, or use this to stash crafting supplies.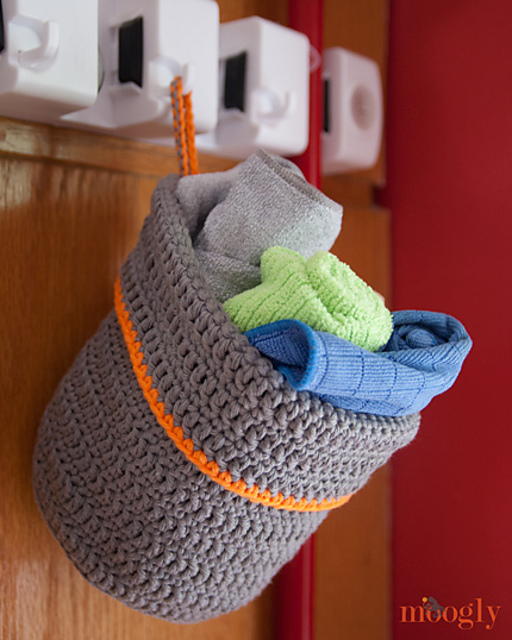 Oceanic Crochet Basket
You can use this Oceanic Crochet Basket (shown below) for anything you need. Simply put it in your house as decor, throw your cleaning supplies in it, make it a magazine holder next to the couch, or bring it to the beach with you as a towel carrier and shell collector.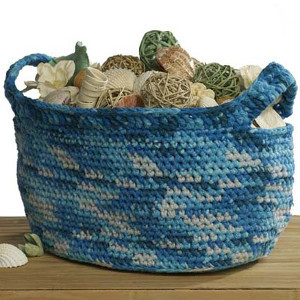 Foxy Yarn Basket
Let this tidy little fox help you keep your yarn stash organized. It's easy to keep your craft supplies neat and tidy when you have adorable crocheted baskets like this to help. You could even use the Foxy Yarn Basket (shown below) to help keep the children's toys organized. However you choose to put this adorable basket to good use, there's no doubt that this Foxy Yarn Basket belongs in your home.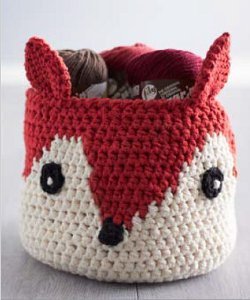 Hooty Owl Crochet Baskets
Put some personality into your home decor with these adorable Hooty Owl Crochet Baskets from Premier Yarns (shown below). Not only do they help you stay organized, but they are also just so cute to have around the house. Give these as gifts, use them to take all your towels to the beach, or hide all of your cleaning supplies in them.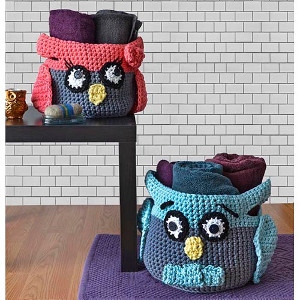 Simple Stash Basket
Any crafty crocheter could put this Simple Stash Basket (shown below) to good use. This crochet basket pattern is perfectly sized for your extra crafting materials that clutter up your workspace. Not only is this free crochet basket pattern perfect for your odds and ends, but it also looks super cute with a folded edge.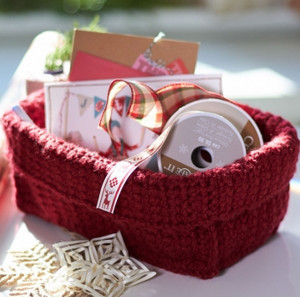 Dorm Organizer Square Baskets
Send your college kid off to school with Dorm Organizer Square Baskets (shown below), and you can rest assured that they'll have somewhere to store all those odds and ends that can take over a small dorm room. Whether it's a pile of extension cords, a collection of bracelets, or other small knick-knacks, this crochet basket pattern will keep them tidy.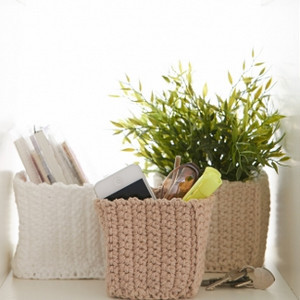 Crochet Spa Basket
The Crochet Spa Basket (shown below) is a medium or large starched basket that will hold your various spa day needs. It's always nice to pamper yourself, and that is exactly what this CAL is all about!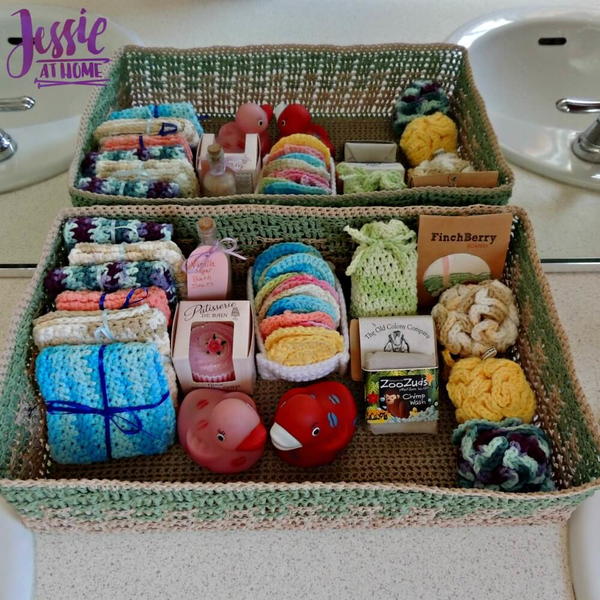 Plarn Laundry Basket
This Plarn Laundry Basket (shown below) is made using plan and is large enough to use as a hamper as well as a basket to take to the laundromat. It has a round base and an overall round shape. This crochet pattern would make a great gift for a college freshman.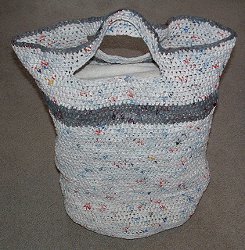 Your Recently Viewed Projects
Join our community of 5 million crocheters! Right now!
Get free crochet patterns, exclusive partner offers, and more.
Thank You for Signing Up!
There was an issue signing you up. Please check your email address, and try again.