18 Crochet Storage and Crochet Organizer Patterns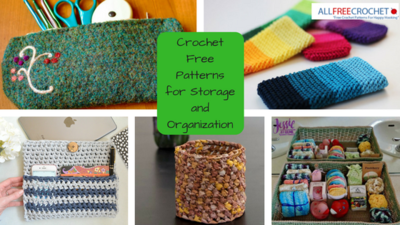 Crochet free patterns for storage and organization should be part of every crocheter's repertoire. You know you have skeins of yarn laying around the house, so why not crochet a nice storage compartment to keep organized? We have some fun easy crochet patterns for just that. Why would you want to leave your house messy? You don't even have to make something to hold all that yarn, but you can make something with the yarn to use it all up. Using simple crochet patterns you can have some really neat organizational projects.

From colorful crochet baskets and pretty bathroom organizers to a cozy to stash your remote, you'll find plenty of crochet organization patterns that are both stylish and useful. This collection of Crochet Free Patterns for Storage and Organization will help you stay on top of clutter while also learning a few new crochet skills along the way. Many of these crochet patterns use scraps of yarn, so you can make a dent in your yarn stash, too. 
Table of Contents
Can you ever have too many crochet baskets? Nope! You'll find even more crochet basket patterns that you'll want to try in this free collection page. Grab your crochet hook and yarn, and get started on these 
Stay Tidy With Crochet Basket Patterns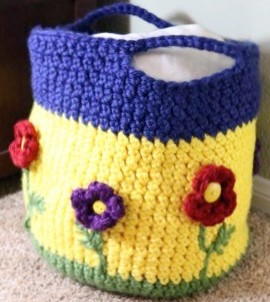 Expand your crochet horizons and learn how to make crochet baskets with these patterns. These designs include an assortment of materials and are stylish, too. Crochet baskets can be used to store your latest issues of magazines, as well as crafting supplies, essential items for your bath, or stuffed animals. The possibilities are endless! Consider creating duplicates of your favorite patterns for quick gift ideas, too.
Beaded Jute Basket Now this is a cute little basket made out of beads and hemp. It's a nice earthy crochet pattern you will love having around the house. It's on the smaller side so it can hold your smaller materials, maybe it's meant just for your crochet hooks.
Pretty Flower Basket Cute and colorful as can be, this crochet basket pattern can hold your crochet projects, library books, and maybe even your groceries. You'll love the floral embellishments on the outside, too!
Fabric Basket Again, great for storage purposes. If you have little scraps of yarn all over and you don't want to get rid of them you can just throw them in this crocheted fabric basket. You can also use it as a decorative bowl if you wish.  
Crochet Hanging Basket It's one thing to crochet a basket that can be stored on your floor or a bookshelf, but it's another to make a basket that can hang from a hook. This easy-to-make crochet pattern is just the right size to store small stuffed animals or bathroom essentials.
Mini Raffia Basket Do you feel like you lose your pens and pencils every day? With this stylish crochet basket pattern, you can corral some of your favorite office supplies in one spot. This crochet pattern would also make a great gift idea.
Spa Basket If you can't get to the spa, then bring the spa to you! This crochet basket pattern is just the right size to store your favorite washcloths, bath bombs, sponges, and other essential items for your next spa day at home.
Crochet Organizer Patterns To Help You Clean Up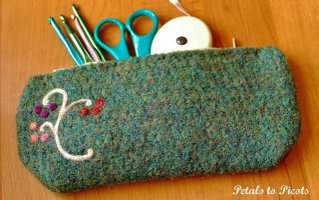 Quick! Where is your favorite crochet hook? If you feel like you're always misplacing items, then making a crochet case or other organizer just might be what you need to keep things under control. 
Crochet Pocket Hanging Storage Crocheted patterns like this one are great to have around as it can hold all your essentials. You can put your slippers or shoes in them so they're not in your way and you won't trip on anything.
Hanging Toy Organizer Any parent will fall in love with this crocheted toy organizer. It's a convenient place to put all your children's toys. If you think you don't have enough closet space to store all the toys then make this free crochet pattern.
The Best Crochet Walker Organizer Someone who uses a walker will love keeping a phone, books, a snack, and other essential items right at their fingertips with this pretty organizer. 
One Hour Crochet Hook Case Your crochet hooks are in one room, your stitch marker is in another, and you think your favorite yarn needle is under the couch (maybe). If this sounds like you, then you'll want to make this case so you can get organized!
Sheep Yarn Holder Keeping your yarn in disarray is a "baaad" idea. That's where this adorable yarn holder comes in! Your yarn will stay organized in a new way when you use this crochet pattern. Don't "ewe" think?
Convenient Crochet Grocery Bag Holder If your grocery bags are in a disorganiezd bundle and stuffed in the back of your pantry, then you need to get organized. This crochet grocery bag holder will keep the bags in one place that's also easy to find.
Crochet Hook Travel Case Stay organized while you're on the road with tihs travel case. Every crocheter will appreciate finding a favorite hook or other supplies with ease.
Even More Crochet Patterns For Organization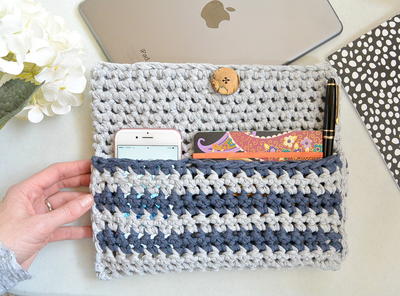 From a cozy to stash your remote control to a door mat, you'll find even more crochet patterns for organizatoin right here. Many of these patterns can be made using scrap yarn, too.  You'll love creating these useful crochet patterns!
Remote Control Cozy This is one of my favorite crochet patterns. Although it's sad most Americans have become couch potatoes, at least you can make this pattern so you don't lose the remote anymore. It hangs over the arm of the couch or a chair.
Simple and Easy Keyboard Duster Often times your computer keyboard can get very dusty and full of crumbs if you like to eat at the computer like I do. Well now you can crochet your very own keyboard duster. It's an easy crochet pattern you can whip up in no time.
Jute Cord Door Mat Make everyone wipe their feet off at the door on your newly created door mat. Again, no one likes a messy house, so try to prevent it with an easy crochet pattern. If you have any pets it can also be used near the litter box to keep the area clean.
Crochet iPad Case Take your crochet skills to the next level with this electronics crochet pattern. Featuring plenty of room for a tablet as well as storage space to stash your phone and even your wallet, this case would make a great gift idea for family and friends.
Herringbone Phone Cover It will be difficult to misplace your phone again when you cover it in this snazzy little number! This crochet phone cover pattern is bright and colorful, and is a great way to use up leftover yarn.
If you're looking for ideas on how you can stay organized with crochet, then this free eBook is for you. You'll learn how you can take your crochet projects on the road with you, as well as ideas for how to stay organized at home. You'll love discovering the ideas found in 
Free projects, giveaways, exclusive partner offers, and more straight to your inbox!
Tags / Related Topics
Your Recently Viewed Projects
Images from other crochet readers


Something worth saving?
SAVE all your favorite patterns
ADD personal notes
QUICKLY reference your patterns