Yarn Storage Ideas
How to Organize Scraps and Bits of Yarn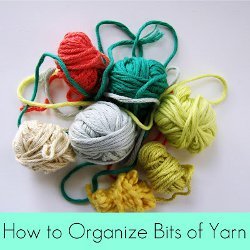 What do you do with your bits of yarn when you're done with a project? Once you're done crocheting, there's usually lots of yarn leftover, whether it's from trimming your ends after finishing off or from color changes, or just from unused skeins of yarn in varying degrees of fullness. Do you save all your ends or do you just toss them all away? And how do you organize everything, anyway?

Well, we don't have all the answers either, but we really wanted to know so we polled our Facebook audience, and thanks to them, we have quite a few suggestions to work with!

How do you organize your yarn? Most of you were split between keeping your bits organized in clear plastic bags for future projects and simply throwing them out. There were also lovely suggestions to use them as display pieces or work them into future projects, and still others were focused on donating your work.
 
Yarn Storage Ideas from Other Crocheters
Many of you suggested we keep our yarn bits in clear plastic bags to reuse for future projects. These can be recycled later into embellishments such as flowers or keychains, scrap projects and even as stuffing for rag dolls or amigurumi. This way, you don't have to buy whole new skeins when you just need a few yards - it's practical AND economical! 

You can also use this storage system as a way of keeping track of what yarn you've used and what to buy later or see if you're in a color rut. You can choose to save ALL scraps, or just scraps of your favorite yarns (for future purchases). Many readers suggested you separate yarn into color shades, weight or fibre type to help keep yourself organized. 

For more full skeins of scrap yarn, you can display them on shelving or in clear jars as a fun and easy way to brighten up a room.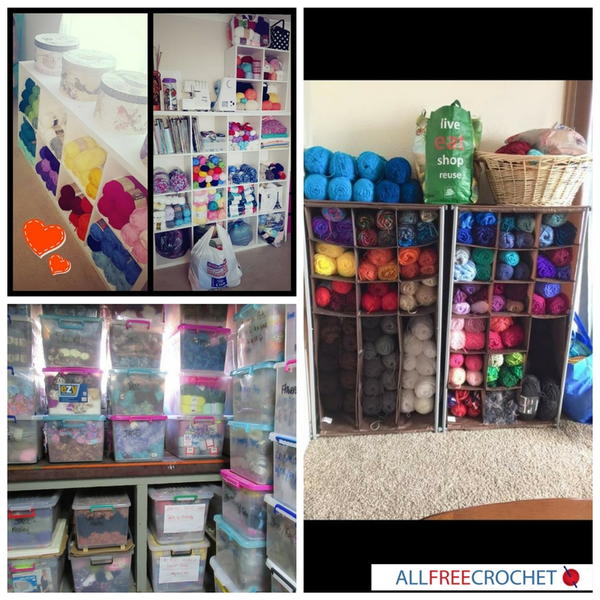 Julie Clemens: I roll the scraps into a ball and place in plastic bag with the original label. I then put bags into tubs (semitransparent) with same brand/weight yarn & other scraps. All stacked nicely in my closet.

Connie S Young: I roll them up into little balls and store them in see-through bags. They get used for things like key chains or adding details to amigurumi or appliques, etc.

Jessica Wesolowski: I put them in large zip locks bags organized by weight/fibre and reuse for borders, appliqués such as eyes and flowers or for stuffing toys

Connie Hill: I roll mine into balls, then I clip the part of the label that has color name and lot number on it and safety pin that to the ball. The balls go into a basket. Since 90% of my yarn is the same brand and weight I do not need more info so I never keep full wrappers.

Pat Wilder: I save all the bits I cut off when making things in a plastic bag. Then when I have a large stash of it, I use all the leftover bits to stuff a pillow. My gramma used to do that, and you can toss the pillow right into the washer to clean it. I store all my skeins in large plastic tubs according to color and label them on the outside.

Barbara Nielsen: For the most part I have a big plastic tote for the bigger skeins if yarn. Inside the big tote, I have a shoe box size plastic tote for the smaller skeins of yarn.

Vicky Poole: I store by "weight" and fibre. I've made tons of colourful toys out of scraps. Even a few inches are kept in a zip lock bag. I needed just a tiny bit of brown for eyes this week and didn't have it !!

Jen Zmurchyk: I put all of my small bits into resealable sandwich bags according to yarn type - eg. acrylic, wool, cotton. They come in handy when making things like granny squares, or if doing Amigurumi and you only need a small amount of yarn.

Lucy Juliano: I keep all my left over yarn. I store then in Ziploc bags by color. When starting a project i go first to my scraps for anything I may need for the appliques or embellishment before I spend the money on a skein of yarn I may only need a yard or so.

Reecie Adams: I have a large ottoman in living room that has storage...I roll larger scraps into a ball and put in ottomans...smaller scraps I wrap up and place in a bag and keep together...use it when making a scrap Afghan or am trying to help someone learn to crochet

Ann Peake: I save tiny scraps for provisional c/o in a ziplock bag. Larger balls by weight in a draw string bag.I love to rummage when I need a pompom, small decoration, or icord.

Irene Sharpe: I roll into yarn balls, put in a plastic container with lid. I teach a craft class at our local Resource center. I try to have at least once a month a class on crocheting, whether it be trying a new stitch, making "premie hats" for babies. etc....

Chelsey Nicole Thompson: Scraps go in the trash. I just don't have patience for them. For the skeins I used to store them in a giant shoe shelf. [photo above, right image]

Barb Kridel Jacoby: I have a hat box that I keep balls of regular yarn. I also have a tall plastic yarn feeder jar that has a flip up lid that I keep my cotton yarn balls in (dish cloth etc). The leftovers have come in handy when I am short a little to finish or use for edging.

Nickole Beuch: I keep my ends and scraps in ziplock bags to use as stuffing. So far I've used it to stuff crouched Christmas ornaments and a couple of small toys.

Dawn Brochinsky: Scraps are rolled into a ball and kept in a huge glass jar with lid and kept on my bookshelf. It looks great as a decorative jar plus scraps available if needed and I can quickly tell if I'm stuck in a color rut

Julia Schwartz: I use zip lock bags. That go in a tote under the bed. I have my stash divided up by type of yarn. Each tote keeps a different type. I like to make a scrapghan every year to use up the scraps.

Other photos: Judy Purchase [left, bottom], Jodee Day [left top]
Donating Your Leftover Yarn
Some of our other favorite suggestions included donating the bits of yarn to elementary schools for art projects, donating substantial leftovers to homeless shelters or thrift stores and donating for special projects. Just because you have no use for the yarn doesn't mean someone else can't use it!

As you're working, keep a bag going where you can keep a running collection of yarn scraps and partial bins so you aren't constantly running back and forth to donate, and so you can keep everything in one spot. 

You can also donate scrap projects, which seems to be a favorite of some of our charitable Facebook fans. Instead of simply donating your skeins or partial skeins, spend some time and use your scraps to work up scrapghans or hats and scarves for the homeless or for senior centers.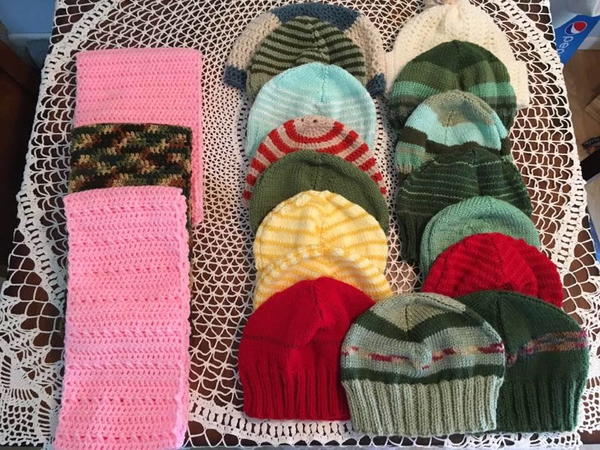 Sue Roscovius: I roll mine in balls then donate them. I gave three good size boxes to people crocheting lap quilts for the military hospital's.

Madeleine Becan Myers: There are so many organizations and schools that welcome donations and make excellent use of the scraps-- hats and blankets for the homeless, prayer shawls, baby items for crisis pregnancy centers or the NICU....scouts, schools, daycare do art projects....nursing home s use them for craft activities...

Jan Meadors Hall: preschools and kindergartens use load of yarn bits for art projects. as a former teacher, I loved a bag of bits of yarn.

Diane Rosenfeldt: Or just Goodwill! I'm always seeing partial skeins there. Your method seems so wasteful when there are, aside from all the worthwhile groups already mentioned, so many creative folks on a budget who would love half a skein. How much harder is it to throw your leftovers on a Goodwill bag than it is to throw them in a garbage bag? Let *them* decide if your schnibbles are worth slapping a sticker on!

Helen Williams Stoops: A lady in my Bible Study collects leftover yarn from others, and takes it to the women's prison. The ladies there make winter scarves, and hats for the homeless.

Rebecca Goodchild: I give mine to local church knitting club, unused balls I don't want anymore or scraps, they always find them useful. I am forever buying it and have so many ideas that I never get around to doing so would get wasted otherwise. 

Cheryl Wechsler-Wills: I weave the ends of the smaller balls together (of like colors ) then make a larger ball - when it is large enough I make lap blankets for the local nursing home!

Cindy Kingman: I use my scraps and leftover balls to make hats for the homeless. I use a neutral color and make stripes. This way I can make color combinations I wouldn't normally. [photo above]

Karen Reinhart: I am planning on using my scraps of yarn to crochet hats to give to the homeless and other charities.
Scrap Projects to Love
Why not use your leftovers in a way that everyone can see… by making scrap yarn projects! Whether you slowly work up a scrapghan from little bits and pieces here and there or you use any leftover skeins to make hats and wearables for the homeless, reusing your yarn goes a long way!

Add to your scrapghans as you finish projects, or choose a few times a year to dig out all your scrap yarn and make some progress - there's no wrong way to do it. It's a nice way to keep a running tab of everything you've worked on, and it provides a nice way to reminisce over your projects!

Plus, if you happen to have any bulky or super bulky scraps, or any more fashion-type yarns, they're a fun way to add some visual interest to your work-in-progress.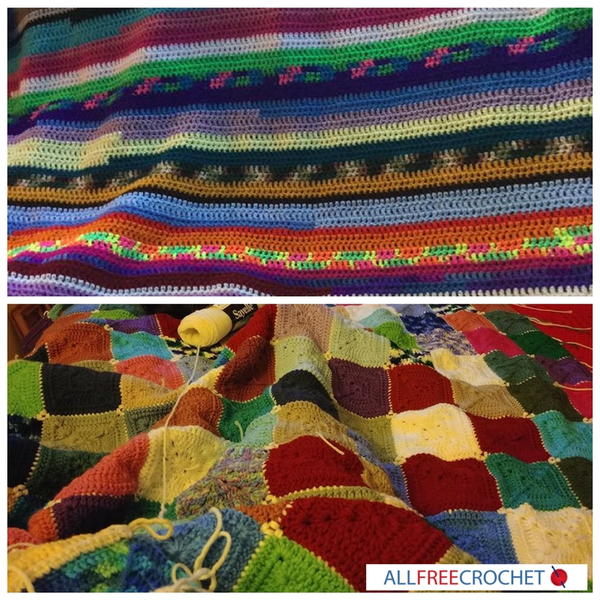 Helen Crenshaw: I keep mine in a large see through bag....currently it's the outer plastic covering bag the kind you get sheets or comforter in....some I join together to make larger balls of different colors...then I make scrap afghans, c2 c...dc rows...make up my own patterns...and then give away...I'm planning on making a few to give to the homeless shelter...they are colorful and happy.. [photo above]

Mary Pittman: Scrap afghan! I make squares or a continuous granny square. We either donate or my kids get them. [photo above]

Esther Demuth Leggett: I keep small amounts of leftover yarn in gallon zip-lock bags, sorted by color. I keep a lap robe in the making at all times, using leftover yarn, too, even if it's just a couple yards or a lot more.

Bruna L Kissell: What do I do with my ends of yarn that aren't you as well I usually make dishcloths of many different colors or potholder so many different colors my kids love them I granddaughter can't get enough of them no sense in wasting the leftover yarn from a project.

Gail O'Connor: I attach all my bits together and wind a centre pull ball of yarn. Yep, even the tails. Some pieces are only a few inches long. As long as the weights are close, it all goes together. Cotton has its own ball. Once I have enough, I make an afghan. The best part is remembering all the great things you made with all the different yarns.

Sheila Hoffman: I joined two strands of different colors together and made rugs for the floors. I have made at least 10.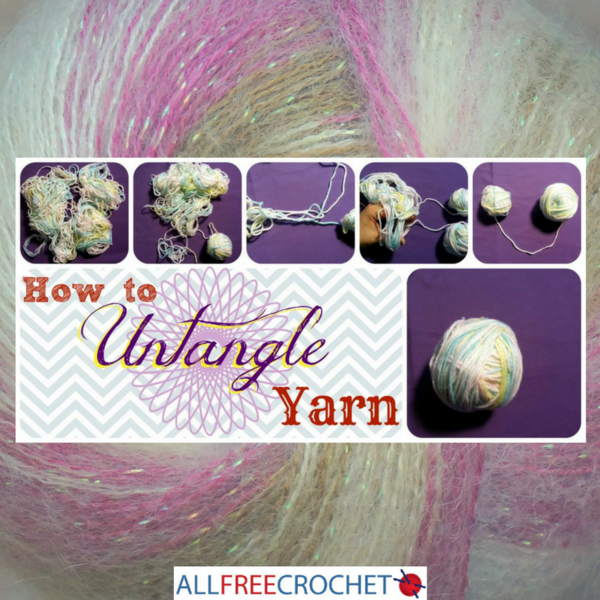 4. Just throw them out!
Of course, you might just not want to deal with any extra yarn around the home, so go ahead and trash your scraps! If you have the smallest bits and pieces, just throw the scraps out.

That way, you aren't drowning in extra yarn, and you can keep your home clean and tidy!
Sharon Fournier: I throw them away....I hate having partial skeins around. I have a winder, but even wound yarn balls are useless, as far as I'm concerned.
Do you have any other tips for organizing or storing your yarn? Let us know in the comments!
Your Recently Viewed Projects
Join our community of 5 million crocheters! Right now!
Get free crochet patterns, exclusive partner offers, and more.
Thank You for Signing Up!
There was an issue signing you up. Please check your email address, and try again.