Free Crochet Tips and Tricks - Free PDF
Organization Ideas, How to Crochet On the Go, How to Change Color, and More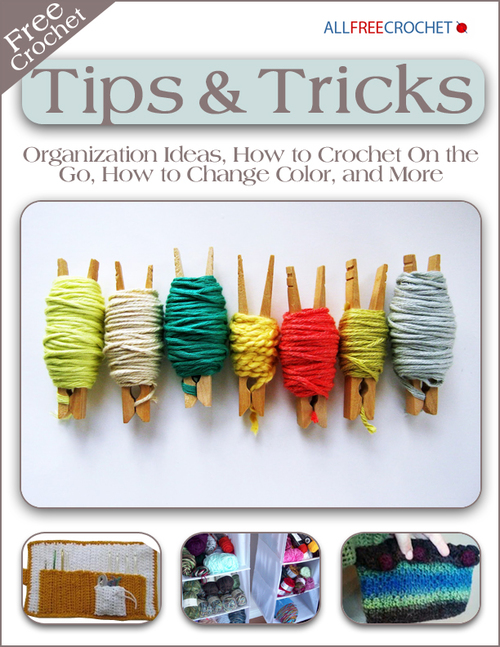 Free Crochet Tips and Tricks Organization Ideas How to Crochet On the Go How to Change Color and More
Expert advice doesn't often come free in life, but we've managed to collect some of the best crochet tips and tricks from our crochet friends – just for you. Crochet is meant to be a relaxing hobby and it often is. However, organizing your yarn stash and learning difficult crochet techniques can sometimes be a challenge. If you're ready to tackle your yarn stash once and for all, there's no better time to get your yarn stash organized than the beginning of a new year. If you've been dying to try your hand at changing colors in crochet, or if you've been wondering if there's any easier way to join together granny squares, then you're in luck. We have collected answers to your most commonly asked crochet questions, and gathered words of wisdom from experienced crocheters.

Discover some of the best-kept secrets in crochet with our latest eBook, Free Crochet Tips and Tricks Organization Ideas, How to Crochet On the Go, How to Change Color, and More. No matter what your skill level is in crochet, you're sure to learn a new skill or benefit from any one of the helpful hints in this collection of free crochet tips and tricks. We've gathered the best pieces of crochet advice from our fans and collected them here for you to enjoy.
Plus, Don't Miss Our Other eBooks!
If you've been meaning to perfect your crochet skills, now is as good a time as ever to becaome the crocheter you've always dreamed of becoming. If you need some advice from the experts, we've put together this great eBook to help you out. It is chock full of helpful tips and tricks including organization ideas, how to crochet on the go, how to change color, and more. Inside, you'll find answers to the most commonly asked questions in crochet.

We've scoured the Web and asked our Stitch & Unwind readers for the very best crochet advice they could offer. Whether you're wondering what kind of yarn you should buy, how you join granny squares together, or how on earth you can finally get your yarn stash organized, you'll find the answer inside our latest eBook, Free Crochet Tips and Tricks: Organization Ideas, How to Crochet On the Go, How to Change Color, and More.

What's Inside This Free eBook
Yarn Organization Tips & Tricks:
- 43 Ways to Keep Your Yarn Tangle Free: Say goodbye to tangled yarn! Read these 43 ideas from experienced crocheters on how to keep your skeins neat and tidy until you're ready to use them.
- How to Organize Bits of Yarn] How to Organize Bits of Yarn: Discover one of the best-kept secrets in organizing your scraps of yarn. If you crochet a lot, then you know how frustrating it can be when you have various bits and pieces of yarn scattered all over your house. It makes your life a lot easier when they are neatly organized so that you can find them easily when you want to crochet one of our awesome stash buster crochet patterns.

Easy Crochet Techniques
- Joining Granny Squares: Crocheted granny squares are cute and pretty easy to crochet. But what do you do with them once you're done? The options are endless: turn them into a crocheted afghan, create an awesome crocheted sweater, make a pillow cover, or a cute pair of slippers. But in order to make any of these free crochet patterns, you would have to know how to join your crocheted granny squares together, which can be a pretty common challenge in crochet. Find ideas here on how to join them together. There are even free crochet video tutorials that show you three different options you have when it comes time to join your granny squares together.
- Changing Color in Crochet: If you're sick of monochromatic crochet designs, now is the time to learn how to change color in crochet. Get ready to create beautiful crochet patterns using as many colors as you want. We've collected the best free crochet tips and tricks to teach you how it's done. You'd be surprised how easy it is to change colors in crochet.

How to Crochet On-The-Go
- Crochet Hook Travel Case: If you're preparing for a business trip or family vacation, be sure you make this free crochet pattern before you leave. This is the perfect travel case to keep your crochet hooks organized when you're traveling. Use any color decorative ribbon to give this free crochet pattern the perfect finishing touch.
- All in One Hook Case: Worked in two layers, this stylish case has plenty of nooks, crannies, and pockets to keep not only your crochet hooks, but other small items such as buttons, scissors, and needles. This is the ultimate all-in-one case that you should definitely keep in your crochet accessory collection.
Your Recently Viewed Projects
Join our community of 5 million crocheters! Right now!
Get free crochet patterns, exclusive partner offers, and more.
Thank You for Signing Up!
There was an issue signing you up. Please check your email address, and try again.