18 Cozy & Free Crochet Cowl Patterns
Find a crochet cowl scarf you'll love (probably more) with this list of fantastic patterns.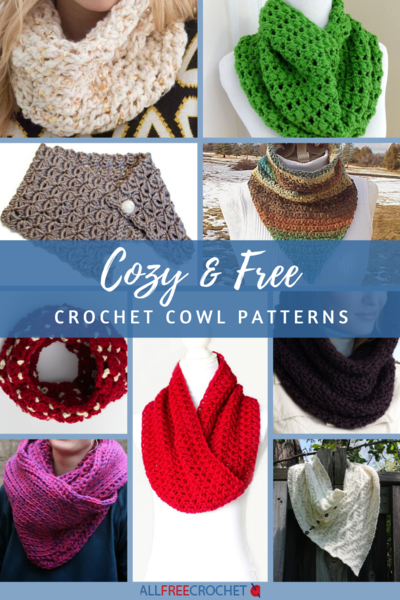 When you want a crochet scarf that drapes nicely out of the neck of your coat, a crochet cowl pattern is just the ticket. Once you start learning how to crochet a cowl, it may become your new favorite type of scarf. Crochet cowl patterns are versatile and fashionable.

Peeking out of a jacket or sweater, they make your outfit more interesting and add sophistication. Not only that, but crochet cowls are very comfortable and keep you warm. Look over these 18 Cozy & Free Crochet Cowl Patterns to see what makes them so appealing.

Crochet cowls differ from infinity scarves in a few ways. Infinity scarves tend to be longer for wrapping, and have only one edge. Cowls can have any kind of closure or can be pulled over the head.

They tend to fit the neck more snugly than other scarves, which means they are perfect for keeping out chilly drafts. Anyone who's taken a long walk on a windy day could appreciate that!

Subscribe to the Hooked on Crochet newsletter for more great patterns!
Table of Contents
Free Cowl Crochet Patterns
Once you learn how to crochet a cowl, you may find yourself addicted. It's a quick, easy crochet project that will become second nature, after you've made a couple. In fact, many crochet cowl patterns are the fastest crochet patterns around. You can finish making some crochet cowls in under 30 minutes! You can't beat that. These crochet cowls are beautiful, and each has something special to offer. Get hooked on making these easy crochet scarf patterns.
Which cowl is your favorite?
Your Recently Viewed Projects