100 Best Crochet Patterns
The best free crochet patterns on the internet, all on one page!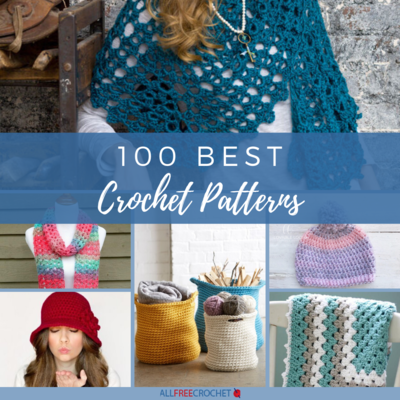 Not to brag, but after a decade of finding and sharing the best free crochet patterns, the editors behind AllFreeCrochet are pretty confident that we've figured out crocheters' favorite ways to use their yarn. We know not everyone gets to spend their days scrolling through gorgeous crochet patterns (yes, our job is awesome), so we created this collection of the 100 Best Crochet Patterns ever.

Stop spending hours searching for your next project: the free crochet patterns on this page are the best of the best. So how do we know these are the patterns you've loved the most over the years? We crunched the numbers! From page views and site searches to Facebook posts and newsletter popularity, these projects were clicked on, commented on, and crocheted the most.

These crochet patterns range in style from blankets and home decor to shawls, hats, ponchos, and other wearables. There's even a huge group of crochet baby blanket patterns and other baby wearables for you to poke through if you're in need of a simple, repeating pattern.

Crocheters of all experience levels deserve to make beautiful crochet items, so these patterns run the skill level gamut from beginner to advanced. Keep it simple with an easy pattern, or challenge yourself with a new technique you've been meaning to try. If you're looking for your next crochet project, why not try one of our most-loved designs?

Subscribe to our newsletter for amazing crochet patterns delivered to your inbox daily!

Top 5 Crochet Patterns
Being asked to choose our favorite crochet patterns on AllFreeCrochet is like being asked to pick your favorite child! There are so many wonderful crochet patterns on our website to stitch, but even if we refuse to pick favorites, the page views don't lie.

Each one of these patterns is a tried and true reader favorite that crocheters keep coming back to, year after year. Plus, the cherry on top: all of these patterns are free and easy to print, straight from AllFreeCrochet.com. Without further ado, these are the Top 5 Crochet Patterns since AllFreeCrochet started more than ten years ago:
Crochet Hat Patterns
Crochet hat patterns are projects that are great no matter what time of the year it is. These small projects are winter staples (though there are some crochet hat patterns that are perfect for the summer), and they're very quick projects.

Work up some crochet beanies to keep warm this winter, like the Easy Slouchy Beanie pictured below, or stick with a stylish and retro cloche hat, like the super-cute 1920s Cloche Crochet Hat. Stay warm and stylish with these fantastic crochet hat patterns. 
Best Crochet Patterns for Blankets and Afghans
Crochet blanket patterns are useful additions for any room of the house, from the family room and living room to any bedroom, and these crochet blanket and granny square patterns have been reader favorites through the years!

Whether you're in the mood for a lightweight throw, like the Luscious Lace Crochet Blanket, or you want to know how to make an adorable Easy Classic Granny Square to fashion your own afghan design, you'll find your inspiration here!
Crochet Shawl Patterns (+ Scarves and Cowls)
Crochet shawls and wraps (and scarves and cowls!) are so versatile! Keep them snug around your neck for a winter accessory to help you stay warm under a coat, or choose a lacier crochet shawl pattern (like the Princess Diana Vintage Crochet Shawl Pattern pictured below) to drape around your shoulders for an insta-glam look that keeps you warm.

If you're looking for a chunky, warm infinity scarf, we have to recommend the Classic Infinity Scarf - it's one of our faves to make and it works up in no time!
Crochet Slippers, Socks, and Fingerless Gloves
Crochet Poncho Patterns
The crochet poncho has made a huge comeback in recent years, and these poncho patterns have been your favorites. The poncho is a style that can be worn anytime - from during the fall and the spring seasons as a light coverup, during the summer as a beach-y coverup (make sure to use lightweight yarn!), and even during the winter as an alternative to sweaters and cardigans.

Dress these up or down, you'll love the bohemian vibe they give off! Don't let the idea of crocheting a poncho intimidate you—the Ridiculously Easy Poncho Pattern is so simple that even crochet beginners can make it.
Crochet Sweater Patterns and Crochet Tops
Winter is sweater weather, and these seven crochet sweaters and tops are some of our top ones! Try your hand at a light and airy cardigan, like the 1941 Shell Stitch Cardigan, or go with a thicker design and crochet a sweater for the holidays, like the Flattering Seamless Tunic, pictured below.

You have some freedom with sweaters and cardigans: use lighter, lacy yarn to crochet a design that's perfect for the summer or for a light coverup, or stick with heavier worsted weight yarn and work up a design that will keep you warm in the heart of winter. 
Rather than spending an arm and a leg (or an arm and an arm) on sweaters, why not crochet the perfect sweater yourself?35+ Crochet Sweater Patterns
Crochet Baby Blanket Patterns
Crochet baby blankets are some of the most popular projects on our best-ever list, and it's easy to see why! Warm, cozy and small, crochet baby blankets are the perfect sized project that lets you settle in and work on a consuming project without committing to something too large.

Work up the Calming Crochet Baby Blanket if you need to relax, or give the One Skein Lilac Blanket a shot if you need a baby shower gift quickly. For something a little more complicated, give the Double Diamond Baby Blanket a try for a sweet and elegant design. 
Baby Crochet Patterns
Crochet baby patterns are in a class of their own: from crochet baby hats and booties to an adorable Super Fast Baby Cardigan, these have been your favorite baby crochet patterns over the years. Baby crochet patterns are so popular because they're a breeze to work up! Because of their small size, you can make these miniature patterns in a fraction of the time of a larger design.

Plus, babies always need little crochet booties and hats to keep warm. For a quick, last-minute gift idea, work up the 40 Minute Baby Beanie (pictured below) in any color you want!
Free Crochet Patterns for Accessories and the Home
And finally we come to the end of our list with the best of the rest - we've got some crochet totes and dishcloths, a crochet basket and some crochet flowers that are perfect to add as an embellishment to anything you make. The Super Speedy Textured Dishcloth is a great way to brighten up any kitchen, and the Mega Bulky Crochet Baskets make organizing your yarn stash a breeze!

For something a little different, give the Two-Hour Crocodile Stitch Flower a try—you'll create a cute new design and practice working the crochet crocodile stitch at the same time!
This giant list of amazing collections is organized by type, season and even crochet stitch. If you have an idea of the type of crochet pattern you're looking for, it'll be easy to find and browse through it! 2770+ Free Crochet Patterns
Your Recently Viewed Projects
Join our community of 5 million crocheters! Right now!
Get free crochet patterns, exclusive partner offers, and more.
Thank You for Signing Up!
There was an issue signing you up. Please check your email address, and try again.