38+ Stunning Crochet Mandala Patterns
Learn how to crochet a mandala and hook up vibrant and intricate mandala crochet patterns.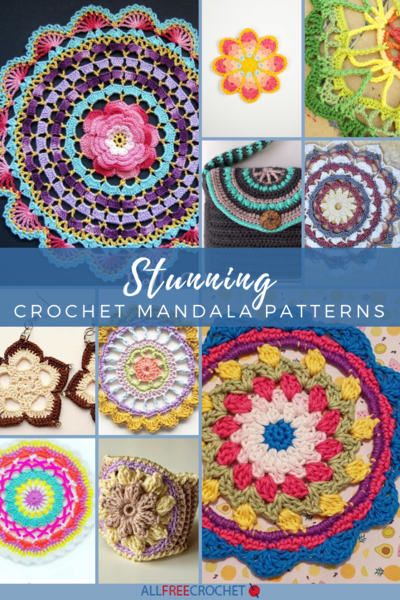 The crochet mandala is a common crochet pattern to work - it can be a simplistic design with only one color and a textured stitch or full of vibrant and varying colors, sectioning off multiple segments in the circle pattern. These 38+ Stunning Crochet Mandala Patterns are so beautiful because of the many color combinations you can use and the forms they can take.

A crochet mandala has many uses: it can be used as a coaster or a doily, as a seat cover or a pillowcase or even as hanging wall art. Since they're worked out from the center, they can be customized to fit your needs, bit or small.

You can even work a mandala design into a crochet tote bag or use one as a rug design, and a mandala crochet blanket pattern would be the perfect thing to add some warmth and color to your home decor. 

The patterns below represent our collection of mandala crochet patterns - take a look around and see what strikes your fancy!


PLUS! Check out the video tutorial below for making a Cute and Easy Crochet Doily. If these delicate patterns intimidate you, then start here. Mary Beth Temple walks you through step-by-step so that you can master your mandalas in no time. 
Table of Contents
What Is a Mandala?
Crochet mandalas are popular items to make, can be highly personalized and make great decorating pieces for your home! Mandala is a Sanskrit word for circle, and it represents the universe in Hinduism and Buddhism.

The spirituality of the circle has expanded to other cultures and religions to represent the circle of life, the sun, the earth and the concept of infinity, of something without end.

A crochet mandala is a crochet version of this concept, a circular work that often features multiple bright colors and segmenting lines, but it can also be crocheted in a solid color with textured stitches to add that effect.

A mandala is crocheted outwards from a single point, so as you work you are creating an ever-expanding circle, like a growing ripple in a still pond. 
 
If you want to make crochet coasters that aren't mandalas, check out
Crochet Mandala Patterns
These designs are your standard mandala designs - although each and every one of them is so bright and gorgeous. However you want to use these is up to you. You can turn them into other projects or use them as coasters or wall decor.

Mandalas may be used as doilies, but they are nothing like what your Grandma is used to. Free mandala patterns are the perfect way to spend a lazy Sunday, and they will turn the rainiest and gloomiest of afternoons into a lively crocheting adventure. 

To learn how to crochet a 10 point mandala, you can check out this tutorial from Trifles & Treasures. It is quick to work up and makes for such a pretty accessory. This would be a great tutorial to start with if you are new to mandala patterns.

Once you have mastered this, you will be able to make all of the amazing patterns below. You'll soon find yourself addicted to this type of crochet pattern. 
 
Crochet doilies are easier to make than you might think, and there are so many gorgeous options in this collection of25+ Crochet Doily Patterns
Crochet Mandala Rug and Decoration Patterns
Put your mandalas to use with these designs for mandala-themed home decor. Make crochet rugs and wall hangings as well as a pillow to relax on. You can even crochet an extra-extra-extra large mandala and turn it into a cozy and colorful crochet blanket you'll love to cuddle under.

Any guests to your home will be so impressed if you include any of these gorgeous patterns in your home decor. Any room in the house will instantly be turned cheerful and fun with the addition of one of these rugs, table mats, and more. 

There is something about crochet home decor that adds such a personal touch and sense of warmth to your humble abode. The best part, though, is that these crochet patterns are so intricate and beautiful that your friends and family will think they are from a designer store like Anthropologie.

If you're a fan of the boho look in your home decor, you will find plenty of options below to get that coveted carefree and whimsical look. 
 
Mandala-Themed Crochet Hats and More!
Yes, you can even turn your crochet mandalas into wearable accessories. Turn one design into a crochet beret for your head, or make the flap of a purse from another design. You can even make smaller mini mandalas and add earrings hooks for some stylish and one-of-a-kind jewelry options. If you can dream it, you can make it!

These patterns would be especially great for the summer months when a boho look is trendier, but they would be wonderful for adding some color and fun design to your outfits any time of the year. 

The patterns below are proof that mandalas don't have to remain as such but can be used as inspiration for your everyday fashions. They all give off the same style and feel of a typical mandala pattern without being too over-the-top or garish for your wardrobe.

What looks fantastic on your wall probably won't work in your closet, but luckily, these patterns are subtle enough that it gives you the perfect touch of mandala madness every time you walk out the door. 
 
What is your favorite color combination to crochet with?
Let us know in the comments below!
Your Recently Viewed Projects
Join our community of 5 million crocheters! Right now!
Get free crochet patterns, exclusive partner offers, and more.
Thank You for Signing Up!
There was an issue signing you up. Please check your email address, and try again.