20 Fun 30 Minute Crochet Projects
Wish you had the time to crochet? Look no further than this collection of 30 minute crochet projects that'll have you stitching in no time!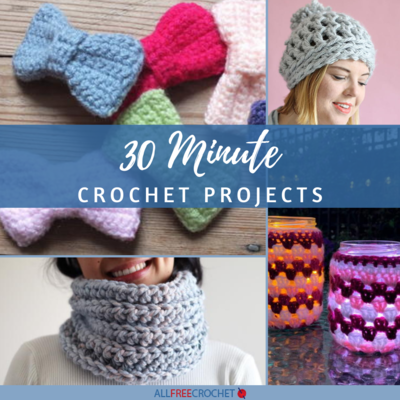 These 20 Fun 30 Minute Crochet Projects are not only unbelievably quick to complete, but they're also super useful! From hats to home decor, this collection has a variety of projects that will keep your creativity flowing.

In less than the time it takes to watch an episode of your favorite show or see your favorite movie, you'll have a brand new finished crochet pattern to show off. Most of these are completed with simple stitches, too, so you don't have to be a master crocheter to enjoy this collection.

If you need a new crochet hat for cold weather, check out the section dedicated to the cutest ones you'll find! These, alongside accessories that will add a new cowl or pair of earrings to your life, are customizable based on your preferred yarn color.

If you would like to gift your child something homemade that will show your love, the gifts for kids section has just what you need!

With lots of photos to guide the process, any of these tutorials would be an asset to your stitching life!

For more free crochet patterns, sign up for our newsletter!
Table of Contents
Your Recently Viewed Projects