62 Crochet Jewelry Patterns (Free)
Search through this collection of crochet jewelry and you'll never be without a gorgeous and fashionable accessory again!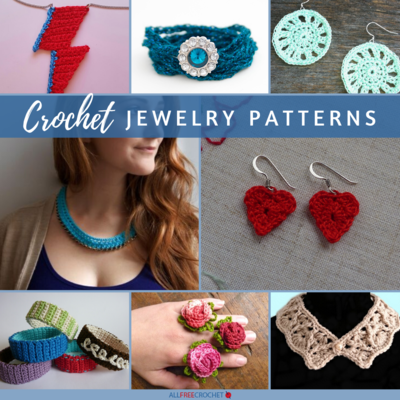 When it comes to accessorizing an outfit, there are so many different options -- add a trendy tote, fabulous scarf, or an eye-catching piece of jewelry for a quick and easy finishing touch.

In this collection of 62 Crochet Jewelry Patterns, you'll find beautiful necklace patterns, bracelet patterns, earrings, and more! You're sure to find your next perfect accessory here, whether it's classic and timeless or hip and trendy -- the options are endless!

Find out how cute and creative these crocheted jewelry patterns are and you'll be addicted to these exciting projects before you know it!

We all know that purchasing all of the various items to wear, however, can add up quickly. One way to keep your collection growing without spending too much money is to create your own crocheted jewelry.

This collection will show you that it's easier than you might think to make your own crochet accessories. Plus, it's also so much fun to mix and match styles and find ways to express your personality!
Table of Contents
Free Crochet Necklace Patterns
Crocheted scarves are always a popular accessory for women to wear in any season. But if you're looking for a new way to fancy up your neck, these free crochet DIY necklace patterns are perfect. You can use these crochet patterns to make your next favorite crochet necklace or to create a beautiful jewelry gift for a friend or relative.

Browse these DIY jewelry designs and find your next free pattern to crochet. You'll love the braided jewelry patterns you'll find to adorn your neck, along with other types of necklaces you'll adore.
Free Crochet Bracelet Patterns
Wrap any one of these DIY bracelet patterns around your wrist for an instant accessory makeover. You'll find both easy and intermediate patterns, so no matter what your skill level is with making DIY jewelry, any one of these free patterns to crochet will suit your needs.

Along with the free crochet wire bracelet patterns below, there are full-yarn bracelets that are as comfortable to wear as they are pretty to look at. It's a great accessory any time of year and you can really have fun with layering many of these wrist pieces.
Crochet Ring and Earring Patterns
Necklaces and bracelets are nice but don't forget about the other crochet DIY accessories we have to choose from in this collection of DIY jewelry designs. Any one of these free patterns to crochet would make an excellent homemade gift idea for girls of any age.

In this section, you'll find an amazing selection of crochet earring and finger ring projects! These patterns also range in skill level from easy to intermediate, so there's definitely a pattern for everyone to choose from. Treat yourself to a new stylish accessory, or make something for a special friend.
Your Recently Viewed Projects