50 Free Corner to Corner Crochet Patterns
Hop on the trend that is C2C crochet. Corner to corner is unique and allows so much creativity with images and styling. Check out these free C2C patterns to see what it's about.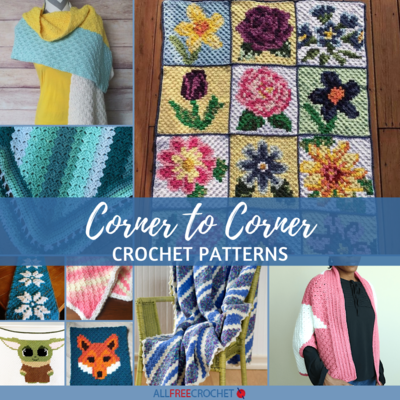 One of the coolest crochet techniques is corner to corner. Corner to corner goes by a few different names and involves a few different styles. Primarily, it is shortened as C2C.

This collection, 50 Free Corner to Corner Crochet Patterns, features some of the most popular designs using this method of crochet. You'll also see "diagonal," "box stitch," or "graphghan" and more in relation to C2C when looking through patterns.

The actual technique involves, as the name suggests, moving from one corner to the opposite. However, there are a few different ways to do that.

Below, you will find an assortment of patterns that have been trending this year. There is some overlap in the sections, so be sure to scroll all the way down so that you don't miss anything.

Baby blankets, diagonal afghans, graphghans, holiday C2C, and wearables (scarves, ponchos, and more) are all featured on this page.

First thing's first: to learn all about and how to do C2C crochet! Our guide What is C2C Crochet? goes over everything you've ever wanted to know about this crochet technique.

PLUS! Watch the video right below to learn exactly how to crochet corner to corner. Find the written instructions on AllFreeCrochetAfghanPatterns here.
Table of Contents
Corner to Corner Crochet Baby Blanket Patterns
Baby blankets and C2C go together like peanut butter and jelly. That's because there are so many cute designs you can create with this technique. Plenty of graphghans (you'll find more in the third section) that involve animals, shapes, and other fun images, along with delicate and elegant diagonal designs.

A corner to corner baby blanket pattern is ideal to make for a baby shower, birthday, or gift for holidays. Because of the technique, these blankets can easily be worked so that they are luxurious and thick to keep baby warm.
Diagonal Crochet Afghan Patterns
This section is all about free diagonal crochet afghan patterns. One of the most popular ways to do C2C crochet is with diagonals. These blankets all involve a corner start diagonal crochet, which results in a beautiful striped look. Any of these could easily be given to babies, too!

For this method, you can use pretty variegated yarn to form a natural stripe or use up your scraps for each row to make your own color combination. It's so creative and up to you as to what you want from the end product. These patterns can either provide exact instructions or give you the inspiration to come up with your own thing.
If you haven't quite mastered the art of changing colors in crochet, then don't worry; variegated yarn makes it possible to create multicolored crochet patterns without learning how to change colors when crocheting.

Check out our collection here:50+ Variegated Yarn Crochet Patterns
Corner to Corner Graphghans
You got a sneak peek of "graphghans" in the baby section. If you are unfamiliar, a graphghan is an afghan made using a graph. When you use a C2C crochet graph, you are creating a picture in small squares. Because corner to corner is made up of squares, making a graph with graph paper or freehanding any square-based design means that you can create nearly anything.

Think of it as the crochet version of pixels or like old 8-bit video games (Mario, for example). These crochet charts are so imaginative and make working up one of these designs easy. Plus, you can create one large image or make smaller squares and combine them into a blanket (similar to what you would do with a granny square blanket).

Of course, several of the free C2C patterns below are incredibly complex. We'd suggest starting off with one of the simple small squares or one-image graphghans, then moving on to the multi-image or complex graphghans that are shown.
C2C Crochet for Holidays
As we mentioned when talking about babies and C2C above, it's also an amazing technique to use to celebrate holidays. You can use the C2C technique to make table runners, pillows, bags, placemats, home decor or accessories, and yes, blankets.

Take a look at the free corner to corner crochet patterns below and get inspired to make and decorate for the holidays using this design scheme. Whether you want to make a thoughtful gift or make your home into a winter wonderland for Christmas, these patterns will help. Besides Christmas, there are many corner to corner patterns for Halloween, Valentine's Day, and the 4th of July.
For more creative holiday patterns, you must look through this holiday amigurumi compilation that features all the major celebrations.

Find it here:
Corner to Corner Crochet Scarf Patterns (+ More Wearables)
We're about to blow your mind once more with the creativity found in C2C crochet. Use this technique to make scarves, cowls, wraps, ponchos, and even shrugs. You can also find a few corner to corner hats on our site by searching.

Yes, the options are endless. The only limit is your imagination. So, if you want to make a scarf that features a bunch of hearts, you can! A lightweight shawl that is worked from one end to the other, you bet! Take a look and see for yourself.
Your Recently Viewed Projects
Join our community of 5 million crocheters! Right now!
Get free crochet patterns, exclusive partner offers, and more.
Thank You for Signing Up!
There was an issue signing you up. Please check your email address, and try again.