Free Crochet Tips and Tricks: Organization Ideas, How to Crochet On the Go, and more
Bonus: Get our newsletter & special offers for free. We will not share or sell your email address. View our Privacy Policy

43 Ways to Keep Your Yarn Tangle Free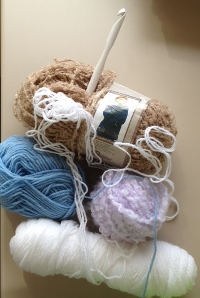 43 Ways to Keep Your Yarn Tangle Free:
We asked the question, and you gave us the answers. Below you can find a great list of ways to keep your yarn tangle free. Working with multiple skeins of yarn at once can become very messy and frustrating, and all too often our yarn gets tangled up, both with itself and with other colors. Sometimes even simple crochet patterns can take a while to work up. Not because it's a long pattern or even difficult to read, but because your many skeins of tangled! How do you crochet without tangling your yarn?
Plus, check out some bonus basket patterns and other crochet organization patterns below this handy list!
Nicki: I take the time to wind my skeins in to balls. This seems to make it SO much easier to work with than leaving it in the skein.

Ritainalaska: I kit up my project in a bag to fit the yarn, packed so that the yarn will pull from the inside. If doing color work, I can wind bobbins easier and if doing two pieces, I turn one way one time, the other way the next time. I can pack two or three projects, knit and crochet in my work bag and never tangle.

Linda: If it's real tangly I stop & working from the opposite end wrap it into a ball, otherwise just untangle as I go.

LizzieK8: I never use center pull balls as they eventually collapse and tangle. Keeping my yarn in a small project bag, bowl, box, or even plastic bag keeps it safe and tangle free.

Christine: I keep my yarn in a 2L pop bottle I've cut in half. I put the yarn inside,thread my wool through the top opening, then squeeze the bottom half of the bottle to put it back together. This also keeps my yarn from gathering bits of dust or my long hair.

Julie: I use a recycled oatmeal container, (but you could use just about anything with a plastic lid), poke a hole through the lid, feed the yarn through and place the yarn in the container with the lid on top. This keeps my yarn tangle free and you can use more that one container if you are using more than one color.

Knittingdancer on Ravelry: I punch a small hole in one side of a ziploc bag to pull the yarn through before I cast on. I put the cake or ball of yarn inside the bag pulling the end through the hole and closed the ziploc bag with the ball of the yarn inside it. The only yarn that is outside the bag is the yarn that is attached to my needles.

Cheryl Flanders: I use a gadget called Yarn Tamer. It will unwind your yarn flawlessly. You insert the center of your yarn skein/ball onto the plastic sleeve and start to unwind. It keeps your yarn clean, off the floor (away from pets!) and prevents tangling. You can throw it in your knitting bag and take it along with you.

Cynthia Wilbanks: After winding my yarn into balls, I place them in decorative bowls I have found at the local thrift store. The bowls are usually a deeper "vase" type so the yarn cannot jump out or roll around too much.

Carmen: I put the yarn in a bag that allows it to roll or turn as needed for me to pull (if I'm not using a center-pull yarn) but it doesn't allow enough movement to become tangled.

Mary L: I always find the yarn end that is inside the skein and pull it to start my row. As the yarn is used it slides easy out of the skein. To keep skein from rolling around I insert it into the plastic bag that my morning paper arrives in or a bag that accommodates the skein size.

Lenore: I use extra large bobbins and a russian join. This way I avoid knots and lumps in the project. This is particularly convenient when I am knitting fair isle or any other multi-color projects.

Susan Havens: I have used empty "wet wipe" holders. My skein will fit in it and not tangle. I just pull the yarn out through the top.

Darleen Worm: Currently I am working on an afghan with big needles using 4 yarns at one time. I used to spend more time untangling than knitting! I tried a variety of tips but what works best for me is to use the yarn from the OUTSIDE of the machine-wound ball rather than from the center pull. It seems to twist less. Then I place each yarn in a round quart size plastic container and separate the containers physically around me on the floor about 1 1/2 to 2 feet apart from each other-one each left and right and two in front but still a good distance away from each other. When I want to put my project away I just stack the containers (yarn still inside) and slip it all in my tote bag. It takes up a bit of floor space but makes knitting so much easier.

Candy Ferrall: If the yarn is "self-wound" I leave it alone, otherwise I roll it into a ball before I start. I knit with my yarn in a container next to my chair. I haven't had a problem with my yarn tangling doing this. It also gives me a place to store the needles, pattern, notions, etc that I need for that particular project.

Linda Stewart: If going in both directions, I flip, then flop project. For color work in grafts I use yarn bobbins for each color and let them swing in the back until needed.

Bernice: I have used a number of different things. I've used 2 litre soda bottles, 1/2 gallon plastic milk or juice containers, and I've used ziploc bags. I use ziploc most often, especially for travel projects.

Kerri Archer: My mother-in-law gave me a lovely bag that I use, especially while traveling. It allows the yarn to have just the right amount of movement (and it is also a great place to store needles & project). However, this past Christmas, my mother gave me a yarn organizer that stores up to six skeins of yarn at a time. Each skein has its own compartment. I simply pull the yarn through the holes in the lid. No tangling, no dirt, no problem!


Fran

: I am fortunate to have a knitting stand. I usually just close the lid and the yarn stays free-flowing. I just try to keep an eye on it, to be sure it does not hang up on anything.


Jenni Kane

: I am a huge fan of ziplock bags. I put all the necessary yarn in the bag and zip it partially shut. It keeps the yarn clean and all together.


Jill Hennes

: Empty liter soda bottles, but most of the time I forget and just deal lol


Shannon

: I keep it in ziploc bags. It's a great method because you can use different size bags for different size balls of yarn.


Caro

l: I

use one of those pretty cardboard wine carriers that you can find. I put a hole in the tube's cap so the yarn can come through easily. It even has a rope handle on it so you can carry it where ever you go. Works for any size yarn.

Pat: I wind the yarn into a ball then put in a plastic zip bag and cut a hole in one corner to thread the working yarn through.

Rae Cicelske: I use a small laundry basket with holes and run the yarn through separate holes.

Paula Corman: I wind my yarn into balls and I sit in bed, hopefully without my cat, and put one ball of yarn on each side of my hips.

Tammy Hempel: I usually sit in a chair with my thread in a sack brown sack at my side. This way when I pull on the thread, the ball or skein stays put and I am not chasing it all over the floor. The side of the bag is stiff enough to hold the thread or yarn up and keeps it from tangling. I get a nice flow of thread or yarn this way.

Ann Kinderknecht: I found a large vase someone didn't want and it's big enough and tall enough to either put a pull through skein in or a ball of yarn and it just rolls around in the vase…(the balls not the skein:)! ty

Sue: I use ziplock bags too. I also took a small clear make up case from walmart and punched holes in the sides. I use it when I do two socks at once. One cake feeds out the front the other from the back or you can use the inside and outside of the same cake this way.. Works great.

Jeanette: I put each ball or skein of yarn in a separate bag and pull. I usually check every second row to make sure it isn't twisting too much.

Kate: Just like a lot of other people, I either pull the yarn from the center of the skein or I roll it into a ball. I keep the skein or ball in a bag while I'm working so the cats can't get it.

Smfsprout: I 'borrowed' this tip from another crocheter. I use the plastic sleeves that are used to keep wine bottles from banging together. They expand to fit a full skein and contract as I pull the yarn through the center.

Pam: I have recently started using a bowl to put my yarn in.

Melinda: I wind my yarn into a ball and then put them into small stryofoam containers that I have from my medication. I put a hole in the lid and the yarn through the hole, comes out with no tangles, keeps the yarn clean and out of the pets reach.

Chevas Hefflinger: I put two colors in a large ziplock bag and have each side open and zip it in the middle

Juanell Dunlap: I wrap yarn skeins into balls and either put it beside me or in my crochet bag. Another way is clean out 1 or 2 liter pop/giner ale bottle; dry thoroughly! Put yarn inside, put bottom back on and crochet or knit away.

Char55: If I'm working with a pattern that calls for small bobbins of several colors, I wind each color of yarn around a spring type clothespin and when I finish with that particular color, I put the working end of the yarn in the mouth of the clothespin to hold it so it won't unwind while I'm working with another color.

Terri L: Once my center pull skeins get to a certain 'thinness' I start from the outer end and wrap the rest into a ball and place it in a small sandwich bag with all but a small portion zipped closed.

Lynn Sanders: I take an empty plastic coffee can and cut a quarter size hole and tape the edges, place the yarn inside and it pulls just fine with no tangling.

Carolyn: I take empty paper towel rolls and wind my yarn around the roll.

Sherry: I use a tall narrow bag and pull the inside yarn. Works great. But here is an idea I haven't tried that came from a friend who pulls the outside end. Slide the yarn over a paper towel roll.

Jennifer Bellamy: I have my Mother wind the yarn into balls and then I have no problem with it tangling as I use it. It is often in a tangle for my Mother to untangle.
Crochet Basket Patterns: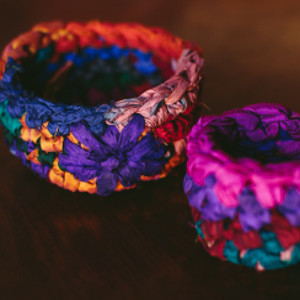 To keep your yarn organized, you don't need to buy a decorative bowl or dish if you don't want to. Simply crochet your own! With these easy crochet basket patterns, you can keep your yarn organized and at the ready for your next big project.
Tags / Related Topics
Your Recently Viewed Projects
Images from other crochet readers

Free projects, giveaways, exclusive partner offers, and more straight to your inbox!
Pattern of the Day
Here's a decorative and wearable shawl that can be created by following this easy crochet pattern. This Angel Wings Shawl Pattern is a… See more

Something worth saving?
SAVE all your favorite patterns
ADD personal notes
QUICKLY reference your patterns