How to Felt Crochet Projects
By hand or by machine, felting crochet has never been easier. Plus, there are free felted crochet patterns.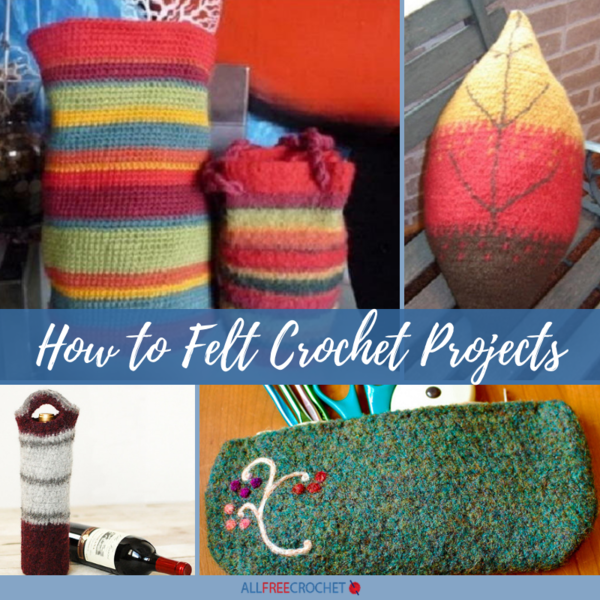 How to Felt Crochet Projects
Crochet projects are so versatile, especially when it comes to crochet bag patterns, DIY clutches, or even crochet basket patterns. These products are great at carrying your essentials, but to beef up their capacity, felting is a great technique to seal up those stitches a little tighter.

Learning how to felt can be a little overwhelming, though, especially when the number one rule all your life was to never, ever put wool in the washing machine.

How to Felt Crochet Projects is a page that compiles the best techniques for giving your project that lovely felt texture without destroying your hard-crocheted masterpiece.

Crocheting is all about being hands-on, so if you want to continue that trend from start to finish, you can felt the project all by yourself. However, there is nothing wrong with taking a shortcut if it still gets you to the same place, so wet felting by the washer or dry felting by the dryer are also viable methods. 
 
What is Felting? An Overview
Felting is a process that works with animal hair yarns, wool being the most common example. This is why using detergents engineered to suit animal-based yarns is important when washing your fibers. Great options are Euacalan, Woolite, and Kookaburra.

Also, it is important to keep in mind that felting will shrink your project, so try the crochet felting technique on your gauge swatch with before-and-after measurements to determine exactly how your yarn will react. Felting is an easy process to learn, but it is very subjective.

It's up to you to decide how much you want your bag, basket, or other piece to felt—the longer you wash or dry the piece, the more felted it will become. These crochet tips will help guide you to the perfectly crafted crochet piece that keeps your belongings snug, secure, and stylish.
How to Felt: Felting Wool Crochet
When it comes to felting methods, there are several options. Wool is the most common example of material that is traditionally felted, but these techniques would work for all types of animal-based yarns. For more control over the finished result, the how-tos on wet felting by hand are your best option, but if you want a quicker and easier route, follow the instructions for machine and dry felting. Once you learn how to felt crochet, you will be able to complete more patterns, like those shown after these tutorials.
Wet Felting Tutorial (by Hand)
Felting by hand involves more time and energy because you are powering the process with your own elbow grease. For most projects, this could take between thirty minutes and an hour, although of course, each project and felting level is different. The benefits of doing this by hand, however, are important: you control the level of felting on a much more precise level because you can stop at any time.

You also have consistent visual access to your project, unlike in a machine, so you will be able to judge where you are at in the process. If you are looking for a lesser degree of felting so that you can still see the hint of stitches, then doing it by hand is a good option.
Fill a bathtub, large tub, or a sink (for smaller projects) with very hot water and about a teaspoon of your choice of detergent.

Massage the project with your hands to agitate the material. For a rougher touch, you can use a washing board. Make sure you are pressing hard enough to encourage the fibers to join together.

Periodically, take the project out and dunk it in cold water before returning it to the hot tub. This will speed up the felting and help set the fibers at the same time. End on a cold water dunk.

To dry, use a towel to roll the project so it isn't dripping wet, then shape the project by stretching it flat and pinning to the outline you want. Leave this until it is entirely dry, but resist the temptation to set it out in the sun to speed this up (you might bleach your colors).

Tips: Wear gloves like you would when washing dishes or cleaning the sink, as you will need the water to be at a high enough temperature that this will probably be uncomfortable for your bare skin.

See the quick illustration we have below to show the steps. Click to enlarge.
How to Felt Wool in Washing Machine
For bigger projects or to avoid the time and labor involved with felting by hand, you can use a washing machine. When it comes to front-loading versus top loading machines, there is a slight difference.

With front loaders, you generally cannot pause the cycle to check on how far along your project is or to prevent it from going through the spin cycle. The central agitator in top loaders is more useful for working up the felt, but adding rough material in the wash will compensate for this in a front loader.
Put your project in something that will allow water in but will keep your project separate from the outside, like a pillowcase or mesh bag. When strings shed during the felting process, this casing will help catch them and prevent clogging of your machine.

Put the project in the washing machine with other rough material like jeans or towels that have been washed many times before, which will help agitate the fibers (Caution: don't put in clothing that can bleed and alter your project's color, or clothing that will also shed and get mixed up in your crochet piece).

Set the machine for the hottest water setting. The length of the cycle will determine the amount of felting, so the time setting is up to you. Remember, you can always put it back in if you don't think it has felted enough, but you can't undo it once it has felted (so err on the side of caution in the beginning).

With a top loader, you will be able to remove the project before the spin cycle, which you will want to do in order to shape and pin the project to get excess moisture out the way you like it. Follow the same drying steps as by hand.

See the quick illustration we have below to show the steps. Click to enlarge.
Dry Felting Technique Tutorial
Technology innovations can absolutely make your life easier, even when it comes to crochet pieces. If felting by hand or constantly checking the washer is not your cup of tea, then dry felting is an easy, quick, and pain-free feltmaking method. Instead of putting your piece in the washer and then drying it by hand, you will wet it by hand and let the dryer do the work.
Thoroughly wet your project with cold water, enough to get all of it saturated, but don't leave it to soak.

Carefully lift out of the water and let the excess moisture roll off, squeezing gently to assist. You don't have to roll it in towels, but you don't want it to be pouring water as you add it to the dryer, either.

Again, put the project in a pillowcase or mesh bag, and it's a good idea to add jeans or towels again as well.

Put the dryer on the hottest setting and check periodically on the felting process.

Tips: If you check and see that the piece has completely dried out but hasn't felted to the extent that you want, you can re-wet it in your cold water and put it back in.

Remove from the dryer when it has felted enough. If you like the shape it is in, you're done! If you want to guide the outline more, however, you can go through the stretching and pinning process, as usual, just wet it before you do so.

See the quick illustration we have below to show the steps. Click to enlarge.
PLUS! Felted Crochet Patterns
Your Recently Viewed Projects
Join our community of 5 million crocheters! Right now!
Get free crochet patterns, exclusive partner offers, and more.
Thank You for Signing Up!
There was an issue signing you up. Please check your email address, and try again.