22 Patons Yarn Crochet Patterns You Can't Miss
We are featuring some of the best Patons Yarn free patterns on this page.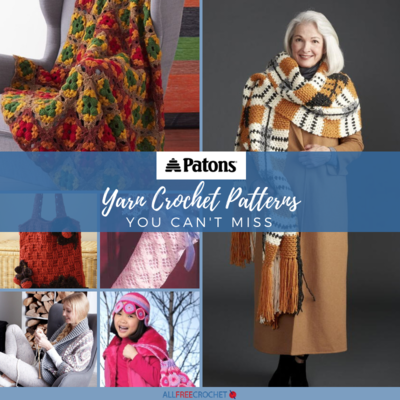 Yarnspirations is the umbrella company for lots of our favorite yarn brands. One of the most luxurious is Patons yarn. Not only are there several different types of yarn including the softest acrylic, wool, and bamboo but on the Patons yarn website, you'll find lots of free patterns using them.

On AllFreeCrochet, we feature some of the prettiest free crochet patterns that are made using this popular yarn, which is why we thought we would put together a page of the most popular and exciting patterns.

This collection of 22 Patons Yarn Crochet Patterns You Can't Miss offers our favorite patterns from this amazing yarn brand. Below, you will find hats, scarves, shawls, sweaters, cardigans, tops, Christmas decor, bags, and one very special crochet afghan pattern.

Whether you are preparing for colder weather, looking for that perfect gift to make, or a new and exciting project to crochet, this collection is going to help you find a design you will want to make right away.
 
Table of Contents
Hat and Scarf Crochet Patterns with Patons Yarn
These Patons hat patterns are so cute. And in the scarves and shawls, and you will not only be set for cold weather but look fashionable while staying warm. You will find a variety of Patons yarn types used in these patterns so if you already have a favorite, you will probably find that yarn to use for one of these designs.
 
Crochet Sweaters and Tops
There are so many Patons yarns and patterns for sweaters and other wearables that it was super tough to narrow down this section to our ultimate favorites. If you're looking to make a cardigan, shirt, or a big comfortable sweater, check out the options below. Because their yarn is so luxurious, it's one of the best choices for a project that takes lots of time and needs to be of the highest quality, like a pullover.
 
Patons Decor Patterns (+ Crochet Accessories)
We didn't want to limit this Patons Yarn Crochet Patterns page to only wearables, so here are a few of our favorite crochet patterns that can help you decorate your home. The Forest Floor Tote Bag is a fun accessory that should be taken out on the town and shown off but it can also help you stay organized in your craft room. Decorate for fall or winter with these other designs and you're all set!
 
Your Recently Viewed Projects