20+ Basic Crochet Stitches + Beginner Crochet Classes Online
With this free crochet stitches guide, you'll learn the crochet terms and how to crochet basic stitches!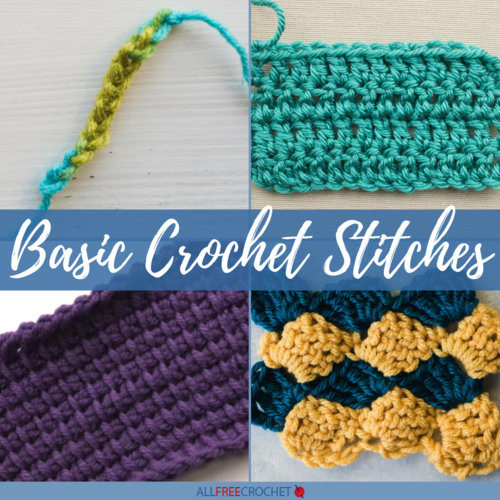 If you've been wondering how to do a certain stitch, then you've come to the right place. Listed below is a quick and easy step-by-step tutorial for over 20 of the basic crochet stitches along with different crochet techniques, plus the abbreviations you'll see in a pattern for these crochet terms.

PLUS! We're sharing two exclusive online crochet classes free to you! Learn basic beginner information you'll need to start with Crochet 101 and then dive a little deeper in your crochet journey with Crochet 201. Both beginner crochet classes are taught by the amazing Marly Bird, crochet expert and Red Heart Yarns ambassador extraordinaire!

Learning stitches in crochet can be overwhelming for a beginner, which is why we created this easy-to-follow page with some of the basics you'll need to know. Follow the steps below and learn how to work a slip knot to get your work started, then move on to our foundation chain tutorial.

Then, depending on your pattern, you can follow our video tutorials to crocheting a single crochet, a double crochet stitch, or even a treble (or triple) crochet stitch.

Each simple crochet stitch tutorial has helpful photos and step-by-step instructions to ensure you don't miss a stitch, and even if you've never crocheted before you'll find that these are easy crochet stitches for beginners. Once you've mastered any one of these new crochet stitch tutorials, find a new crochet pattern to make and put your skills to the test!
Your Recently Viewed Projects