Colorful Crochet: 20+ Self-Striping Yarn Patterns
Self-striping yarn crochet patterns make it easy to achieve a striped look without switching skeins.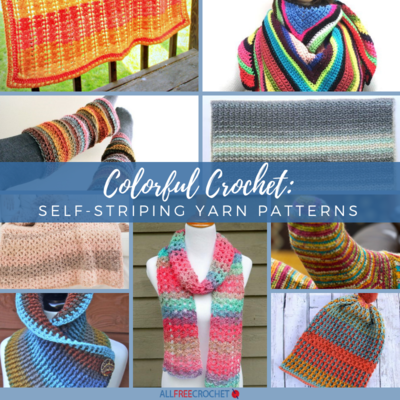 We have a brilliant collection for you here and it is all about colorful crochet with built-in ease. On this page, Colorful Crochet: 20+ Self-Striping Yarn Patterns, you will learn all about this type of yarn, what yarn brands carry it, and see what it's all about in the form of self-striping yarn crochet patterns.

You are going to love these free crochet patterns that use self-striping yarn because they look super complicated and difficult but, because of the special yarn, they aren't! Get ready to open up a whole new world of creative visions and a lot to add to your to-do list.

This type of yarn is ideal for many crochet projects, including but not limited to socks, scarves, blankets, gloves, hats, and other wearables. There are also plenty of non-clothing projects that use this yarn. Flowers, bags, baskets, toys, dishcloths, and so many others also look great with self-striped yarn.

In order to achieve stripes in crochet, you usually have to use multiple balls of yarn. That isn't the case here! Because it's such a fascinating subject matter, before we get to the patterns, we'll explain everything you need to know about it in the next section.
 
Table of Contents
What is Self-Striping Yarn?
Self-striping yarn changes color on its own as you work it up in knitting or crochet. In general, variegated yarn is the style of yarn that includes multiple colors of dyed yarn in one segment. Not all variegated yarn is self-striping, though, so it has to be a certain type that starts to create stripes as you work instead of a mix of colors like other variegated yarn.

There are a lot of reasons people prefer to use yarn that changes colors rather than multiple colors. For one, it's usually easier though it does take more planning. Most labels do not tell you how long the color in the piece of yarn lasts before the change, so most crochet designers have to test it out before writing a pattern.

However, because it does not require stopping and starting with new yarn, people like the ease of continuing their crochet piece without interruption.

It can be less expensive than buying multiple yarn colors though not necessarily. As with all yarn, it depends on the weight, fiber type, and brand. If it's a high-quality self-striping yarn, it can cost more than several lower quality skeins.

Even though it stripes as you crochet without you having to do anything with the color change, that doesn't mean each row of color is perfect. As the colors change, there may be some muddling that will appear at the beginning or end of your row. If you like super clean lines, you may want to be in charge of changing the colors on your own.

The benefit to using this type of yarn is that there are many patterns that already have the tests on color changes done and can promise strong results. There are also kits that include the yarn and the exact pattern for making it stripe correctly. When done well, self-striping yarn pieces do look impressive, so take a look at our patterns and see for yourself how amazing it can be.
 
Self-Striping Shawl and Scarf Patterns
Because scarves and shawls have a fairly straight-forward design, they make the perfect crochet pattern to try self-striping yarn with. Below we have some incredible free patterns that either use this special type of yarn or suggest that it would work well with the pattern. You're going to love the designs we've featured in this section,we promise!
Self-Striping Hat and Sock Patterns
A lot of the time, crochet socks use self-striping yarn. Because they are small projects with delicate features, this type of yarn allows for fun textures and styles without adding extra bulk with changing yarn colors and weaving in ends. Similarly, hats use it a lot to achieve stripes as they are worked in the round, which again saves time and issues with manually changing the yarn you're working with. Take a look at these artistic hats and sock patterns below.
Self-Striping Blankets
Blankets can take weeks to work up, especially when you want stripes or some sort of extra texture. That's when a yarn that stripes on its own is a huge help. As you can see from the crochet afghan patterns below, it's a great idea that works wonderfully with all sorts of styles. And it can be used for large or small blankets, too. It all depends on the brand and amount of yarn you have. It certainly makes baby blankets much faster to work up.
Self-Striping Yarn Brands
Now that you have learned some self-striping yarn crochet patterns, find your favorite yarns to use. Most yarn brands have at least one line of color changing yarn. We'll share 5 of the most popular and prominent brands that include this special type of yarn and what some of the most popular lines are.

Red Heart Self-Striping Yarn: With Love Stripes, Super Saver Stripes, Soft Essentials Stripes, Dreamy Stripes, Team Spirit, Infinity, Unforgettable, Heart & Sole.

Bernat Self-Striping Yarn: Super Value Stripes, Pop!, Blanket Stripes.
Other Yarnspirations brands also have self-striping yearn. Check them out here.

Lion Brand Self-Striping Yarn: Amazing, Sock-Ease, Homespun, Tweed Stripes.

Noro Self-Striping Yarn: Garden, Garden Sock, Kureyon. 

Regia Self-Striping Yarn: Pairfect Design Line, 4-Play and 6-Ply Design Line. 
 
Your Recently Viewed Projects
Join our community of 5 million crocheters! Right now!
Get free crochet patterns, exclusive partner offers, and more.
Thank You for Signing Up!
There was an issue signing you up. Please check your email address, and try again.