30+ Free Christmas Amigurumi Crochet Patterns
'Tis the season for festive Christmas crochet patterns! Find amigurumi Christmas trees, ornaments, amigurumi Christmas gifts, and more.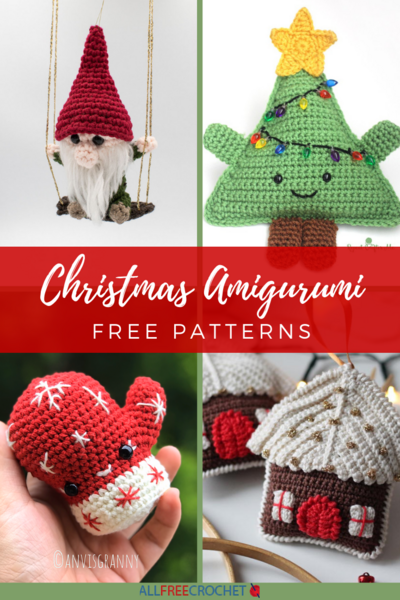 Get in the holiday spirit by working up these free Christmas amigurumi crochet patterns!

We've collected the best Christmas amigurumi from around the internet and are thrilled to share them with you here. Whether you're looking for amigurumi Christmas trees, snowmen, or other cute characters, we've got tons of patterns to choose from.

This list even includes trendy Christmas gnomes amigurumi, plus some other patterns that you would never have thought of (don't leave until you see the peppermint snail!).

The best part? All of these patterns are totally free!

So, keep scrolling to find your favorite pattern to make during the holiday season. These projects make amazing wintry home decor, and they're also perfect gifts for just about anyone.

Sign Up for More Free Crochet Patterns!
Table of Contents
Jolly Crochet Amigurumi for Christmas
'Tis the season for amigurumi! Christmas crochet patterns will complement the twinkling lights, beautiful Christmas ornaments, and tempting presents that will soon take over your house during December, so keep your shelves equally exciting by working up all these characters.
Free Amigurumi Christmas Tree Patterns
We think you can't have too many Christmas trees in your house during the holidays... especially if they are crocheted trees! These super cute patterns will bring greenery and charm to your home decor this December. They're easy to work up and come in a variety of sizes and styles to fit your space.
Free Snowman Amigurumi Patterns
Crochet snowmen are some of our favorite winter decorations. They are so easy to make, and they always look adorable! Browse this list of cute crochet snowmen patterns, and keep scrolling for a link to even more great wintry craft ideas.
Your Recently Viewed Projects